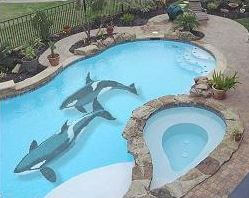 Underwater Art! Swimming pool murals can make a statement, pledge your allegiance or can be simply whimsical. You (or an artist) can create underwater murals on plastered pools using white pool paint, tinted to any color your wish. Here's some pool mural ideas:
All Over Pool Mural Themes
These are different than Icons or Images (below) which cover small areas of the pool. The All Over pool mural will cover larger areas, up to the entire pool.
Coral Reef: Tropical fish, large and small coral, with lots of color. This theme is high on the level of difficulty chart, requiring some skills and patience.
Tropical Flowers: Hibiscus and Anthurium are popular choices. A flower theme is usually done with very large and visible flowers. It can be colorful or subdued.
Deep Blue Hole: This is a all over gradient, from light blue near the upper walls, to a dark blue in the deepest areas. Creates an illusion of depth, and is very reflective.
Scatter Splatter: Over a base color, contrasting colors are splattered with brushes or with a scatter sprayer. Light blue over black, or pink and green over white?
Pool Mural Characters
Mermaids: Popular underwater character, along with the Birth of Venus or Poseidon and his Trident. Mermaid pool murals have higher levels of difficulty.
Sea Turtles or Dolphins: Painted life size, these are a quick pool mural to paint, swimming across your deep end wall or the shallow end floor.
SpongeBob Characters: The whole cast from Bikini Bottom can grace the walls around the shallow end. The floor can be painted to simulate a sand bottom pool.
Nemo Characters: Still very popular, Nemo & Dory and lil' squirt are colorful, fun images to paint on a pool, with the Nemo sharks hiding on the deep end wall.
Icons & Emblem Pool Murals:
Brands or Logos: Show off your company spirit! Are you a fanatical football fan? Love Star Wars? Simple logos are a real easy and quick pool mural, even when large.
Product Images: Coke or Pepsi? Ferrari or Lamborghini? If you have ever thought of getting a product tattoo, product pool murals are better – and not so permanent!
Pop Art Images: Andy Warhol comes to mind. Street art, rock and roll imagery, cultural images – anything that's been meaningful to you and your family.
Patriotic Images: State or country flags or images emblematic of a country or region. Not too complicated usually, if you don't complicate it, and keep it simple!

How to Paint Underwater Swimming Pool Murals
After you have decided on what pool mural you want to paint, order enough white pool paint + 20% to cover the area you wish to paint. Make a sketch on paper, in full color, to help you shop for the proper tints that you will add to the white paint.
For epoxy pool paints, use an oil-based tint, and if you are painting with acrylic pool paints, use the water-based tints. You can find pool paint color tints at any paint store or home store paint department.
You'll want to use have large and small rollers, and some large and small artist brushes. Several of the small painter buckets and mixing sticks for your colors. Your design will dictate the exact type and size of brushes that are best.
Paint the background of the pool mural area with a pool paint primer or a coating of white paint, in the shape of your finished mural. Allow 1-2 hours to dry before beginning to paint your mural. If the mural is very involved, painted over several days, you should sand the base layer surfaces gently before painting each area.
How to Prep the Pool for Painting an Underwater Mural
Step 1: Drain your plaster pool, open hydrostatic relief valves on the floor.
Step 2: Acid wash the pool, then TSP wash it. Rinse thoroughly. Acrylic pool paints can be painted on a wet surface, but epoxy paints need a few days of dry time before painting.
Step 3: Check the weather report before beginning. Avoid high winds and rain.
What Paint is Best for Painting a Pool Mural?
You must use an underwater paint. Any of our pool paints can be used, and you will find a range of prices for pool paint. Epoxy pool paints are the most costly, but will last the longest underwater (up to 8 years). Acrylic pool paints are easier to work with for pool murals, but they have a shorter life expectancy (only a few seasons). The new low-VOC chlorinated rubbers have been improved, and now boast a lifespan of 3 years.
So, if you think you may want your mural for only a few years, and then maybe change it – go with the cheaper acrylics or rubber pool paints. But if you want it to last as long as possible, use epoxy pool paint.
We sell our pool paints for pool murals in basic hues, White, Black, Dark Blue and Light Blue. Use paint tints to create hundreds of colors from these 4 base colors of pool paint.
What would you paint on the inside of your pool? I wonder if I'd get the bosses attention if I painted an InTheSwim logo on the bottom of my pool? Hmmm….

Davy Merino
InTheSwim Blog Editor