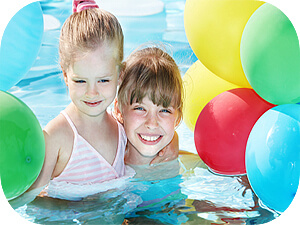 It's not always easy planning a pool party. If you're a pool fanatic, chances are you've either hosted or been invited to numerous amounts of gatherings in the past. And when that's the case, it's hard to come up with a unique pool party idea. But have no worries! Here's a simple guide to help you create a pool party for kids or adults that won't soon be forgotten.
1. Don't forget the invitations. Receiving an invitation in the mail is so much more exciting than just getting a regular old phone call or an email. Plus, it's your chance to impress and set the mood for your pool party. If your guests all live nearby, invite them to your party via a message in the bottle. You can buy clear corked bottles online here or you can go the more cost efficient route by buying any soda pop that comes in a clear glass bottle. Just simply drink up the contents first (yum!) and remove the label. After washing, you can add some sand into the bottom and stick a rolled up invitation inside. This is a great way to get children involved.
2. Help prevent your guests from losing their personal items. Sometimes it's easy to misplace things during the hustle and bustle of a party. It's especially challenging to keep track of your essentials – while spending as much time as possible in the water. To make things less hectic for your guests, set out a wicker basket that they can easily drop smaller items like keys, wallets, or phones in for safe keeping. That way they won't be fretting over where they put their belongings when it's time to say goodnight.
3. Create a space for your friends and family. Tell your visitors to leave their beach towels at home! Instead of forcing everyone to lug over all of the pool party necessities, have an area set up with everything they'll need to get ready for a dip in the pool. Lay out towels, lotion, sunscreen, and even tanning oil so they can freshen up at their convenience. You can even create a mini lounge area with outdoor throw pillows around your pool so that those who are not swimming have a place to rest.
4. Add some light. A super simple way to add some additional ambiance to the scenery around your pool is to light some candles. Use different heights so that they fill space and catch your eye on multiple levels. Or, you can use paper lantern light party strings to add a sparkling effect across your pool and patio. This type of light will cast a very warm glow that adds to the inviting nature of your pool party.
5. Make things easy on yourself. Everyone wants to be the perfect host, but if you're spending all of your time catering to your friends and family you might not get to enjoy yourself as much as you'd like. But it's your party, so you should have just as much fun as everyone else! Instead of running back and forth between your refrigerator and the pool for refreshments, why not get an inflatable floating cooler such as this? It bobs back and forth in the pool and whenever anyone needs a drink to freshen up they can swim right over and pull out whatever they'd like. Just stock it up with beverages your guests would enjoy and they'll have an endless supply of drinks at their disposal.
6. Play games. Pool party games really liven up a pool party. Your pool party doesn't have to be about swimming the entire day. Surprise your friends with some unique pool party games such as Swim Up Blackjack or Pro-Chip Island Pool Golf Game. It's a great way to bond and have fun at the same time. You can even embrace your competitive side and play in teams! Pool party for kids? Why not try a pool ring toss game or some of our other classic pool games. You need not spend money on pool games; there are dozens of fun and free swimming pool party games that you can play to keep the kids or adults occupied for hours on end.
7. Skip the cliché music. Everyone has an acquaintance who loves to play those tried and true oldies at a pool party. Instead of playing The Beach Boys time and time again, play something that yourself and your friends will enjoy. We've all heard Kokomo and Surfin' USA plenty of times at the pool and in pretty much any beach-themed movie ever made. Unless that really is your thing, don't feel pressured to play it just because it's something everyone will know. Make it your own by playing whatever you like!
8. Create a unique treat. Nothing can compare to swimming on a hot summer day. But you know what makes swimming all the more fun? Ice cream! Not just any kind of ice cream though, but the kind where you get to experiment with your own creations. So why not have an ice cream sundae bar? If you're looking for inspiration on display, check out this gorgeous exhibition of deliciousness, at eatdrinkchic.com. Doesn't it just look amazing? You can do it yourself too! If you plan to do this or will be featuring other food items, be sure that when you lay out your food you don't put it all in one area. Instead, have separate stations so people can mingle with each other and aren't all crowded together at one spot.
9. Keep the spotlight on your pool. At the end of the night when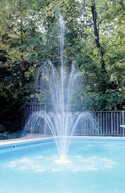 everyone is worn out from a long day of swimming it's time to kick back and relax. To keep the entertainment going longer, you can turn your pool into a fountain that provides friends with a serene atmosphere while relaxing on the patio furniture. A fountain in the middle of the pool goes perfectly with the pool party theme, but why not take it to the next level by adding an element of style and uniqueness. Try a three-tiered pool fountain to create an elegant look. Or, if you're more adventurous and like an energetic feel, try this color-changing LED pool fountain.
10. Favor your guests with favors. This step certainly isn't necessary, but it is a nice way to show that you appreciate your loved ones. Besides, who doesn't like getting cutesy free fun stuff!? Start with a basic beach pail & shovel and build from there. For the young ones, you can add in adorable rubber duckies, colorful sunglasses and beach balls or fun flying disks. Some of these favors you can use for the adults as well. I know I wouldn't complain about getting those cute little ducks! You could also add in some mini bottles of sunscreen, mini fans, paper fans, and some shade umbrellas. The possibilities are endless!
These are just some pool party ideas to get you started on the path to throwing a soiree that will be talked about for years to come! But don't stop here. There are so many other great pool party ideas out there! Do you have any other plans for a great pool party? If so, share them in the comments below!


Sabrina Potirala
IntheSwim Staff Blogger