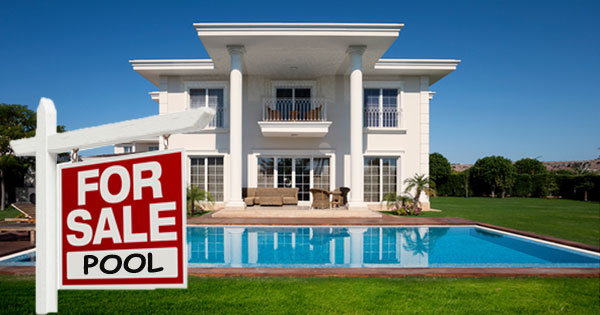 With the home selling season quickly approaching, it's not too early to start thinking about what you can and should do if you selling your house, and your pool.
It may seem obvious, but with all the attention on the home and its interior, the pool can be easily overlooked. An open pool shows better than one with a cover on it. If your pool is open and your home is on display, make the pool look as sparkling clean as you possibly can.
After that, there are 10 other key things you should do to get ready when selling a home with a swimming pool.
---
1. Stain Removal. This is sort of grouped into making sure your pool is clean, but removing surface stains is worthy of being called out simply because a stained pool will look old, dirty and uninviting. There are many strong pool stain removers available that work on a wide range of stain types, in plaster and vinyl pools. Getting rid of old, weathered stains on your pool liner or coping can make your pool look well maintained.
---
2. Caulking Replacement. Caulk is needed between the pool deck and coping, to keep out water during winter, and prevent the joint from filling with grit and sand. Luckily, pool caulking is relatively easy to do, just cut out the old caulking and use the 1 Qt. tubes of EZ Patch 23 Expansion Joint Sealant. Self-leveling pool caulk requires no troweling, and dries fast. You'll be amazed at what fresh pool caulking can do for your pool's looks.
---
3. Get Rid of Old, Broken Stuff. If your once-shiny pool ladder now looks dinged, pitted or even a little rusty, replace it. Replacement stainless steel ladders are less expensive than you think and will make a world of difference when selling your home with a pool. Other items like the solar cover, telescoping pool poles, pool pump motors, pool cleaners and even vinyl liners should be replaced if they are bent, torn, broken or busted up. No prospective home buyer wants to think they're getting pool equipment and accessories that are at the end of their lifespan, with their new home and pool. A pool inspection will turn-up all this stuff anyway, so you as well replace it now.
---
4. Replace Worn Out Parts. This goes beyond equipment and accessories, this advice suggests that you replace broken, non-working or worn out pool parts like cracked skimmer lids, missing skimmer weirs and that rusty pressure gauge. Any leaking pool valves or plumbing should be fixed or replaced. Take a look at all of your equipment with new eyes, or have another person help you identify those little things you've gone blind to; things that make your pool look a bit used and/or neglected.
---
5. Organize Pool Chemicals. To a new or prospective pool owner, pool chemicals can be confusing and downright scary. Find a clean, cool, dry and secure place to store your pool chemicals – whether it's in a cabinet or on a shelf in the garage or in a locked shed. Families with children looking for a new home may view disorganized pool chemicals as a real hazard. Use up old or extra chemicals, or dispose of them properly. Clean the lids and containers with a clean cloth and store in an orderly fashion.
---
6. Trim Your Trees and Bushes. This is not about trees or bushes looking gangly and unkempt, but more about leaves, twigs and other debris getting into your pool. It's also about cutting back overgrowth which makes your pool shady and messy. People like a sunny pool, but shaded pools dense in trees look cold and uninviting. Small bushes or trees that never took off, or took off too much, can be trimmed or replaced with something more attractive. For cypress or arborvitaes used for privacy or wind blocks, be sure to trim those up so they look nicely manicured.
---
7. Tidy Up Around the Pool. First, if you have an above ground pool, take some soapy water and a soft brush to the outside walls, especially up under the top rail and around the base, where dirt and dried mud always seem to gather. Then scrub and clean your pump, filter and heater so they look as fresh and new as possible. Use Cement Patch to fill cracks that have formed in the concrete equipment pad, remove any weeds and lay down new gravel in soft or wet areas around the equipment. Trim back any trees or bushes overhanging the equipment. Look for anything loose, worn or just plain ugly,  that you can fix around the pool and pool equipment area.
---
8. Remove Scale and Efflorescence. If you live in an area with hard water, have a salt water pool or have raised rock walls, then there's a good chance calcium scale has developed on many of your pool's surfaces. Calcium scale comes from your pool water and leaves a whitish deposit on tiles and other surfaces. Efflorescence comes from behind pool walls or other surfaces and seeps through mortar, leaving white deposits in mortar joints and raised stone walls. Both calcium scale and efflorescence can be removed using muriatic acid and a wire brush, or you can hire a bead blasting service to clean your pool tiles like new.
---
9. Pressure Wash the Pool Deck. Most of us do this somewhat regularly anyways, but it's worth mentioning for this list. Pressure washing your pool deck and patio area is a fast, simple way to make hard surfaces look clean and fresh. Pressure washing quickly removes dirt, stains, food and pretty much anything else besides motor oil for a nice, clean look. A pressure washer can also improve the appearance of faded pool fences.
---
10. Refinish Wood Pool Decks. If you have a pool deck made of wood, consider refinishing or re-staining it to give it a fresh, updated appearance. There's a couple ways of doing this, and they all involve a couple of involved steps, but it's worth it when going to sell your home. Personally, what I do on my wood deck is pressure wash it first, and after drying I sand the surface with a medium grit sandpaper to open the wood's pores to absorb the new stain. Finally, no matter what stain you choose to use, follow the application instructions on the can, for best results.
---
Remember that you're not just selling your home, you're selling your pool too. If you follow these ideas and tips on selling a home with a pool, your pool should be ready-to-show and will actually help your home look more beautiful, making it easier to sell.
If you have experience in getting your pool ready when planning to sell your home, feel free to share what you did to make your pool more enticing to prospective home buyers. We would love to hear your ideas about selling a house with a swimming pool.
This is the second edition in a four-part In The Swim blog series with the focus of providing valuable information and ideas to home owners, home buyers and real estate agents regarding swimming pools. You can find the first edition here.


Larry Andersen
InTheSwim Staff Blogger