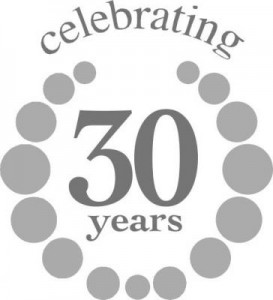 The year was 1982, in a time where heavy-metal hair and cut-off denim jackets were prevalent and Ronald Reagan was president. The country was amid a recession, with the highest unemployment rates since the Great Depression, when a husband and wife team decided to take a chance on what they thought could be something big; a national pool supply business.
The idea of a mail-order pool supply business first came to our founder while he was working as a solar pool panel salesman. The burning question that all of his clients asked and needed answered was: "What store has the least expensive pool supplies?" And at the time, a good answer was difficult, and so he understood that people were hungry for a convenient, reliable and inexpensive pool supplier.
In 1983 our very first black and white 12-page catalog was printed and put into circulation. Our founders poured all of their savings into it, and took a chance that his ethics of providing good quality, but affordable pool supplies would pay off.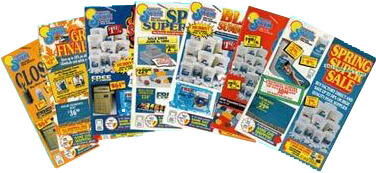 In The Swim's very first call center was on an enclosed front  porch, with two chairs, a table, and a single telephone. The first warehouse was their two-car detached garage that the shipping trucks accessed through a side alley.
All that hard work and confidence paid off though, and so began the company that you know and trust today, as In The Swim.
Despite In The Swim's humble beginnings from our founder's own home, eventually the business expanded so greatly that supply could not keep up with our demand. That was when the idea to expand came about, and eventually the In The Swim warehouse was moved to West Chicago, Illinois in 1992.
Things were so different back then, we didn't even have voicemail! A secretary was responsible for taking and transferring phone calls all day long. If you missed a call, you'd get a "While You Were Out" slip on your desk, which were fondly referred to as "pinks." Although the warehouse and office life sure has changed since then, our primary location still remains in West Chicago today.
In order to keep up with demand and our customers' insatiable desires to have their items delivered to them in a timely fashion, we opened up our second warehouse in Wayne, NJ. Today, we have nine distribution centers across the United States!
Spanning 30-years sure has tested our ability to change and adapt with the times. Since our first 12-page catalog, we've stuck with the tried and true catalog offerings for Residential Pool Owners, Commercial Pool Owners, and Wholesale. Some other fun catalogs we've published throughout the years include a catalog solely dedicated to pool parts, a spa catalog, and even a ski catalog!
But a very big change came about in 1997. In The Swim stayed up with current trends and we launched our first fully functioning website with all of our product offerings.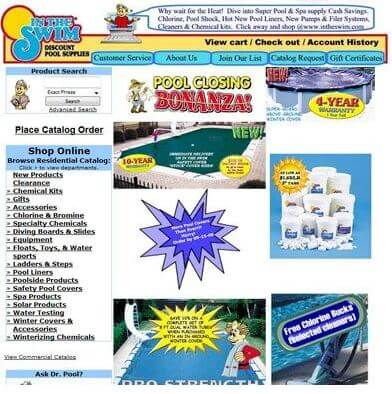 Around the same time as our website came online, In The Swim introduced someone very near and dear to us and our loyal customers: Dr. Pool!
Dr. Pool allowed us to interact with our customers in a way that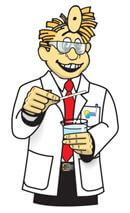 we never had before. He was the go to guy when you had a question or a concern about anything and everything pool-related. Although Dr. Pool is not so prominently featured on our website, he still answers our customer's technical emails, and was recently helping customers in a live Q&A event on facebook.
Today, In The Swim is America's #1 direct source for pool supplies. Since 1982 we've been providing customers with the best prices and the best service, guaranteed. We carry all you need for pool opening and pool closing – with everything else to keep you going in between. From chlorine and specialty chemicals to pool heaters and cleaners, no matter the item we've got you covered!
In the same 100,000 sq ft. warehouse since 1992, we now stock more than 2,500 products, and with nine distribution centers across the country and free shipping on any size order, you can be sure that your item will arrive when you need it.
In The Swim's 24 hour ordering service allows you to place your order online or by phone at any time that's convenient for you. We even offer a 30-day money back guarantee… we're that committed to ensuring that your shopping experiences with us meet and surpass all of your expectations!
Of course, we couldn't be where we are today without the hard work of our employees and the dedication and loyalty of our customers. No one could have imagined that In The Swim would go from where it was in the beginning with two employees – our founders working out of their home – to the over 100 full time employees we have today – 23 of which have been with In The Swim for 5-10 years and 26 who have been here over 10 years!
And our customers have the same impressive loyalty numbers. We have the highest reorder rate in the business. Our long term customers have created our success, with each order they've made, and we are truly thankful to you.
We're all a part of a little something special that has made the past 30 years truly amazing!
30 years. Wow. Thank You, America!


Sabrina Potirala
InTheSwim Staff Blogger