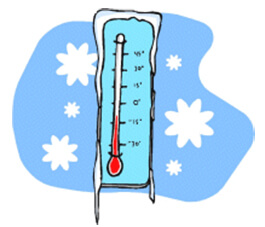 With summer winding down, kids off to school, and temperatures dropping along with enthusiasm for swimming, we start thinking about covering the pool. Once that's out of the way it's on to watching football on Sundays instead of scooping falling leaves and vacuuming a pool no one is using.
If you are debating whether or not to stretch one more year out of that swimming pool cover you have balled up in the shed or begin looking for a new one, or have been thinking of investing in a safety cover, this post is for you.
Since there are a so many cover styles to choose from, we'll need to compare them all, but don't worry – we gotcha covered.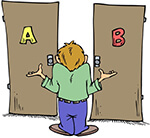 When it comes to selecting an in ground pool cover there are generally 2 options:  Standard Winter Covers and Safety Covers.
Standard winter covers are rectangular with loops for water weights and grommets for ropes to hold it in place. Safety covers are rectangular or custom shaped and held strong to anchors placed in the pool deck.
Standard Swimming Pool Covers
Within our category of standard swimming pool covers, we have two types of floating pool covers, a solid covers and mesh covers.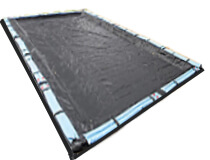 Solid winter covers are comprised of polypropylene strips interwoven and finished with a scrim. While the top layer comes in different colors, the bottom is always black to block out the sun's UV rays to inhibit algae growth in the spring and fall before and after the freeze.
The density of the weave or "count" is what gives it its weight and strength. Modern covers are designed to be light and strong so you get the best of both worlds and the lighter the cover the wider the weave and the cheaper it will be.
Some folks like to purchase the lightest, cheapest pool cover for the ease of covering the pool and then they can just throw it out in the spring rather than clean it off.
The best pool covers with the tightest weaves will tend to be much heavier and stronger. You can expect these to last much longer save money in the long run, over buying a cheaper pool cover.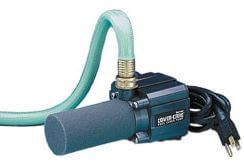 With solid winter covers, remember that as water accumulates, you must pump it off with a siphon or electric submersible cover pump, plugged into a nearby outlet with a garden hose attached to the side that runs out away from the pool. Some folks like keeping just enough water on the surface to keep the cover from blowing around and rippling in the wind.
Solid pool covers are also available in Blue, Green, Tan, and Silver colors. Top colors make no difference in performance except the silver version helps melt snow on a sunny day so you can pump it off sooner without waiting for a thaw.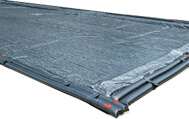 Mesh pool covers, are sized and weighed down the same way, but water drains through slowly so you don't have to pump it off. These are best used when accompanied by an Aquador or Skimmer Plug so as the water level rises, you skimmer stays blocked and protected from damage resulting from expansion of freezing water.
Within the mesh type there are two styles: Fine Mesh and Micro Mesh. Both allow water to pass through and leaves and debris either blow away or can be scooped off before removing the cover. The difference in warranty (3 yr vs. 8 yr), indicates that micro mesh is a much stronger cover.
Either way you go you will no longer need to buy or use pool cover pumps, hook up an extension cord and garden hose, and pump the water off. And, the free water you get from rain and snowmelt is a bonus!
Mesh pool covers install the same way as the solid and with enough weight can be held taught until the weight of the snow and leaves exceeds the perimeter weights. Then it should slide on the deck and rest on the water surface. In the spring, a mesh cover must be cleared of leaves with a telescoping pole and brush or leaf net, then pulled to the side slowly to let the water drain through.
COST: How much should I expect to pay? When you are buying a cover you are paying for the weave density, weight or overall strength of the cover, and for the warranty coverage. The stronger the cover and the longer the warranty is, the higher the price will be. Warranties cover manufacturer defects 100% for 'X' number of years, and then are pro-rated for remaining years. Most swimming pool covers are covered 100% in the first year so you are guaranteed at least one full replacement if it should fail.
Safety Pool Covers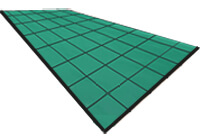 If you want to really make life easier and prefer to have a safer closed pool you might consider a safety cover. These are heavy duty fabric covers with brass deck anchors and straps and springs to secure it to the deck that you often see ads for with an elephant or a car sitting on top of them!
You can walk right over a safety cover and children and pets will be safe. They can also be quickly installed if you are going on vacation and want the peace of mind that no one can use the pool. When you get back, you can just "pop" it back off.
To size a safety cover, they are listed by pool size (length & width of the water surface). The cover size is 2 feet longer and 2 feet wider to give you an overall 1' overlap extending over the deck. There are stock safety covers that fit many pool sizes including rectangles and Grecian, and even include step sections; centered, or left or right side.
If you have a shape other than a rectangle like a Lazy L or freeform pool you can use our measuring guide to obtain a free estimate for all the brands of safety covers we carry. Don't worry if your pool is out if the ordinary, any shape and size pool can be covered. We can accommodate spillover spas, rock features, disappearing edges, and all types of decks including brick pavers, stone, wood, and even grass!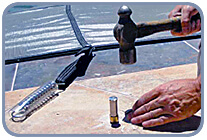 You can install a safety cover yourself or hire a pool service tech. If you want to do it yourself all you need is a rented hammer drill, ¾" cement bit, chalk line, tape measure, and a decent day to do the installation.
Safety covers come with a guide for drilling and you simply measure outwards from the edge of the pool, snap a chalk line, and measure and mark your anchor points. Then walk the perimeter drilling holes and cleaning out the drilling dust.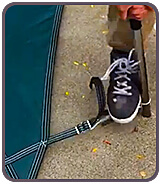 Next, tap in the brass anchor into the hole, and repeat. When you are done drilling and setting the anchors, attach the springs and buckles to the straps and then attach the springs to the anchors on one side of the pool. Using the installation rod, stretch the spring onto the anchors until they are all in place. All you need is your arm and foot!
Now your pool is safe and secure and now that the anchors are in place re-installing it the next time will be a snap! Removal is super easy, too. You just set the end of the installation rod so the notch faces away from the pool, lean it forward, and the spring pops right off.
Brass anchors screw down out of sight with the standard 1/4″ Hex key that comes with each cover. For summer storage, fold up the cover and place it in the storage bag.
Again, safety covers come in various styles. Options are Solid, Mesh, and Solid with Mesh Drain Panels.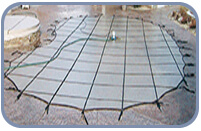 Solid safety covers block out all debris, water, and sunlight. You will pump these off just as you would with a standard solid winter cover. When you open a pool that has been covered by a solid safety cover, the water is usually just as you left it in the fall. The water clear, the bottom free of debris, and ready to go! Solid safety covers are about 50% heavier than the mesh, so you may need 2 people to put it on and take it off.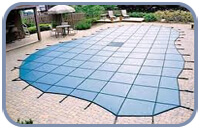 Solid safety covers with drain panels are for those who like the performance of a solid cover but prefer not to have to pump off the water, there are solid safety covers with mesh drain panels to let the water and snow melt through. Again, just like the standard mesh winter covers; an Aquador or Skimmer Plug should be used with this type to protect your skimmer from freezing and cracking. Water that drains into the skimmer and then expands inside the skimmer, will cause big cracks in your skimmer.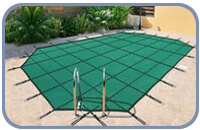 Mesh safety covers are available in a standard and heavy duty or Pro Mesh versions.  Both are much lighter than the solid covers and the standard will be the lightest of all.  Installation is much easier, water passes right through, and covers can be made taught so leaves blow right off.  One thing the mesh covers do not do is block out the sun so it is best to close late, open early, and use a proper chemical closing kit.  In the spring you can pull back a corner and add some liquid pool shock if you want to delay opening.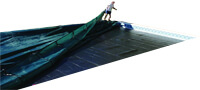 If you like the idea of a lightweight mesh safety cover yet want to inhibit algae growth there is a Mesh Mate available. This is a black, floating blanket similar to a solar cover, but in a heavier material.
What it does is block out the sun so algae can't grow and catch fine silt that sifts through the mesh from leaves that may sit on top.
Which brand should I buy? As far as brands go, they all carry comparable styles of material for mesh, heavy duty mesh, and solid covers. Some top brands are GLI, Loop Loc, Meyco, HPI, Merlin, and more. All of the brands we carry meet the standards set by the pool and spa industry as well as other national organizations for quality and safety.
So now that you know the scoop on winter pool covers for in ground pools I hope you can make a well-educated decision and are off to a successful pool closing this year.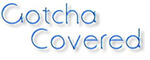 And whether you choose a standard or safety swimming pool cover this fall, remember that InTheSwim's "Gotcha Covered!"


Mike Cummings
InTheSwim Staff Blogger