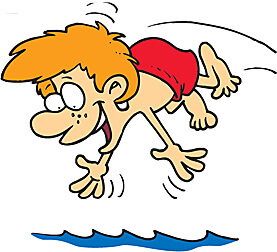 Last summer I had a guest at my pool who refused to go swimming unless my natural gas pool heater was set to 90 degrees. The pool was already a comfortable 86°, yet he stubbornly claimed that 4° warmer would make a huge difference in his comfort level.
It was early September, and the nights were gradually getting colder, and the end of the swimming season was near. Heating the pool was becoming costly, but I was trying to be the gracious host, so I walked around the corner of the garage to where the heater and filter were hidden away out of site. I stood by the heater for awhile then came back to the pool. "There you go, buddy! NINETY Degrees, just for you".
He dabbed his foot above one of the jets and claimed to feel instant results as he jumped in ~ I hadn't changed a thing. Clearly he did not understand much about what it takes to heat an inground pool.
NATURAL & PROPANE GAS HEATERS
There are several options when it comes to heating your inground pool, and the benefits certainly outweigh the operation costs. In my case, gas pool heaters offered quick heating that could warm-up the water for the weekend or a few hours before I had guests over. With the digital control panel, I can accurately gauge the current temperature, keep track of target temperatures, and measure the costs of maintaining a given temperature. A natural gas heater can range from $1000-$3000 and generally can last 15 years or longer.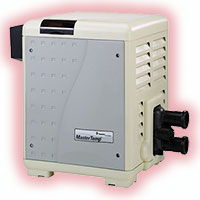 Pentair MasterTemp Pool Heater is designed with easy operation in mind. The straightforward digital, rotating display is complete with indicator lights makes for simple system operation. The compact design quiet operation makes for a discreet heater that will not be an eyesore near your pool area. It's built to last with tough corrosion-resistant components can withstand exposure to low pH, high water flow, and heavy use-age. With a hot surface ignition it does not require lighting of a pilot light, and push-button, digital control panel is easy to operate. The MasterTemp incorporates PMG combustion technology giving it the a high 84% efficiency rating.
Connectivity is certainly a factor when considering the best inground pool heater to fit your situation. Jandy's Legacy LRZ Natural Gas Heater features universal union connections for up to 2-1/2 inch PVC, and Jandy's exclusive copper-finned heat exchanger. The design allows for electric, water and gas connections to be made on either side of the unit, making it extremely versatile for both new or replacement installations. You are not limited by its installation orientation—a factor that many pool owners tend to overlook. Similar to the MasterTemp Pool Heater, the Legacy LRZ boasts a high tech but easy-to-navigate, backlit control panel with a simplified menu along with the pilot-less electronic ignition, making the LRZ extremely user friendly.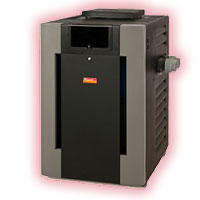 If you live in a region with a dramatic climate one of the best heaters on the market specifically built to withstand the elements is the Raypak Digital Pool Heater. Many consider the Raypak Digital Heater to be among the best heaters specifically designed to defend itself from factors that can decrease performance in a typical heater: wind, leaves, rain, sleet, snow, airborne debris, downdrafts, updrafts – it has an answer for all of these would be antagonists. It would pretty much take a hurricane or apocalyptic ice age to slow it down. Rust is also not a problem with this pool heater – equipped with polymer headers, a copper finned-tube heat exchanger and stainless steel tube sheets. The Raypak Digital interface includes a self-diagnostic center that clearly explains the problem without the use of confusing codes.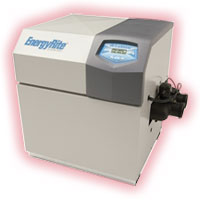 The Lochinvar EnergyRite Low Nox Heater combines long-lasting outdoor construction, energy efficiency, and digital accuracy that results in a high quality heater that offers high performance season after season. It's 88% thermal efficiency rating certainly makes it the most energy efficient gas pool heater. It's built to commercial grade standards and Lochinvar is a company that is known for their rigorous inspection process ensuring that every single detail is considered. The EnergyRite is rust-proof, with exterior surfaces molecularly molded with a porcelain and glass hybrid mixture that will not rust. The combustion chamber is fully shielded and windproof which also makes it spider and wasp nest proof.
POOL HEAT PUMPS
On the slightly more expensive start-up side (but ultimately pays for itself) heat pump pool heaters are ultimately one of the most cost-effective options on the market thanks to their advanced heating technology. Heat pump pool heaters suck in heat from the outside air and then a compressor heats it up before transferring it to the water. Regardless of rain or shine, as long as the temperature outside is above 50° – the heat pump can heat the pool water.
Heat pump pool heaters cost between $1900-$3700 and you will enjoy low maintenance during the course of an approximate 15 year lifespan. Sure a heat pump may carry an initial sticker shock, but ultimately it will pay for itself due to very low operation costs. It uses a fraction of the energy a gas heaters and after just a few seasons of use the savings will add-up.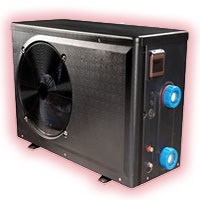 Let's take a look at the Aqua Pro Heat Pump as it is one of the best available on the market in terms of efficiency and trouble-free maintenance. As I mentioned, after the initial purchasing cost, the Aquapro is the cheapest system to heat your inground pool, and includes features typically reserved for commercial grade heat pumps like a 100% titanium heat exchanger, automatic defrost (effective on temperatures down to 38 degrees), programmable timer clock, and Pro Smart controls. The Aquapro heat pump is extremely quiet and a compact size makes it easier to hide than the larger pool heaters.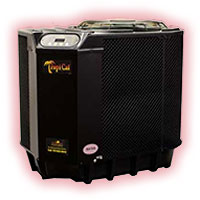 Another fantastic heat pump option, especially if you live in a cooler climate or intend on extending the length you plan on keeping your pool open, is the AquaCal Heatwave. It also features a titanium-built ThermoLink heat exchanger, is built to resist corrosion, sun-fading and rusting while producing higher heating power than most heat pumps. The AquaCal Heatwave is considered to be one of the quietest, user-friendly heat pumps available. It offers a surprisingly long list of features for such an affordable system making it one of the best values on today's market. More on the AquaCal Heatwave here
SOLAR POOL HEATERS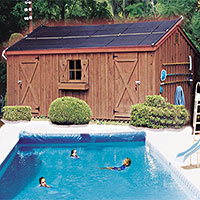 While more common for above ground pools, inground swimming pool heaters are becoming increasingly popular with environmentally conscious and budget savvy pool owners in search of a renewable energy resource for heating their pool. Solar inground swimming pool heaters harness the sun's energy, transferring the sun's heat into the pool water as it circulates through a solar panel heater.  Solar inground pool heater systems can cost between $1000-$2500, depending on your pool size. Solar Pool Heaters can last 15 years and are certainly an excellent investment. The key limitation of solar heaters is that because they do require sunshine; cloudy days can limit their effectiveness and it may take a few days of sunny weather to raise the pool to a comfortable and pleasant temperature.
IN CONCLUSION…
The size of your pool, how quickly you want to heat the water, the temperament of your region's climate, and how long you want to extend your swimming season are all important factors when determining what kind of heater you require. Budgetary concerns from initial set-up fees can often be curbed by low operational costs.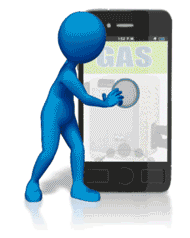 In such a feature rich market, it's a difficult decision to decide on the best pool heater for you. If you have a nearby gas meter, a natural gas heater may be the best choice, or if you have a perfect sunny spot for mounting solar panels, that may be the way to go. And if you have neither, take a look at an electrical pool heat pump.


Ryan Dornan
InTheSwim Staff Blogger