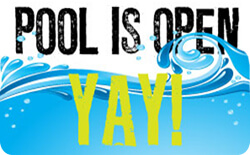 Spring is around the corner and it is time to open the swimming pool for a fun-filled summer.
Pool opening may seem laborious but if you properly closed the pool last fall and kept it covered, your pool opening will be a breeze.
Remove Pool Cover:
The first and foremost step towards opening your pool is obviously removing your winter cover. Your winter cover may be full of leaves and debris at this point in time. If you have a Leaf Catcher on the pool,simply remove the net and discard the messy leaves.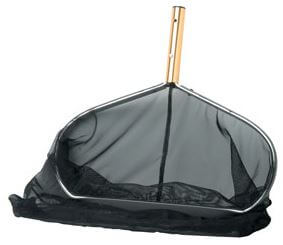 No Leaf Catcher? Use a Pool Leaf Rake to scoop up leaves and debris to prevent them from falling into your pool when you remove the cover. Work the bag type Leaf Rake across the pool, pushing and pulling, to remove the cover debris.
If your solid cover has standing water, use a pump like the Water Wizard Pool Cover Pump which pumps 1200 gallons of water per hour and has an automatic shut-off when water is removed.
Once you remove the debris and water, slowly pull the cover to a dry and clean area. Hose down the cover, allow it to dry and put it away for the season.
For Mesh Safety Covers, you can also use a Leaf Rake to clean the surface, or use a Leaf Blower, or garden hose to clean it as you remove the cover from the pool.
Add Water:

Chances are that you lowered the water level in your pool in order to close it for the winter season so now is the time to add some water to your pool and bring it up to its normal operating level. You may need to waste some water vacuuming or backwashing, so fill the pool a little higher than normal.
Remove Plugs:
Next step is to remove all the plugs or gizzmos that were installed in your pool returns and skimmers for winterizing, allowing water to fill the pipes again. Replace any return fittings and skimmer baskets.
Pump & Filter Equipment:
Start reassembling or reinstalling your pool filter, pump and chemical feeder. Replace the drain plugs, using new Teflon tape. Lubricate any o-rings with a Silicone pool lube. Check all equipment, to be sure that clamp bands are tight and secure, to keep loose lids from flying off.
Open up all of the valves before and after the pump, and open the air bleeder on top of the filter. Prime your pump by opening the lid and filling with water, before starting the motor.
If you have a multiport valve, you can start up the system with the valve in the "Waste" position, to flush out any nasty water in the skimmers and drain. Once water is really flowing, shut off the pump, and switch to the filter position.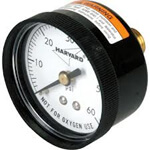 When starting to send water through the filter, keep an eye on the pressure gauge – shut off the pump quickly if the pressure spikes. This could mean that you have a closed valve, or plugs still in the pool, or bad filter media. If normal, note the start-up pressure, and backwash when the gauge is 8-10 lbs above the start-up pressure.
Check for Leaks:
Check your pool and equipment for any leaks and cracks that might have developed over the winter months. Very small drips on the equipment sometimes seal themselves, or you may need to replace a fitting or the thread sealant.
If your water level was unusually low when the cover was removed, check the wall surface for any voids at the water level. For more leak detection information see our post: Leaking Pool: Find and Fix Pool Leaks.
Clean the Pool:
Your pool should be quite clean if it was protected by a quality Pool Cover; however a good vacuuming, followed by a thorough brushing, is recommended to loosen dirt and algae.
If you plan to use your automatic pool cleaner to clean the pool, wait

until the water is balanced and the shock chlorine level has subsided.
Skimmers, tiles and coping stones can be cleaned with a cleanser such as our Tile & Vinyl Cleaner – a safe cleanser that contains no phosphates or nitrates.
Chemicals:
Now you have come to the most important part of pool opening – water chemistry. Although you added proper chemicals and balanced the water before closing your pool, you will still need to add a few chemicals for a successful pool opening.
First of all, test the chemical levels in your water using a Pool Test Kit so you know exactly which chemicals you need to add to adjust your pH, Alkalinity, Hardness and Stabilizer levels. Balancing the water before you shock the pool helps your pool shock to work more effectively.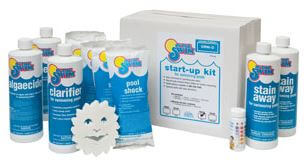 Now to treat the water, take a look at our Pool Opening Kits – pre-measured kits have everything you need – clarifier, algaecide, stain & scale, and our potent pool shock.
Deck Equipment:
Once your filtration system is running and water chemistry is adjusted, you can proceed to install your pool ladder, handrails, and diving boards etc. Check the deck equipment for any cracks and damage and repair or replace – to keep your swimmers safe.
Now you are all set to enjoy a fun and entertaining summer in your sparkling, crystal clear pool. Have fun and don't forget that you can call us at 800-288-7946 – 24 hours, 7 days a week with your spring pool opening questions!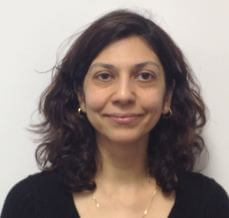 Ayesha Aslam
InTheSwim Staff Blogger