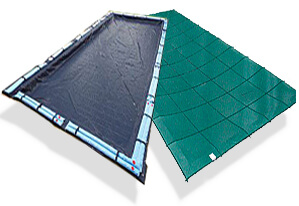 As the winter season gets closer, it's time to prepare for pool closing.
Here's the different categories of in ground pool cover accessories and parts to take care of your pool cover and your pool this winter.
Pool cover pumps are one of the most important accessories for solid pool covers. Left unattended, excessive water weight stresses cover seams, and could pull the entire cover in the pool! Even small amounts of water are a problem – water attracts worms, and worms attract birds, who can damage your pool cover with sharp beaks and claws.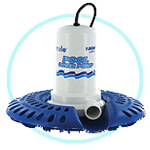 The Rule 1800 Pool Cover and Utility Pump pumps up to 1800 gallons per hour. It is easy to install – all you have to do is attach a standard hose to it and plug into a 110 volt outlet. The Rule 1800 comes with a 3/4 inch male thread adapter to attach to any standard garden hose. Even in the event that the Rule 1800 is sitting on a frozen sheet of ice, it will not be damaged.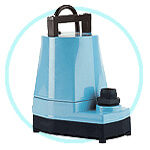 The Little Giant Water Wizard pump is another top of the line pool cover pump. It has a 1/6 HP motor which moves 1200 gph, at a value price. It comes with a garden hose adapter and a 110 volt, 25 ft. power cord. Standard model or with automatic shut off switch and stabilizing plate. Pumps boats and basements or outdoor areas too, in as little as 1/8″ of water depth.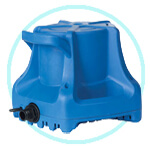 The Little Giant APCP will pump up to 1700 gallons an hour. Sturdy and compact, so it can be moved easily and will remove water from any type of pool cover. It can drain the pool, spa or pond as well. This reliable and strong cover pump can handle any size job. You can attach it easily to any garden hose and connect the 110 volt, 25 foot power cord.
Pool Cover Patch Kits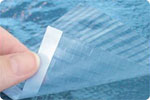 Our Winter Cover Patch Kit is an adhesive backed poly patching material that can fix minor tears and rips in any pool cover, from animals or branches. Easy to use – just clean and dry the area, measure, cut and apply.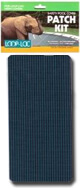 Loop-Loc Cover Patches can be used on any cover, but are made to match popular safety cover colors, like green, blue and grey. They also match the material, either solid vinyl or mesh fabric. Self-adhesive cover patches are peel and place, and made by 3M, a name you trust. Our most durable pool cover patches.
Pool Cover Weights, Sealers, Protectors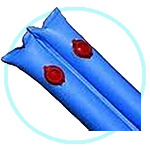 Water tubes are used to secure floating pool covers, and they can also be used around safety covers, to keep leaves from blowing under the edge and into the pool. Water tubes come in either single tube or double tube. Double water bags cost 80¢ more, but they don't roll off a pool deck, and if one side pops, you still have the other.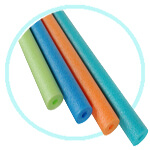 Pool Noodles can also be used around safety pool covers to seal up gaps against steps or walls. Cut in half lengthwise, and they can be inserted under the edge of a safety cover, to keep leaves from blowing in, while keeping the cover from contacting rough coping stones or edges. Great use for old or new pool noodles.
Cover Guard has a sole purpose of protecting your pool cover against rough coping stones and sharp edges. It's a long sheet, 24″ x 20 feet – of PVC reinforced vinyl that you lay over the pool edge to protect your pool cover from wearing on the pool.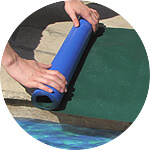 Cover Guard adds years of life to mesh safety covers. Two-tone color, blue on the bottom and green on the top. Just lay it around the edge of the pool underneath the pool cover. Can be cut into smaller sections with scissors.Cover Guard also prevents leaf stains on light colored coping stones.
Heavy Duty Leaf Removal
Leaf Catchers for pool covers are lightweight open mesh (1/4″) covers that are placed on top of a floating solid cover, but can also be used with safety covers.

They do just what they say – they catch the leaves and hold them for you to remove them in one easy motion, without brooms or blowers. Tuck the Leaf Net under a few water tubes and it will stay in place.
Leaf catchers pull off the pool super easily, even with a very thick layer of leaves. For longest life, we recommend that you remove and store your Leaf Catcher after all the leaves have fallen.
Pool Safety Cover Hardware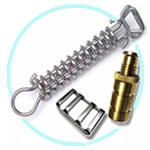 If you have a safety cover, at some point you'll need replacement hardware for your cover. Not to worry! In The Swim has safety cover hardware replacement parts and accessories by name brands such as GLI, Meyco and Loop-Loc. We have your stainless steel springs and brass anchors, cover tools and hex keys. Over 50 different pool safety cover hardware and accessory items!
Vinyl pool owners! Protect your skimmer by blocking water from entering the skimmer, as it rises and freezes. Prevents a very costly skimmer replacement caused by pool water freezing inside of your skimmer. If a vinyl pool freezes with a 4 inch thick, key-shaped sheet of ice inside the skimmer, it can not only crack the skimmer walls, but crumple the wall beneath it, if the ice sheet drops or tilts slightly.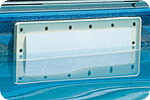 To prevent this, use either the Aquador or Lid'L Seal, to cover the skimmer opening, with a tight, Tupperware™ type of seal. A new product (left) acts not as a cover, but as a plug.
The Skimmer Plug makes a seal on the inside of your existing faceplate to block water from entering, and prevent ice damage to your skimmer.
Inground pool cover accessories will help you protect your pool cover and your pool from freezing temperatures. Winter pool covers will put up with some tough winter conditions this year, with El Niño settling in. Give your pool cover some TLC, and you'll get many more years of service in return.


Alex Malamos
InTheSwim Staff Blogger