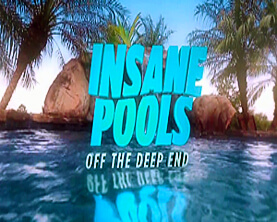 There are custom pools and gardens – and then there are Insane Pools! Animal Planet's new TV series, INSANE POOLS: OFF THE DEEP END, follows pool builder Lucas Lagoons as high and dry homes morph into exotic waterfront properties through grand designs.
The six-episode series, INSANE POOLS: OFF THE DEEP END, plays on Fridays at 9:00 pm on Animal Planet.
From a long generation of landscapers, Congdon was inspired to revolutionize an industry that was stuck in the habit of making square, boring pools. From concept to creation, his Florida-based company, Lucas Lagoons, creates one-of-a-kind backyard oases across the country. From majestic waterfalls to natural saltwater grottoes on remote islands, Lucas and his crazy team of artisans, including his mother who everyone calls "woman," have been building creations that reinvent outdoor living for over 20 years.
Congdon's passion for these aquatic paradises is contagious, and he often finds himself convincing clients to go big or go home,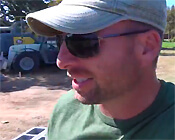 such as the couple whose original plan for a $25,000 koi pond turns into a $165,000 pool remodel. These upgrades cause serious tension for construction teams striving to build a dream pool in only ten days. High Drama!
A Show is Born
Lucas Lagoons were not really "discovered" by Discovery channel scouts but had dreamed up the idea themselves, based on the success of their YouTube channel videos. They hired a PR firm and production company to sell the idea, and voila! it's now a companion show to Animal Planet's "Treehouse Masters".
Custom Pool Customers
All of the homeowners featured in the 6-series show are actual homeowners who contracted with Lucas Lagoons for a pool renovation, but weren't planning on necessarily spending $200,000 on the job!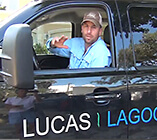 Congdon said that although the homeowners aren't paid actors, they were given a roughly 10% discount for agreeing to be featured on the show. Congdon himself is only paid $1500 per episode, but has already seen an increase in the demand for his pool designs.
Florida Pool Construction Reality TV
Florida is no stranger to reality TV programming, having hosted many over the years. Insane Pools is set in the Bradenton / Sarasota area of Florida, which is south of Tampa, on the Gulf coast.
Here's a gallery of some of Lucas Lagoons work transforming boring backyard pools into aquatic showpieces!
Finally, a reality TV show that I can actually watch! Tune in Fridays at 9pm to catch the next episode of Insane Pools. If you don't have the Animal Planet channel, you can view episodes online at AnimalPlanet.com.

Davy Merino
InTheSwim Blog Editor
INSANE POOLS: OFF THE DEEP END is produced by Fishbowl Worldwide Media in association with CryBaby Media for Animal Planet.