Dull, cold and dark days of winter are long gone and have given way to sunflowers, shady trees, sunshine and YES, Swimming Pools. Swimming is one of the most enjoyable summer activities and the fun explodes when we invite friends and family to a pool party on Independence Day.
4th of July is mainly associated with lavish BBQ's and fireworks but a pool side 4th of July party is the perfect start to a great Holiday, before the grill and fireworks are lit.
Here are some great Fourth of July pool party planning ideas.
4th of July Pool Party Invitations
Now that you are excited and thrilled about organizing a pool party – just don't forget to invite people! You may have done all the party planning and made all the arrangements but what's a pool party without friends, family and neighbors.
Anybody can buy invitation cards at a store, or send them online through a service like evite, but it's a great touch to make your own personalized party invitations. All you need is some art supplies and creativity to create your own patriotic pool party invitations.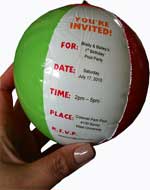 Use craft paper in assorted colors to draw and cut out beach balls, lounge chairs or flip flop shapes to print your message on. Include some independence day touches of flag and fireworks. Step it up a notch, and you could deliver invitations printed on mini-beach balls, small towels or vials of pool water.
July 4th Pool Party Food & Snacks
Swimming and splashing in the pool are a lot of fun but consumes a lot of energy and your guests are going to be craving some appetizing snacks to keep going.
Don't want to cook so much? Arrange a pot-luck pool party! Have guests bring a favorite summer drink, dessert or finger food to the affair. Fresh fruit platters or veggie trays will stay fresh outside if you place platters on a bed of ice.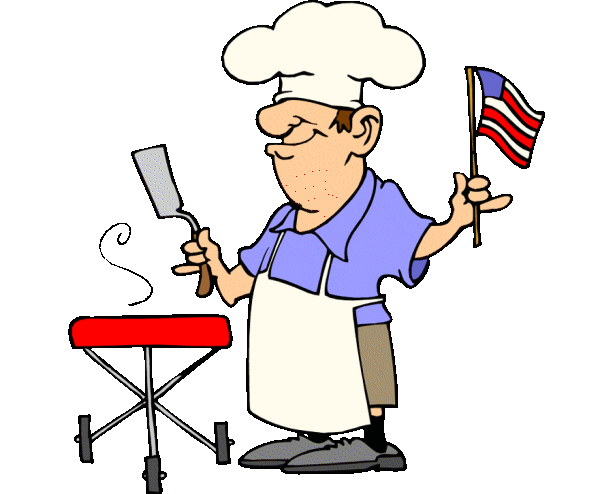 No 4th of July party is complete without chunky steaks and juicy hamburgers. If you will be firing up the grill, make sure your have enough gas or charcoal available to keep the grill going into the evening.
Hot Dogs and Kielbasa are always a crowd pleaser – and for those who prefer veggies, grilled portobello mushrooms, corn-on-the-cob, squash and zucchini will pair nicely with a wild rice or pasta dish.
Set up a party table in a shady location, and load it up with your food and snacks, paper plates, plastic ware, cups and napkins. Add some patriotic colors with centerpieces, balloons and a nice tablecloth. Put a few trash cans in visible locations.
July 4th Pool Party Drinks

It's gonna be Hot on the Fourth of July, be sure to have plenty of liquid refreshment for your guests. Patriotic punch is a fun red, white and blue drink for all ages, but it's a little labor intensive. Instead, make red and blue ice cubes from Kool-aid or Gatorade, and add them to lemon-water or lemon-lime soda.
Another fun drink to make is a Red, White and Blue Sangria. Chilled red wine with peeled apple chunks and blueberries. Add some ginger ale for for a tart fizz and some sugar for a soft sweetness. Serve it in a tall pitcher, placed in an ice bucket or bowl of ice.
For more patriotic drink and food recipes, see Lauren's Blog Post on Red, White & Blue Patriotic Pool Party Recipes.
Two coolers filled with ice are useful, so that you can have one with water and non-alcoholic drinks, and another with beer, wine (and water). Have extra ice on hand so that you don't run out, especially if you are making frozen drinks, or keeping lots of dishes cool to protect them from the heat.
July 4th Pool Party Decorations
Now it's time to deck the halls – your pool itself can offer complete entertainment but looks do matter and even better than a swimming pool – is a decked-out swimming pool.
Balloons, either helium or air filled, really let people know that this is a party. Colored paper streamers or banners from the party store lends an inviting atmosphere, and my favorite tip of all – a half dozen red, white and blue beach balls floating in the pool is fun and festive.
Want to add more fun? Pool floats like Tan Dazzler or the Aqua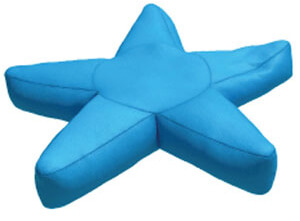 Rocker Pool Float offer a relaxing experience in the pool for adults and something exciting for the 12 and under crowd. The new Giant Starfish pool float fits right into a July 4th party theme, imagine having a few of these floating stars in your pool!
Another idea to enhance the beauty of your pool is by installing pool lights either inside or around the pool. Pool patio lights provide a decorative soft glow and create a cool and calm ambiance for your guests after the whole day of swimming and splashing.
These lights come in many shapes, sizes and colors but my favorite are the LED Globe Lights that can be hung under your umbrella, around your gazebo or patio, or the Chill Lite pool lights that could be placed around the pool deck or even float in the pool.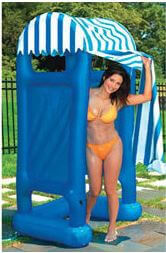 One more thing to add to your pool décor may be a Shower Cabana;  provides privacy for your guests while rinsing off before & after pool activities and will keep them from running indoors every time they need to rinse off – which will keep your carpets and floors clean too. It also serves as a convenient changing room. The inflatable shower cabana connects to any garden hose and has a classic blue stripe design that complements any pool area.
Pool Party Games
Pool games are a lot of fun and will provide hours of entertainment for your guests. Pool Volleyball games are always a hit, and will attract a lot of people into the pool. Nominate a person or child outside of the pool to be the ball chaser.
For the adult pool party, maybe your guests would be interested in our floating blackjack table or floating beer pong table. Our Giant Beach Ball (46″ dia.) is always a hit at pool parties, and the more crowded the pool is, the better!


For the kids, different ages will like different games and activities. For the 5-10 crowd, Diving Toys, like the Triple Fun Pool Dive Game Set can keep their attention while building swimming skills. The Arcade Shooter pool game is designed from the carnival park squirting water gun game. Kids of all ages and adults will fight over this floating fun station.
Safety First!
Before your guests start jumping in the pool (No Diving!), designate a lifeguard to closely watch the pool. Place a large, high chair at a vantage point where they can focus on the pool and not the party. After a 1hr shift, it may be wise to switch lifeguards, and enlist another watchful and responsible adult.

Give the guard a whistle on a lanyard to make them official. Instruct them to blow the whistle for running, diving, dunking and general unsafe horseplay. Above all, keep a watch on the kids as they go underwater, and make sure they all come back up!
Take note of any intoxicated guests, and keep them around awhile, with some of your tasty lemonade. If necessary, make alternate plans for their safe return to their homes.
Dive In!
Your pool looks perfect, the food is ready, and your guests have arrived – there is only one thing left to do – Jump in the Pool and have Fun!
Put some of these pool party planning ideas into action, and I'm sure that you will have the best Fourth of July Party around the block and your guests will cherish the fun memories for years to come.


Ayesha Aslam
InTheSwim Staff Blogger