As a commercial pool owner, it is vital that all lifeguard apparel and equipment be up-to-date in order to ensure the safety of your swimmers. Sometimes, it can be a bit overwhelming to remember all the details about what you will and won't need. Luckily, In The Swim is the one stop shop for lifeguard supplies!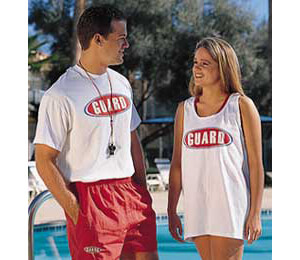 To start with the basics, it is important for the ladies to have a Guard Suit that is easy to maneuver in but yet stays put, while men can stick with the basic lifeguard shorts. LifeGuard suits are made out of material that is quick-drying and comfortable, so the lifeguards won't be soaking wet from a dip into the pool.
From there, it is possible to build onto the outfit, with guard shirts and tank tops that specify in bold lettering the word GUARD. Our guard shirt's loose-fitting form and white color keeps lifeguards more comfortable while they are out of the water, and can be easily removed when their chair shift is over and the cool pool is calling.
And for those especially windy and rainy days, it is also nice to provide the staff with lifeguard windbreakers. These Nylon jackets are water repellent to keep the rain away, and features a six-snap front closure with drawstring. Bright red lifeguard jackets are easy to spot even from across a large swimming pool.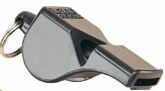 To "accessorize" these outfits, consider a lifeguard hat that will shield the eyes from the hot sun rays. One size fits all, as each hat features an adjustable band and internal sweat band. But of course, no lifeguard outfit would be completed without a whistle either! There is no "pea" in this whistle so it will not be affected by water, which makes it the perfect lifeguard whistle. Lifeguards will be able to quickly grab the attention of children who might be rough-housing a little too much in the water!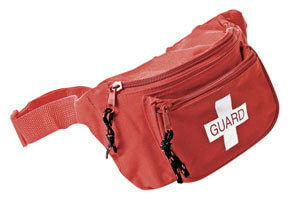 And don't forget the number one lifeguard accessory, the fanny pack. Although the fanny pack went out of style with the 90's, they are a functional and practical way for life guards to keep important first aid materials on hand with them at all times. These lifeguard fanny packs may not grace the runway during Milan Fashion Week, but they certainly serve a purpose!
Keep in mind that it's paramount for all life guard apparel to be identical; that way it is quick and easy for swimmers to identify the lifeguards, should they need to call on them in an emergency.
Now that your lifeguards will be easy to identify, set them up with the appropriate equipment needed to properly preform their job. To make it so that the lifeguards can watch over the pool like hawks, make sure that your facility has plenty of lifeguard chairs that they can perch upon. Attaching a lifeguard umbrella to the chairs will reduce glare from the sun, so the lifeguards won't be blinded and can keep a proper eye on the swimmers.
Another bit of required life guard gear are rescue tubes and or rescue cans. These are easy to throw to a swimmer that is having a difficult time keeping afloat. It might also be required to have a life hook and rescue pole around; tools to assist in pulling a drowning victim to safety.

To assist outside of the water, there are many required items that should be easily accessible and close at hand. The first of these is a commercial pool first-aid kit which includes all the basic essentials you need to help clean and close minor cuts and scrapes.
For more severe accidents, the BloodBorne Pathogens, Clothing, and Spill Kit contains items such as absorbent powder, protective eye wear, an isolation mask, etc. Not only is it important to assist whomever the victim may be, it is also vital that the staff protect themselves as well, with a quality BloodBorne Pathogen kit.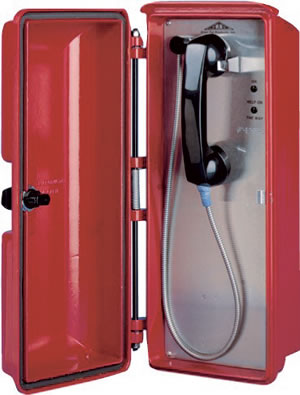 For serious situations that demand immediate attention, a Pool Emergency Phone will get offsite help onsite immediately. This phone will instantly dial a phone number as soon as the user lifts the handset. You can program the number dialed to call either the front desk, lifeguard stand, or 911.
To follow along these lines, be sure that there is a functioning Manual Resuscitator, or CPR pocket mask onsite. The rescue mask fits over the patient's face, and because it is made of flexible PVC, ensures a tight and comfortable seal to properly dispense airflow. It comes in an adult, pediatric, and infant size to help any and all in need.



For those with possible back or neck injuries, pools are required to have a spineboard that will limit mobility and prevent further injury as they are moved from the pool. Straps and a head immobilizer secure the victim. Our spine boards float in the water to make pool rescue easier.
Just as necessary as the rest of the life-saving equipment is the Philips Heartstart Onsite Defibrillator. This defibrillator can be used on adults, children, and
even infants experiencing cardiac arrest. A narrator guides the user through each step in the process, making traumatic rescue situations more predictable. Weighing only 3.3lbs, the Philips Heart Start is very portable, allowing guards to take it where it's needed. Comes with a pair of adult defib pads, four-year battery and a five year warranty.
Each and every piece of lifeguard gear is crucial when assisting in an emergency and every situation is different. Be sure that your staff is well-trained on life-saving techniques and that they are comfortable with the different lifeguard equipment.
Being a lifeguard is no easy feat! It takes quick-thinking and the ability to remain calm under pressure. These pool rescue devices, when used properly, can make a huge difference – between life and death.
For more lifeguard and rescue equipment, visit our lifeguard supply section at InTheSwim.
Here's to a safe summer!


Sabrina Potirala
InTheSwim Staff Blogger