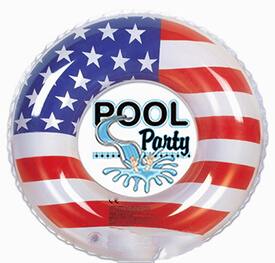 With the temperatures rising, what better way to spend your Memorial Day by the pool with your friends and family? Make sure your holiday is unforgettable with these fun tips to spruce up any patriotic themed party!
A few decorations, food and two patriotic themed recipes and your pool is all you need for bringing friends together to kick off summer!
First, to tackle thirst with a patriotic beverage that the adults can enjoy, get the party going with this delicious poolside drink recipe.
Red, White, and Blue Sangria: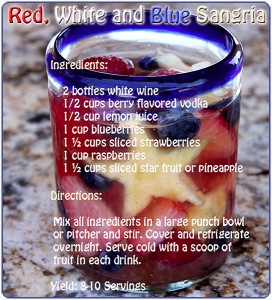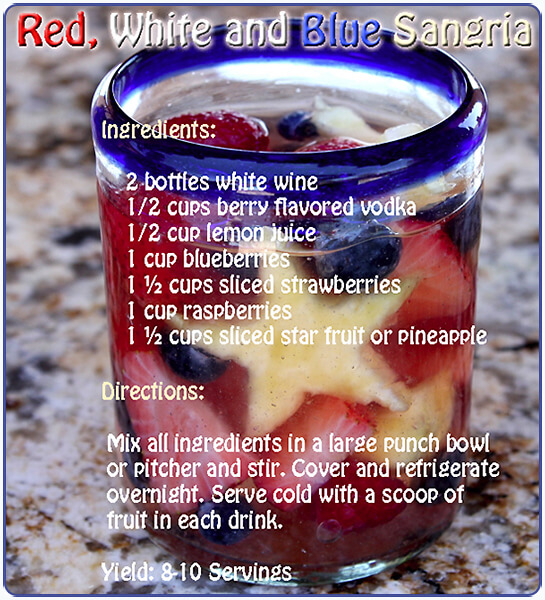 Ingredients:
Strawberries, sliced
Blueberries
Pineapple, cut into star shapes
2 bottles dry white wine
1 cup Triple Sec
1/2 cup berry-flavored vodka
1/2 cup fresh lemon juice
1/2 cup simple syrup
Combine the ingredients in a large pitcher and stir. Chill in the refrigerator for at least four hours. To turn this into a kiddy cocktail: replace the alcohol with Berry Sprite!
Pool Party Food:
For the entrée, do yourself a favor and don't stress about making or preparing foods that fit the theme, instead opt for an easy BBQ. Hot Dogs, Hamburgers, Potato Chips, Baked Beans or Potato Salad. Black Bean burgers are a great veggie alternative on the grill.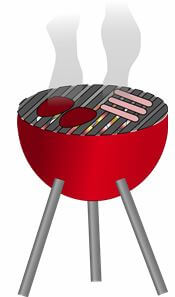 Nothing says All-American quite like grilling out in the warm sun anyway, and it will help take one thing off your plate on the big day! 🙂
American Flag Cake:
Keep your guests fortified! About halfway through the party, pull this amazing American flag cake from the 'fridge. Bake it a day before, so it is all ready to enjoy on the day of your party without any extra effort on your part but fighting over who gets the last piece!
Ingredients:
2-1/4 sticks of unsalted butter at room temperature
1 cup sour cream at room temperature
6 large eggs at room temperature
1-1/2 teaspoons vanilla extract
3 cups granulated sugar
3 cups flour
1/3 cup cornstarch
1 teaspoon salt
1 teaspoon baking soda
2 half-pints blueberries
3 half-pints raspberries
For the Icing:
1 pound (4 sticks) unsalted butter at room temperature
1-1/2 pounds cream cheese at room temperature
1 pound sifted confectioners sugar
1-1/2 teaspoons pure vanilla extract
Directions :
Heat your oven to 350 and butter and flour an 18 x 13 by 1-1/2-inch deep sheet cake pan. You can also buy flag shaped baking pans.
Cream the butter and sugar with an electric mixer on high speed, until light and creamy. With a medium speed, add the eggs, two at a time, then add the sour cream and finally the vanilla.
Using a flour sifter, mix the flour, cornstarch, salt, and baking soda in a bowl. Using your mixer on low speed, fold in the flour mixture to the butter mixture until just combined. Pour into the cake pan and smooth the top with a spatula. Bake on the center rack for 20 to 30 minutes, or until a knife tip comes out clean. Cool to room temperature.
For the icing, mix the butter, cream cheese, sugar, and vanilla with an electric mixer. On medium speed, mix until smooth.
After cooling, spread 3/4 of the frosting on the top and sides. Use a toothpick to trace the outline of the American flag into the frosting. Fill the upper left corner with blueberries. Place two rows of raspberries across the top for your red stripes.
With a pastry bag fitted and a star tip – run two rows of white stripes in between the raspberries. Alternate rows of raspberries and icing until the flag is completed. Save a little icing to make white stars in between the blueberries.
You can serve this in the pan. If you want, you can flip it onto the counter before frosting. Use Parchment paper when you grease and flour the pan.
Patriotic Pool Party Decorations!


Even though you are throwing a pool party for this special day, don't accidentally skip the festive decorations!

On a holiday to honor our fallen men and women, there's no limit to how much red, white, and blue you can use! Mini flags are a great way to feature the holiday, and anything sparkly or glittery will inspire the National Anthem's "rocket's red glare." Even adding some red, white, and blue balloons will really spruce up any backyard with these festive colors. To reinforce the theme, carry your decorations through to the pool!
To end your Memorial Day party with a bang and some sparkle, light up some sparklers as a nice commemorative for those great men and women who gave their lives to help our country become the great nation that it is today.
Happy Memorial Day everyone! Be safe and have fun!


Sabrina Potirala
InTheSwim Staff Blogger