Mommy & Me swim classes are very popular programs for city pools, YMCA's and community pools.
Parent/Child swim is for infants and toddlers, so let's not call them swim lessons, they're really water familiarity and safety training.
Splashing, singing and playing in the water, with basic floating skills and breath control are the goals.
In parent/child swim lessons, children ages 6 months to 36 months participate with a parent in the water. A low student-teacher ratio allows participants to safely develop skills and confidence in the water. Skills taught include: pool safety, using flotation devices correctly, skin and sun safety and safe boating; enjoying family time in a water environment; acclimating to the water and getting wet; breath control, sipping and expelling, submerging safely; and handling a child in deep water are components of the program. - Taylor Bend YMCA
In some ways, the Mommy & Me (or Parent/Child) classes are as much an education for the parent as it is for the child.
Contact your local pool for professional instruction, or with study on the subject, you could put together a water babies group at home.
STEP ONE: GET A GROUP
Contact other parents of children the same age as yours and float the idea as a weekly water adventure for infants or toddlers.
Come up with a regular day and time that works for everyone, and schedule out 6 sessions, or six weeks in a row, all at once.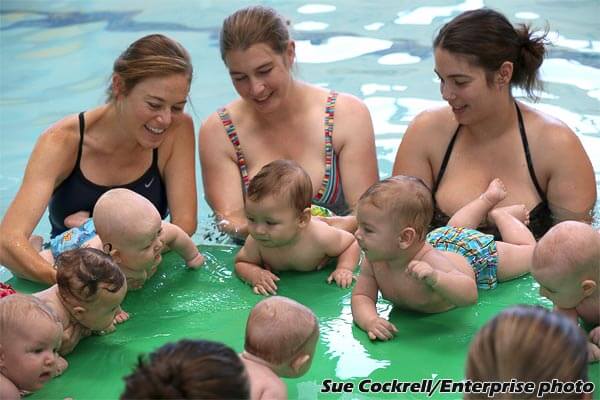 It needn't be a large group, smaller groups of 2 – 4 is more manageable. Both parent and child will be in the water together, the entire time.
STEP TWO: GET READY

For Baby: Swim Diapers, Sunscreen, Hat. Well rested and fed.
For Parent: Swimsuit, Sunscreen, Hat, Towels, Dry clothes for baby.
Other supplies that are useful are flat foam pool floats or an oversized pool raft that babies can sit on (supported by parent).
The pool water should be warm for water babies, say around 85°, or even a bit warmer. Turn up the heater, or wait until water temperature rises naturally.
STEP THREE: GET A PLAN

Have a set of activities for the 30 minute class, which should be age appropriate. Mommy & Me classes tend to focus on training parents safe ways to introduce a child to water, teaching such things as:
Proper infant / toddler Holds by parent
Floating on the Back (supported by parent)
Basic Motoring, kicking and sculling
Breath Control under the surface
Safe Submersion and Rolling onto back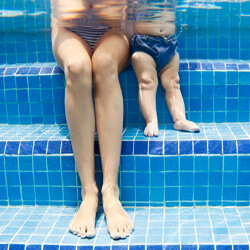 Initial goals for infant and toddlers are not to swim, but rather acclimation and comfort in the water. In later lessons, you can work in more advanced skills like  breath control, back floating, and eventually rolling from a front float to a back float, safe submersion to find air at the surface, and how to reach walls, steps and ladders.
But don't just wing it – you've got to study-up before the first class. A few recommended reading resources are listed below:
How to Teach Your Baby to Swim, book by Douglas Doman,
Teaching Children to Swim, online article by Beth Jenkins
Infant Swimming, diagrams and articles by "Dad"
InfantSwim.com, Infant Self Rescue (ISR) Resource
---
Spending time with babes in arms is always quality time. And babies love the water, and most take to it naturally.
Just remember to keep their safety first, and always have a solid hold of them while around the pool.


Dana Katz
InTheSwim Staff Blogger
Save
Save