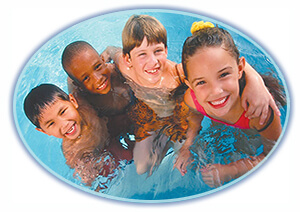 Pool toys and games are essential if you have kids using the pool. Fun games and gear keeps them in the pool longer, making them better swimmers.
Here's a short list of some mostly new pool toys and games at In The Swim this season.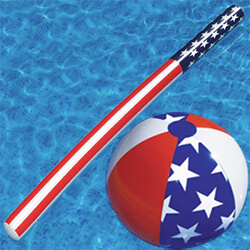 American flag inflatables aren't new pool toys, but I thought with the Fourth of July right around the corner the inflatable Americana Doodle and Americana Beach Ball are ready to hit the water! Both items are decked out in patriotic colors which are perfect for the upcoming holiday. Pool parties are common around the fourth of July holiday, so get these while they're hot!
Light-Up Beach Ball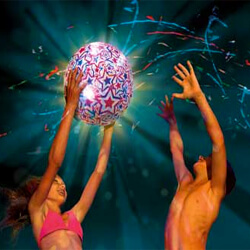 I don't know about the rest of you, but sometimes I like to switch things up and go for a late night swim. If you are the same the Light-Up Beach Ball is the pool toy for you! I mean seriously, how many times can you play "Marco? Polo?" haha! The Light-Up Beach ball contains a LED light that lights up on impact and makes for a fun late night distraction around the pool! *Queues -up Kanye West's Flashing Lights*
NBA Inflatable Team Pool Rafts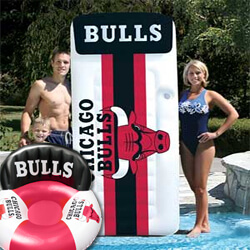 OK, also not a pool toy, and not exactly new either, but for you ride or die basketball fans, we have the Officially Licensed NBA Inflatable Team Logo Pool Rafts. Holds up to 300lbs and fits people up to 7 feet tall! 😉 NBA rafts are constructed with high quality vinyl, built-in raised pillow, beverage holder, perimeter rope – everything you need to relax in the water! Or try the inflatable NBA chair. We have pool floats for 19 NBA teams.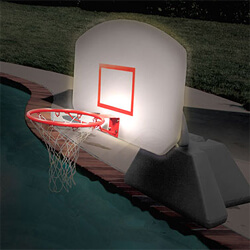 It is officially summertime and you know what that means, right? It's time to get active! I love the pool basketball games because it's a great way for my siblings and me to stay active during the summer without feeling like we're actually working out! We got the new Pro Side LED Lighted Basketball – the best we've ever used. A cool feature I love is the full size metal rim and LED light because we're able to play at night which was a fun change!
Dive N Glide Spiderman Pool Toy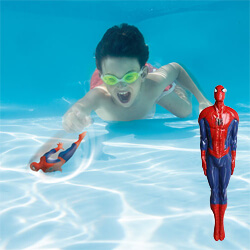 I also brought home one of these Spiderman toys for the younger kids in the house. Who knew that Spidey was also an excellent swimmer? This new toy is like the other Dive N Glide pool toys from Swimways, just a flick of the wrist underwater sends the toy diving, and then it glides heroically to the surface! Like the foam ray, kids like this pool toy as much out of the water as in the water!
Noodle Heads Super Squirters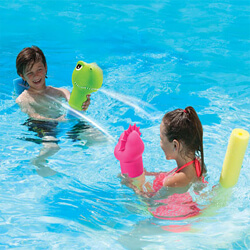 Give a kid a noodle with a hole in the center, and eventually they figure out that if you fill the hole with water – you can blow air through the other end and shoot a stream of water. Noodle Heads fit on top of a noodle, just squeeze to spray up to 10 feet! Attach your own noodle (pool noodle not included), and have a sea creature water spraying ~ dual in the pool!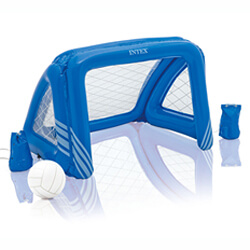 Another way to stay active in the pool is a game of water polo, using these new Fun Goals. Large inflatable goal comes with sand bags to anchor it to the deck. Float the goal on the water or set it on the deck, and use the included water polo style game ball, or have target practice with a Skwim Disk, the Flying Foam Disk or the Squid Disk, shown below. The best thing about an inflatable pool goal is at the end of the season, it deflates and stores easily.
Floating Foam Ray Toy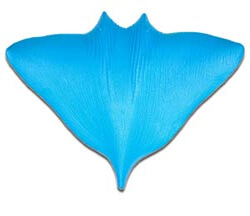 Super thick and buoyant, with a wingspan of nearly two feet! It's made of the same closed cell foam of our most durable pool floats, and the color is impregnated throughout. I took one of these home for my little nephews, and you would have thought they were riding real manta rays! After fighting over it in the pool for an hour, they fought over it on the deck, just to lay on the soft foam ray toy.
Flying Squid Disk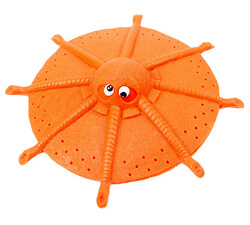 We have a lot of new flying disks for the pool this year. One of my favorites is the super soft rubber Squid Disk. The unique thing about this pool disk is that it sprays water 360° – just dunk it underwater, and fling it like a Frisbee. Water sprays out of each of the 8 squid tentacles. I didn't try this one out, but I did have one here on my desk. Looks like a fun toy for a game of pool catch.
>>> Well, that's a wrap for this post on new pool toys this season, I hope you add at least one new pool toy, or fun pool float to the pool this year –
If you're buying for kids, have them take a look at our kids pool toys and fun pool floats at InTheSwim. With hundreds of items to choose from, it might be easier to just show them this blog post!


Joshua Foster
InTheSwim Staff Blogger