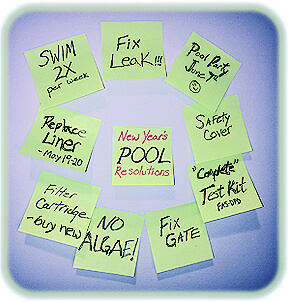 As pool owners, we sometimes get in the habit of doing the bare minimum with our pools. We tend to forget about the more important things.
This year, make some New Year's resolutions to take better care of your swimming pool, keep it safer and enjoy it more!
Restore More
Keeping up with pool improvements can be difficult and even costly, but it doesn't have to be. This year make a plan for some specific pool maintenance, such as a new pool liner at the beginning of the summer or buying new pool furniture during winter clearance sales. Fix any and all pool leaks for good, to stop water loss. Just like homes and cars, swimming pools need regular restoration to stay in top shape. Every 5-10 years you can expect to spend money in maintenance. Try to remember that the improvements you make to your swimming pool can actually save you money in the long run and stress in the short run!
Pool Safely
Pool safety is extremely important, but as pool owners we sometimes become complacent about the potential dangers of our sleepy swimming pools. This year make a goal to improve pool safety vigilance. Inspect and correct any pool fence and gate problems, and add another layer of protection, like secondary pool fencing, a pool alarm or a safety pool cover. Secure main drain covers and make sure that your pool lights and other electrical is up to code. Finally, as the pool season gets closer, make a resolution to talk to your children about the importance of pool safety. Having a pool is fun, as long as you pool safely.
Home Water Analysis
Are you still driving a water sample to the pool store to be tested? Stop. Those computerized water test systems are designed to sell you chemicals. This year, buy a Complete Test Kit, and test your pool twice weekly for pH, alkalinity, calcium, sanitizer and stabilizer. Keep a log of weekly water tests, and chemicals added, and you'll know your pool better than any pool store test jockey. Your pool will be better balanced, your chemical bills lower, and you'll finally break free from pool store water testing. Balancing the pool regularly saves on chlorine cost, prevents staining and poor water conditions, and protects pool surfaces and equipment.
More Pool Fun
Pool owners can often forget why they have a pool in the first place – to relax and have fun! This summer, resolve to use your pool to the fullest and host a party with neighbors, family and friends. Even if you just invite a friend over to lounge poolside, or host a kid's birthday party at the pool, it saves money over alternative outings. It's also a great source for relieving stress. Dr. Pool recommends two hours per week in the pool – one hour exercising, and one hour relaxing. The pool is such an awesome place to get a work out because the water prevents injury and reduces joint stress. Whether you are a senior or child, swimming is the best way to stay active and have fun! Why go to a gym when you have the best piece of exercise equipment, right in your own backyard?
Only 76 days until spring! This year, make a few resolutions to restore some areas of the pool and add some extra pool safety.
Stop driving water samples to the pool store and get more fun and fitness from your pool this summer!


Dana Katz
InTheSwim Staff Blogger