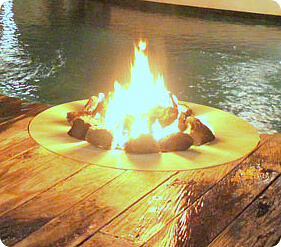 From the time of sparking fire from flint rocks to modern day outdoor heaters that use gas or electricity to disperse heat, people have always enjoyed the outdoors in warm comfort. As the days turn cooler, don't let cold weather chase you indoors, enjoy your patio year 'round!
Backyard deck and patio warmth is available in many different flavors. Patio heaters, outdoor fireplaces, fire pits, and fire bowls are to name a few of the inventions that come in a variety of styles but serve the same purpose of conquering the cold. Which one of these should be chosen? It depends on your taste, style, and of course budget.
Patio Heaters:

Patio heaters are available in a large variety of styles and use either propane gas or electricity to operate.
Outdoor propane gas heaters use a 5-gal. LP gas tank to maintain a steady supply of gas and have electronic ignition operation. Propane Outdoor Patio Heaters have adjustable heat settings and can warm up a 20 ft. area. Stainless steel propane heaters are solidly built, and provide up to 40,000 BTU's of heating power.

Outdoor patio heaters require a grounded electric outlet which restricts their usage to only certain places. You can use an extension cord – just remember to use an extension cord designed especially for outdoor use.
Outdoor electric heaters are available in styles from simple to fancy, like our Sumatra Heaters or Vacation Day style outdoor heaters. Available in two heights, table and floor – this type of outdoor heater uses halogen bulbs to generate inexpensive heat. Plug in the 8 ft cord, and you can quickly heat up a 12′ area.
Infra-red patio heaters are perfect for those who prefer a more environmentally friendly and economical outdoor heating option. As the name suggests, infrared heaters use infrared waves to disperse heat and are available in our Umbrella Mounted Infrared Patio Heater or the Wall Mounted Infrared Patio Heater styles.
Outdoor Fireplaces:

Outdoor fireplaces provide heat by burning either coal or wood, and add a decorative and elegant touch to your patio. What's the difference between a firepit and an outdoor fireplace? Firepits or firebowls are open, while outdoor fireplaces have a frame and screen around the flame. If your backyard could benefit from a realistic looking fireplace, our Black Powder Coat Steel Pagoda or Bronze Firehouse would both be great choices.
Fire Pits and Fire Bowls:

Stylish and comforting, these fire pits and fire bowls look like huge cauldrons – perfect for a spooky fall evening. A protective mesh screen around the top of the bowl keeps the ashes from blowing out. Fire pits and fire bowls are economical to operate and do not require any additional power source like gas or electricity.
If you are looking for a charming little fire pit or fire bowl to heat your patio, you may like something like Old World Bronze Fire Pit or Palm Tree Firebowl, shown here.
Outdoor Heating Accessories: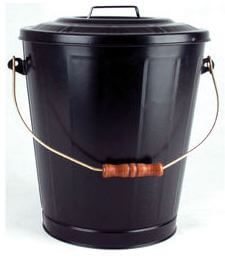 Invest in a few accessories to make your outdoors more enjoyable. Try our Fire Pit Popcorn Popper and pop corn the old fashioned way, or this Black Ash Can to transport ashes safely and help prevent a mess. We also have Fire Pit Covers to keep your fire pits or bowls clean and dry when not in use.
Heat Up The Night:
Don't let the cold weather confine you indoors; visit our Backyard and Home area where we have a huge variety of outdoor heaters. If you need advice on selection, we'll be glad to help you find the one that best suits your needs.
Once you have your outdoor heater set-up, heat up some cider and pop some corn on the fire, and you'll find a whole new season of enjoyment in your backyard pool and patio area.
Stay Warm, Stay Comfy!


Ayesha Aslam
InTheSwim Staff Blogger