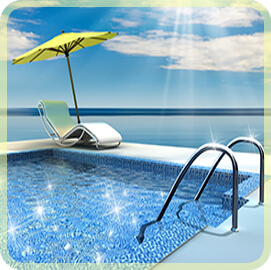 Chlorine can get expensive. And, it's not very…natural (sorry, Dr. Pool). Luckily, there are several options that can help minimize chlorine usage.
This brief guide will run through some user-friendly, cost-effective ways to supplement your chlorine and reduce your use, with natural sanitizers.
What types of alternatives to chlorine are there? Natural alternatives to chlorine include mineral purifiers, ionizers and ozonators.
Mineral Purifiers
Using copper and silver minerals to purify water has been a form of water treatment for thousands of years. Mineral Purifiers can save up to 50% of your chlorine cost, and they're so easy to use.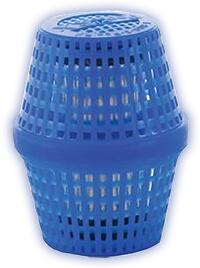 PoolRX Natural Mineral Purifier is a great solution for clearing up water. It removes algae and lowers chemical costs. The minerals in PoolRx are so powerful, It even kills algae!
Contains zinc to prevent scaling – great for salt pools. With the Pool RX, you can turn down the salt system chlorine output and let the minerals work their magic.
The simple design of PoolRX has dropped the price of a mineral purifier, and you don't need to worry about installation, just toss it in the skimmer or pump basket.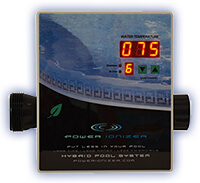 The Power Ionizer is another option for natural sanitation. This unit will reduce the need for chlorine, without any odor or irritation. Fights algae and bacteria with copper and silver ionization. The minerals that flow from your Power Ionizer help buffer your pH and total alkalinity levels and can sanitize any pool up to 40,000 gallons.
It has a bright digital temperature display and is easy to install. Replace the ionization chamber annually for best results.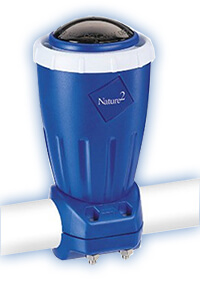 Another mineral purifier, one that needs no power is the Nature2 Express purifier – as they reduce the chemical use, they also save on your electric bill. It uses a replaceable mineral cartridge to eliminate bacteria, and keep algae cells from reproducing.
Because the minerals do most of the work, it gives you an alternative to using large amounts of chlorine. Your pool uses less chlorine and allows you to save on chlorine costs.
Using less chlorine means reduced irritation to swimmers eyes, skin and hair making it comfortable and effective. Nature2 Express is for pools up to 25,000 gallons. The Nature2 cartridge lasts for 6 months.
Ozone Generators
Ozone is a sanitizer that is both reliable and powerful. When water passes by the injection fitting, it draws in the ozone gas which instantly begins to purify the water. Generators are easy to install, just hang the unit near a grounded outlet, and plumb in the injection manifold on the return line.

Del Ozone generators are a reliable way to sanitize a pool, and these ozonators are sized for your pool – whether you have a 10,000 gallon or a 100,000 gallon pool, there is an ozonator made to fit.
Inground pools choose from Eclipse Ozonators – Eclipse 1, Eclipse 2 and Eclipse 4. The Eclipse 1 is compatible with pools that have 7,000 to 25,000 gallons of water, while the Eclipse 2 is compatible with pools of 15,000 to 50,000 gallons. The Eclipse 4 is for use with 25,000 to 100,000 gallons of water.
The Big Dipper Ozone Generator – made specifically to work only with above-ground pools combines low price and simple installation.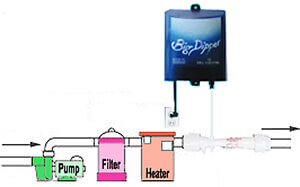 This ozone generator comes with fittings, supply tubing and a check valve all in one kit. Kill 99% of bacteria, viruses and molds with this reliable 120v generator.
Ozone will also allow you to cut chlorine usage down 60% to 90% from previous levels.

For Spas¸ add ozone to your spa quickly and easily with the Spa Eclipse CD Ozone Generator. Select between a 110V or a 220V model. It is far more powerful than bromine – up to 200 times as effective, and for only $99, you can add the power of ozone to your spa or hot tub.
Minerals and Ozone are great supplements to your normal sanitation method, and can allow you to reduce chlorine consumption by more than 50%. Combined with excellent filtering, and regular shocking, minerals and ozone treatment could be an effective alternative to chlorine sanitation.
Add some minerals or ozone to your pool this summer – you'll be wondering why you hadn't tried them sooner!


Alex Malamos
InTheSwim Staff Blogger