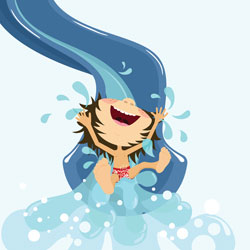 For many Americans, the perfect pool accessory is a pool slide or diving board. Find them in our Pool Accessories category, but they are much more than an accessory. Slides and dive equipment add a whole 'nother dimension of fun to your pool.
So I'm here today to help you sort through the many options and give you a few tips on pool slides and diving boards – think of it as a pool slide and dive buying guide with a little bit of Larry-tude.
---
Let's start with pool slides. Over the past 10 years, Pool Slides have gained a great deal of popularity in the backyard pool. Before, when you went to someone's house to swim and they had a pool slide, yeah, most likely they had it made. Now however, slides are much more affordable, more available and easier to install by yourself with the help of a friend.
Most of the slides you'll find will state they are for inground pools. While this is true, there are smaller pool slides like the Zoomerang that can be used on above ground pools, with enough (4'x8′) sturdy deck space around the pool. The Cyclone slide is another option for larger decks, requiring 6'x8′ of deck space to mount. The pool deck must support the weight of the slide, water and swimmers, and the deck boards need to be solid enough to securely hold the mounting bolts.
Pool Slide Location Selection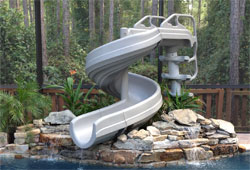 Choosing the correct location for a pool slide is very important. This is a safety issue since you don't want anyone come zipping down the slide and smacking a body part into the hard pool bottom, or a wall that comes up too fast.
Water Depth: Pool slide installation instructions are very specific on the required water depths, and 'water safety envelope', or the exit area for a pool slide. Most inground pool slides require a minimum water depth of 36″ under the slide exit, which must increase to a depth of 48″ for most slides or 54″ depth for larger slides. And, this minimum depth must continue for at least 9′ in front of the slide exit. Check the Owners Manual on the More Info tab to see a slide's water depth and distance information, or water safety envelope.
Deck Space: This may be obvious, but pool slides can take up a lot of deck space. Smaller pool slides can fit in a 4×8 spot, but larger slides can have a footprint of 8'x12′ or larger. Check the Technical Specs on the More Info tab to see a slide's footprint or required deck space, because you still need room to move around the pool, and enough room for a long line of kids, waiting their turn!
Other Side of the Pool: Also obvious or maybe not, but you want to make sure the slide chute faces the house or patio seating areas. This is important for safety, but also for waving to your kids when they scream "Watch Me!". Get the camera ready, and enjoy your swimmers rocketing down the slide and splashing into the pool in front of you, instead of facing the other direction.
With all of these limitations, it usually comes down to only one or two available or possible locations to install a pool slide. In some cases, you may need to enlarge the deck in that area, to still be able to walk around the slide, without stepping off into the dirt. Pools with just the standard 3 or 4 ft apron around the pool, will often need to pour an adjacent concrete pad to mount the pool slide legs and ladder, depending on the slide 'footprint'.
Choosing a Pool Slide
As for the pool slides themselves, think about your customer – who will use it the most? If you have little kids, perhaps you should consider something a bit more tame like the 4′ tall Cyclone Fun slide with an enclosed ladder for added safety. The 3′ tall Zoomerang pool slide is also a popular, fun and affordable option. Its compact size is a great space saver, while the right curve and patented Zoom Flume makes for a fast ride.

Taller, full size pool slides like the City II inground waterslide and the Wild Ride pool slide, while pool slides like the heliX2 and G-Force slides offer a complete 360 degree twist for a whole lot of excitement while not being too incredibly tall for little ones.

The Adrenaline water slide is perhaps the most popular with customers. Towering over 7-feet above the patio deck with an extra long flume, with either a left or right turn. Features a deep splash zone on the final three feet of deck, for waterpark like thrills.

If you don't have a large budget but still want a pool slide, there's always the SuperSlide inflatable water slide. Mainly for the younger set, this is a great way to maximize summer without breaking the bank. You can use this on inground pools and above ground pools, and water is delivered via a garden hose. Simple, fun and affordable.
Finally, as a side note, when I mention water slide, you should know that every pool slide has a water connection to make the slide more fun and more enjoyable. We all know what happens when you go down a dry slide on a hot day – ouch!
---
On to diving boards. In my opinion, diving boards are the epitome of summer time fun. Name one other activity where you can soar through the air and land relatively safely with no special talent. Depending on your fortitude, you can be highly creative as you spring off the end of the board and into the water.
Diving boards are only for inground swimming pools. I've seen jump boards attached to decks on above ground pools, but diving off a board into an above ground pool is dangerous, and should never be attempted. And – diving boards should always be installed onto the correct diving board stand, and not affixed to a deck or makeshift stand, which is also dangerous.
Diving Board Location Selection
Choosing the correct location for a diving board is also very important. Of course there are strict technical specs to be observed when installing a diving board on a pool where one never existed.
8′ Deep Only: or a minimum depth of 7′-6″, and a minimum depth of 5′ at a distance of 7′-6″ from the drain or deepest spot. In other words, an 8′ deep end and a slope that does not rise too rapidly to the shallow end.
Diving boards have even more strict placement requirements than slides. The ANSI/NSPI standards are very specific on the water depth at the board, and in front of the board. It is also very specific on the required width of a pool and the slope of 1:3 maximum for the floor from deep end to shallow end.
The placement of the diving board stand steel jig, which is set into a new concrete pad, must also be exact. Please refer to the Owner's Manual for each of our diving board stands, found on the More Info tab, to determine if your pool size and depth is suitable for a diving board installation. If unsure, feel free to call our help desk.
Diving board stands provide a solid base for the diving board while providing a fulcrum that gives a board its spring. Do not install a diving board without using the correct stand.
Choosing a Diving Board
If you are replacing a diving board, and you already have a stand, look for the replacement diving board to match your stand. Do not install a larger diving board than original, the dive stand (and jig) must also be changed for the fulcrum location to be correct. We have the most popular replacement diving boards by SR Smith and Inter-Fab. If you need help selecting a replacement diving board, call our help desk.

For diving board / stand combos, depending on your pool depth and length you can choose from 6′ and 8′ diving boards and jump boards. Jump boards are distinctly less bouncy, for smaller and shallower pools, (but still 8′ deep).
Three popular combos include the SR Smith Flyte Deck II stand and Fibre Dive diving board and Inter-Fab La Mesa stand with Duro-Beam board. The SR Smith Salt Pool Jump System with the Frontier III board is corrosion-proof and is available in 3 cool colors.

---
Whether it's a pool slide or diving board that you're contemplating for the summer, one important common thing for both is safety. Make sure you have a zero-tolerance policy regarding horsing around or misuse of a diving board or pool slide.
Incorrect installation or use of pool slides and diving boards can result in painful injuries and worse things, so use common sense, practice safety and have some fun!


Larry Andersen
InTheSwim Blogger