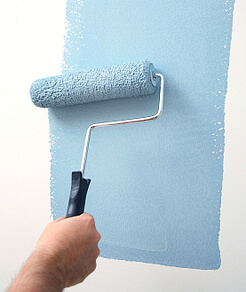 Spring is here! If your pool is looking dull and lifeless, this is the time to do something about it!
If your once beautiful pool does not look as attractive anymore, give it a spring makeover; with pool paint.
Painting your in-ground swimming pool may seem like a chore, but with the right tools and techniques, you can make it a simple DIY project the whole family can enjoy.
Pool Paint Type
Before you start shopping for pool painting supplies, you should determine the type of pool paint that is currently on your pool – namely epoxy, acrylic, or rubber-based. It is important to stick to the type of paint that your pool has currently for the best bond.

A pool that currently has epoxy paint cannot be painted with rubber-based paint or vice versa; however acrylic paint can be used on any surface without any trouble. Take a look at our Pool Paint and Deck Coatings section to find the paint that best meets your needs; we have high quality pool paints for all budgets.
Drain the Pool

Be sure to drain your pool far away, and open any hydrostatic plugs in the floor. These are plastered into the floor, but can be opened after chipping away some plaster. Opening at least one of them is a good idea to prevent damage from underground water pressure.
Repair Cracks or Leaks:
Once the pool is drained, check the pool walls and also your light, skimmers and returns for any cracks. Repair pool cracks using a pool repair patch like Cement Patch or E-Z Patch 1. It is important that cracks and leaks are repaired prior to painting the pool so your paint gets a flawless finish and lasts longer.
Pool Paint Prep

After draining the pool, the surface has to be prepared, or "prepped" for paint. You'll need a 5 gallon bucket and a good acid brush, and enough hose to reach water all around the pool.
The process is TSP – ACID WASH – TSP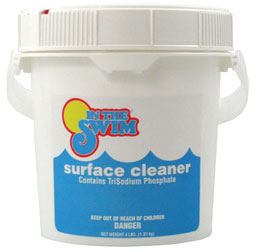 TSP Washing uses TSP, or TriSodium Phosphate, in order to remove any oils, dirt or grease on the pool surfaces. This step is very important for the best paint bond.
Mix the TSP with warm water, and pour the mixture on a dry pool wall. Scrub well below the pool tile, steps, and drain areas. Rinse the walls with water and before moving on the next step.
You can use our Paint Surface Preparation Kit which has both TSP and Acid in one kit. You can also find TSP and Muriatic Acid (and acid brushes) at most home stores or hardware stores.
Step 2: Acid Washing the pool surfaces before painting creates tiny, porous holes in the concrete so the paint adheres smoothly and bonds flawlessly. You can mix 1 part muriatic acid, added to 1 part water, or use the safer Acid Magic.
It can be applied with a sprayer, or with a plastic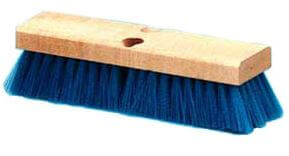 watering can to overlapping sections of the pool. After pouring a small area of the wall or floor, use an Acid Brush to move the mixture around, and then spray off completely with lots of water.
Since you'll develop a small puddle in the deep end, first pour your acid in the deep end "bowl" of the pool, around the main drains. Then pour around the top edge of the pool, from the tile, down the walls, in small sections (Be careful not to fall in the pool!). Brush if necessary, and hose off quickly. Pour the floor last, hosing everything down thoroughly to rinse and dilute the acid.

Acid washing can be hazardous. Wear eye protection and proper clothing. Fumes can be strong, and only certain respirators can block muriatic acid fumes. Follow label precautions when using acid.
TSP Washing the entire pool again is done to remove any residual oils, and to neutralize any residual acid. After washing the second time with TSP, rinse down the pool once more, very thoroughly.

Check the pH of the waste water in the deep end bowl, and raise the pH before pumping it out. Then, pump out and rinse completely, using a sponge and a bucket to get the last bits of water.
Prime the Surface
Priming the pool surfaces is extremely important; not only will it help resurface pool plaster or concrete, it will also help the paint flow smoothly and improves bond. Depending on the type of paint you are using, Epoxy Primer or Gunite Primer.
Painting the Pool

After all the hectic prep and priming, you are finally ready to paint your pool. Use painter's tape to tape off anything that you want to remain unpainted.

Take off your greasy shoes, and paint in clean socks. If the pool has any debris, use a small electric leaf blower, or shop vac to clean up before painting.
You can use a paint sprayer, but most people use a low nap paint roller to apply even coats of paint in long, slow strokes for a smooth finish. We have a great Pool Paint Application Kit, or some like a 5 gal bucket with a paint screen. You'll also need a smaller hand brush to use in tight corners of steps and seats.
Finish the first coat and wait for it to dry completely before starting the second application – a well done pool paint job typically calls for two coats! Sprinkle some very fine sand into the paint for steps and seats, to improve the grip.
Pool Murals: Maybe you'll even get adventurous and paint a small design on the floor of your pool in a contrasting color? Davy wrote a post on How to Paint a Pool Mural, with lots of cool ideas on what to paint, too.
You can see that with a little bit of time and effort, and helpful tips from you friends at In The Swim, you can become a pool painting expert and paint your pool like a pro, revitalizing its appeal and creating a beautiful new look for your pool.
Painted pool surfaces are almost ceramic like to the touch, and a lot less expensive than re-plastering the pool. Come to think of it, we did another blog post on just that question ~ Pool Plaster vs. Paint.
If you have questions on which paint or process to use to paint your pool, spa, fountain or water feature, give us a call at 800-288-7946!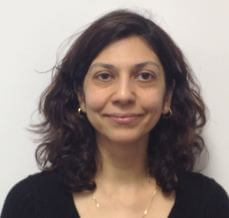 Ayesha Aslam
InTheSwim Staff Blogger