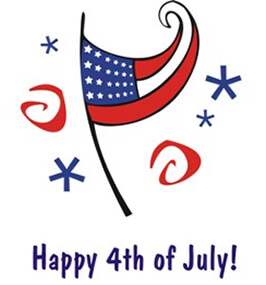 The 4th of July is one of those holidays where most of us get together with our friends and family to enjoy some BBQ and fun under the sun in the swimming pool.
Throwing a July 4th pool party is a breeze, especially since the patriotic theme plays a huge role in these festivities.
Lauren covered red-white-blue recipes that are great for summer pool parties. Today, let's look at planning a great Independence Day party. Plan your July 4th Pool Party with Creative Invitations, Patriotic Decorations & Fun Party Games.
July 4th Pool Party Invitations
There are a number of ways you can approach the invites to your super 4th of July pool party, the more creative the better!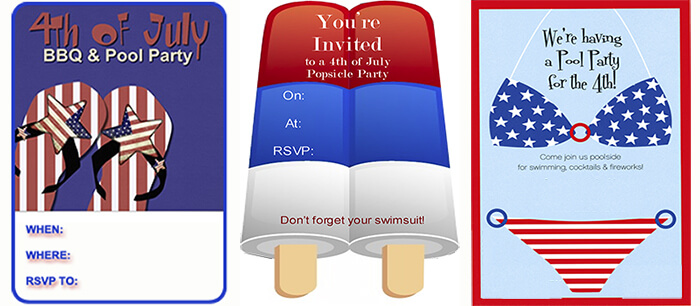 Here's larger images (Sandals, Popsicle, Bikini) that you can save to your PC. Open with MS Paint, or any image editor, and add your text – then print your Patriotic Pool Party Invites on a color printer!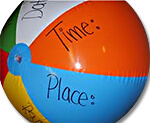 If you want to get even more creative, try out this beachball invitation idea. Small, 6″ beach balls, available at most party stores, can fit inside of a mailbox. Just write on your message, and pass out the beachballs!
Patriotic Pool Party Decorations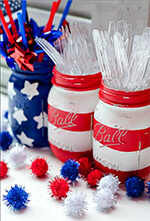 Painted Mason Jars are a really fun project you can do by yourself or with kids. All you need is some specialty paint and you can design these in any way you see fit! They make the perfect holders for utensils. You can even stick sparklers in these jars so they are grab and go to add a little bit of fun firework action to your activities!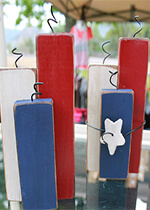 Check out this unique and awesome firecracker display! Imagine propping one of these up by your table display. It adds a touch of uniqueness since it is homemade, and I guarantee that everyone will want to know what store you bought it from! For a step-by-step on how to do this yourself, follow this DIY guide.
Watermelon carve outs are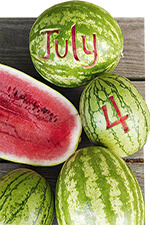 simple to do because all you need are some stencils and a sharp knife or a veggie peeler.
Watermelon is an American tradition for summer parties, and with this little touch – makes a perfectly patriotic presentation for your food table!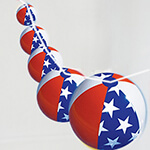 A beachball garland, lining the porch patio, or strung along the pool fence, makes a festive and fun pool party decoration. Just use scotch tape and string, and tie off the ends. Use our Americana beach ball, to add the stars and stripes spirit to your pool party!
Pool Party Fun

There are so many fun things you can do to play up the 4th of July theme. If you are looking for some kid-friendly ideas, read on below. Or, if there will be no kids present, skip on down to the next section to read about some fun adult-themed ideas!
Pool Party Fun for Kids
For the kiddies, you want to make sure that you have plenty of other activities other than just the swimming pool, since kids have a shorter endurance.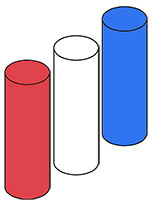 Sidewalk chalk is one thing that can keep kids entertained for a while. It adds a level of difficulty if you only include our nation's three favorite colors for the kids to use: red, white, and blue.
Another fun game that they could play is if you ask them to perform an improvisational skit at the party. Bring out some old Halloween costumes and see what comes to their imagination! Tell them they get bonus points if they can make the play centered around Independence Day!
An ice cream bar laid out for the kids to make their own creation, utilizing red, white, and blue sprinkles or other fun colored sweet sauces!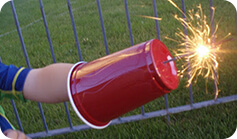 When it's time for fireworks, let the little hands join in – and keep them safer with "Sparkler Shields", fashioned from plain 'ol Solo cups. Great idea!
Pool Party Fun for Adults

For an adult themed party, you can play up the "party" style with a signature 4th of July sangria. Here, you can use red or white wine, with red, white, and blue fruits in the mix.
If your crowd goes in for beer pong, set up a "Star Spangled" Beer Pong, with – you guessed it, red, white, and blue cups!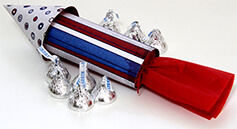 Party Favors? Give your guests these colorful rockets. Fill with candy and treats that will stay cool in the heat. An American Flag pin or a pail full of small American Flags are also great gifts for your guests.
These are just some fun ideas to get you started on having an awesome Fourth of July pool party! Hopefully this has inspired you to get creative and come up with some great ideas of your own for this Independence Day!
Happy 4th everyone!


Sabrina Potirala
InTheSwim Staff Blogger