My best friend is lucky enough to have a swimming pool in her backyard and every summer her house is a favorite and frequently visited destination – after all, who wants to go to a public pool when one of your friends or family members owns a pool!
However, my friend has been living in the same house for about twenty years now, and though her pool is very well maintained, I think it's time for a much needed makeover. Since I work for a great company that specializes in pools and pool equipment, my friend suggested that I come up with some pool renovation ideas.
While I was jotting down pointers to help this pool go from "blah" to "aah" – I thought about our awesome In The Swim customers who own swimming pools and may also be thinking of making some changes to their pool's look.
Here's some tips that both can use!
Space and Budget
Before we start making actual renovation plans, we will have to consider how much space we have available and how much money we would like to spend on enhancing the look of our pool. A pool renovation could encompass anything from adding a few accessories to completely changing the size and shape of your pool. In most cases, simple changes can have a large impact on the look and feel of your pool.
Simple Changes
The simplest and least expensive way to update the look of your pool is by adding a new vinyl liner or painting a plaster pool. Pool paint can help cover the worn-out, chipped old plaster and freshen the look of your pool. For a stylish touch, you can paint murals on your pool floor and give it the individual look that no one else will have.
Add Luxury
Most of us have been to hotels and resorts where they have a spa next to the pool; create your own oasis and add a luxurious touch to your pool by adding a spa or hot tub. Depending on the space you have available and your budget, you may invest in a built-in spa that connects to the same filter and heating system as your pool so you can get all the benefits at a lower operating cost. This type of a spa requires some trenching and plumbing, and is usually raised up above the pool deck by 6-12 inches so the water will overflow into the pool. Cool!
Aquatic Flair

You are wondering what I mean by aquatic flair? Aquatic flair could mean creating a mountainside waterfall or lagoon in your backyard, or adding elegant waterfalls, dancing fountains, spa spillovers, rock cascades, and other water features.
Water features add style and elegance to your pool in many forms, from calming cascades to colored water jets that pulsate to music from an integrated sound system. While water features can be soothing and relaxing, some may be rather loud, so make sure it's adjustable. Also know that extensive waterfalls and rock cascades will require an additional pump in order for them to operate, and some future maintenance to keep them from leaking.
Ground coverings, bushes and decorative trees can make a huge difference. Be sure that planter bed areas drain fast and won't ever overflow into the pool.
Pool Lighting

Lighting can dramatically change the looks of your pool and its surroundings and with the LED options available on the market these days, you can change your pool's ambiance from a soft, romantic evening to the bright, colorful party mode.
Pool lights can be installed under water, around your pool's perimeter, or can be allowed to float on the surface of your pool.
You can also create cool light shows with different colored lights choreographed with water features, and remote control lights that can be operated from a distance. Some of these lights may require wiring and electrical outlets, while others are battery operated and require no installation.
Pool Decks
You can further enhance your pool's surroundings by upgrading your pool deck with coatings, tile, slate, or brick, and achieve an unmatched style and unique look. Depending on the availability of space, you can add a multi-level deck and decorate it with picnic tables, patio furniture, or planters.
Picnic tables and patio furniture will provide separate seating area for those awesome pool parties that you are going to throw to show-off your newly renovated pool, and will also serve as an outdoor dining area or just a seat when you need a break and a place to relax.
Energy-Efficient Pool Equipment

Your pool has a complete makeover and looks so beautiful that all the neighbors are envious; this may be a good time for you to invest in some energy-efficient equipment.
Pumps, filters, heaters and cleaners are available that use less energy, save water or heat the pool without burning fossil fuels. Salt chlorinators are a popular means of making your pool more eco-friendly, by not having to buy chlorine tablets. Solar heaters use the power of the sun. Variable speed pool pumps use 75% less electricity. And, they're great conversation starters at your pool parties.
Enjoy your Pool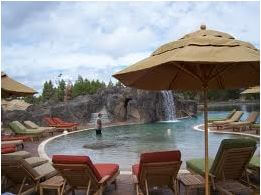 With your pool updated and renovated, it is definitely time to enjoy your backyard oasis with friends, co-workers and neighbors; fire up the grill and get some hot dogs and hamburgers cooking.
Start planning now for your pool renovation. It takes some time to plan a design and put all the pieces in place, so you (and us, the friends of pool owners) can enjoy a newly renovated pool next summer!