Wintertime is associated with frigid cold water, chilly wind, ice, super low temperatures and plunges in the water. Yes, you read that right – polar bear plunges to be exact! Why call it a polar bear plunge? Well, with the exception of a few courageous people, mostly only polar bears would brave such cold water!
The whole concept of a polar bear plunge revolves around participants that willingly enter a body of water during the wintertime – many in nothing other than their bathing suits, although some do come dressed in silly outfits to distract others from thinking about the extreme cold that lies ahead.

You might at this point ask yourself why someone would willingly subject themselves to such extreme conditions, and for the most part, it is to raise money for a charitable organization. This year, Minnesota and Chicago's polar bear plunge clubs, for example, help to raise proceeds for the Special Olympics.
The New York Coney Island Polar Bear Club just had their plunge on the 1st, and succeeded in raising money for the victims affected by Hurricane Sandy. The oldest known polar bear plunge club in the United States is traced back to Boston and was founded in 1904!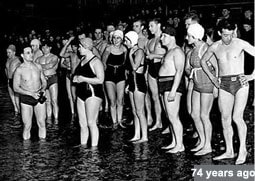 For some people in Canada though, the polar bear plunge is simply a New Years Day tradition where they decide to ring in the New Year with quite a splash! This has been an ongoing tradition for the Vancouver Polar Bear Swim Club since 1920, and now they have over 2,000 registered participants!
But even the Canadians don't have much on the people of the Netherlands, as more than 10,000 of them dive into the icy cold water at the beach town Scheveningen – a number that has continued to grow since 1960 when it all began! They typically dress in red, or wear something red!

Generally, most clubs take a dip in their closest large body of water during January, when the water is coldest. However, what might be icy waters for some generate a sense of warmth for those people that are benefited by the donations to charity. If you are looking to get involved in upcoming years, many towns have begun holding their own events in local bodies of water. Larger cities host annual events drawing large crowds of spectators and participants alike.
Be aware that such a noble sacrifice for charity is not for the faint hearted. Sudden immersion in ice cold water can result in hyperventilation. There is quite a bit of strain placed on the heart as well, which shouldn't be an issue for healthy people but can be dangerous to those with an underlying heart condition. Just remember that cold water is literally a shock to your system! So, don't risk it if you think it might be an issue for you.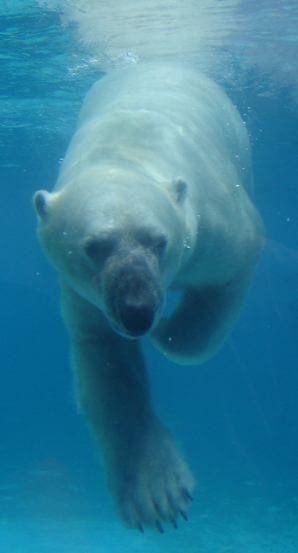 A quick dive in the middle the winter might make you feel like a polar bear, but here's some fun little polar bear facts: did you know that these arctic bears have been known to swim up to 60 miles in one stretch and can hold their breath for about two minutes?
Most people that participate in these plunges only last in the water a few seconds at best! But when it comes to polar bear plunges, it's less about pretending to be a polar bear than it is having fun and helping a good cause.
If you're looking for something new and exciting to try, and want to help people in the process, be inspired by those white furry arctic bears and take the plunge!
Maybe I'll start an InTheSwim Polar Bear Club ~ Lake Michigan here we come! Who's with me?


Sabrina Potirala
InTheSwim Staff Blogger