Which is better? Swimming Pool Basketball, or Pool Volleyball Games?
That is a tough question. If you want to add some fun & fitness to your pool, water sports are the way to go! Below are some ways to help you determine which pool water sport is the best match to your lifestyle.
Basketball season may end in June, but that's no reason not to start your own backyard league in the pool! Take all the competitiveness out of this awesome sport, minus the annoying rules like traveling and dribbling and you've got pool basketball.  It's no coincidence either that the aquatically omniscient genius that is In The Swim, has two different pool basketball games, equally tremendous, yet accommodatingly different.
The Pool Shark basketball game is great if your pool is more like

"Lob City," with lots of alley-oops and slam dunks, opt for the indestructible, 44 inch backboard of The Pool Shark. It's made from Eco-Composite and 5/8 inch thick heavy-duty solid steel to ensure nobody pulls a Shaq and breaks the hoop. The Slam Jam break-away rim is equipped with a Smart Clip safety net system, providing the safest technology to protect the players.
The Sting-Ray, on the other hand is for the most serious of players, looking to transform their pool into an actual basketball arena. Equipped with an equally rugged but completely clear acrylic backboard held erect by a 42 inch steel frame, this basketball hoop is ready for serious use. Both hoop's bases can be filled with sand or water and come equipped with basketballs, pump and needle. So, whether you're a rookie or an MVP, these pool basketball games are sure to provide a fun and active element to your pool.
Pool basketball games can be the type of game that has people swimming all over the place chasing the ball, so you might expect to be filling the pool up a little bit the next morning, but it's all in the name of fun!
Perhaps water basketball isn't your game though, but you're still into the same athleticism required – In The Swim has got you covered. We are stocked up on a huge variety of Volleyball games to make it easy to find one best suited to your pool size and playing style. We have pool volleyball sets that are affordable enough for single use, at your sizzlin' summer pool party, or heavy duty volleyball games that withstand strong play and many seasons of sun.
Volleyball is one of those sports you don't have to be good at to enjoy in the first place, and stringing a net across the pool just makes it that much more fun. Pool Volleyball is fun for everyone, of all ages, for groups of 2-20 players. Just don't get too carried away, like Ben Stiller, in this clip from "Meet the Parents".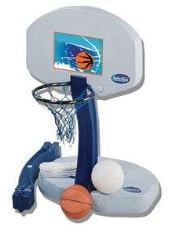 Still undecided, which pool water sports game to buy – Basketball or Volleyball? Then don't decide, buy the 2-In-1 Basketball and Volleyball game set, by Swimways. Comes with 2 bases and uprights, 24 foot volleyball net, basketball hoop and backboard, volleyball and basketball, inflation needle. With the 2-in-1 pool game set, you can play basketball or volleyball quickly – no tools required to set-up.
Bottom line, all of our water sport games are fun and any of these games can only bring more excitement and laughs to your pool times. If you want a sure-fire way make sure your pool is completely utilized, set up a net or hoop and let the games begin!

Michael Doan
InTheSwim Staff Blogger