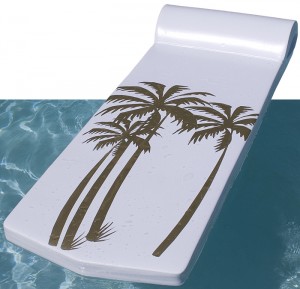 When this topic was added to our blog calendar earlier this summer, I thought – instead of rehashing the reviews that are on our website, what if we actually tested the pool floats – first hand? Management agreed, and next thing I know, two burly guys are loading my car up with pool floats!
My task was simple, take them home (to my luxurious pool) and get down to the very challenging job of giving each of them a go in the pool.
Here are my own personal reviews on six of the most popular pool floats we offer.
Unsinkable Pool Float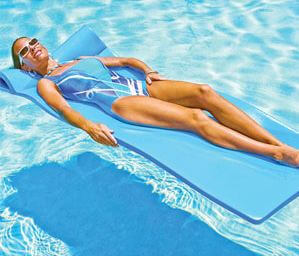 My initial impression upon opening the box to the Unsinkable Pool Float was that the material felt very soft. This definitely lived up to my expectations once I got it out into the water. It felt like I could lay on it for hours without being uncomfortable. I also enjoyed the fact that this float required no blowing up like other floats. The only thing lacking with this float is that it does not have any arm rests. I am the type who enjoys floating in the pool with a good book, and this is definitely not the type of float you can do that with. I would have also preferred that the head rest be a bit larger too, so that my hair would stay completely out of the water. 3.7 stars

Ultimate Fabric Covered Lounge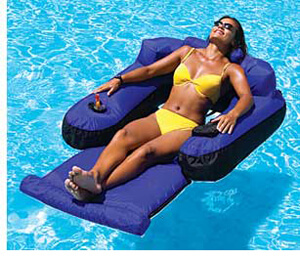 Ultimate Fabric Covered Lounge is super comfortable and has a convenient beverage that came in handy on this hot day. This Lounge was also quite sturdy and durable on the water, and it was easy to get on and off it. The angle is perfect for reading and lounging, although it did cast lots of shadows – if you are looking to use it mostly for sunbathing. The only downside I experienced with this float is that because it is so large, it takes a while to fill up!! Good thing they gave me an air pump! 4.7 stars

Tan Dazzler Pool Float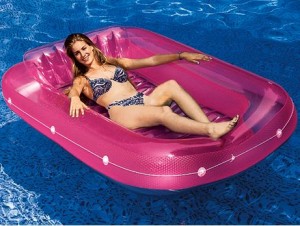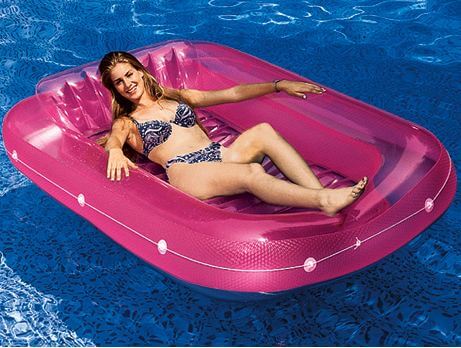 The Tan Dazzler is one float that sure lives up to its name! Out of all the floats I tried, this one is certainly the best if you are going strictly for a nice, bronze tan. This float is pretty darn large, and I had plenty of space to move around without feeling like I was going to fall in the water. Since the float is surrounded by float walls, you can put a bit of water in the float to keep you cool. I was honestly so relaxed while floating along in the Tan Dazzler, that I was on the verge of taking a snooze! For me, it doesn't get better than this pool float – 5 Stars!

River Run II Pool Float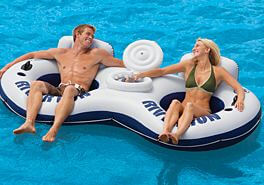 For this double float, I enlisted the help of my bestie to test the River Run II with its intended occupancy. We had such a blast chatting away while floating in the pool! The beverage cooler was the perfect touch for a girl's pool day. The seat is a mesh material, but the rest of you is high and dry. One complaint is that it is a little awkward trying to maneuver onto the float with someone already sitting on it! So once we were on and stable, we didn't want to risk getting back off. Great for the river, but a little big and cumbersome for us. 3.5 stars

Premium Pool Hammock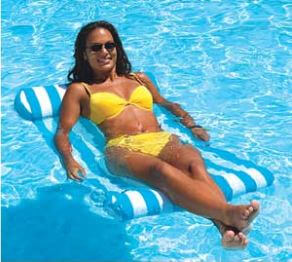 The name Premium Pool Hammock could not fit better for this float, as it is less a float and more a water hammock. The headrest and foot rest float to keep you atop the water, but the entire backside is a mesh sling. Because of this, you really do sit deeper in the water, which is great for keeping you nice and cool on a hot day, but not the most ideal if you want to tan. I did like that you can use it prone, as a hammock, or sit upright, like a chair using the headrest and footrest as armrests. This gives the float a bit of a variety. It was super easy and fast to blow up and for the budget-minded, this is our most affordable pool float. 4 stars

Floating Recliner Lounge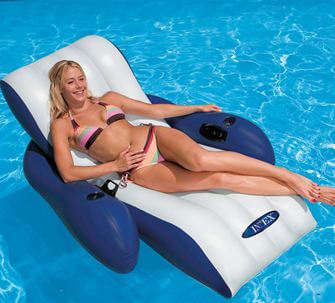 This is substantial, heavy duty lounge that should last a long time! I felt very stable laying on the Floating Recliner Lounge, it's not "tippy" but stays put, even as you move around. This one even comes with not one but two cup holders! I definitely didn't need to utilize both, but it was a nice feature to have just in case. I especially liked this float because of how much it felt like an easy chair on the water, and the vinyl is soft. Plus, it is easy to transport with the handles on the side of the float. 4 stars

Well, we had fun testing and reviewing these pool floats. I tried to return them, but I was told to keep them. 🙂 We'll have fun with these lounges for many years.
Getting all of the air out of some of the inflatable lounges wasn't fast. I cleaned them up and wiped them down, and stored them for winter.
I was browsing our clearance items recently, and I noticed a couple of these pool lounges mentioned above are currently on sale!
What do you think? Do you have any reviews or ratings of pool floats or lounges that you have tested? Or is there a float I didn't review that you think I should test? Hit the comments below and let me know!


Sabrina Potirala
InTheSwim Staff Blogger