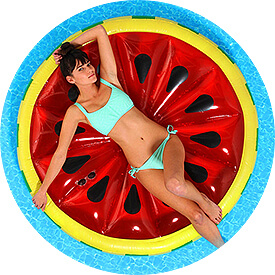 Swimming Pool Floats are the perfect poolside accessory on a sunny summer day. With In The Swim's huge selection of pool floats, it might seem a little overwhelming when trying to pick out a new raft to party in the pool. Here's a guide to what pool floats work best for any wet occasion.
Side-By-Side Pool Floats

Side-by-side floats are great for the couple that wants to spend time relaxing at the pool together, a parent-child duo, or a pair of besties that need to catch up on life.


For the ultimate luxurious float experience, try the River Run II. This float has its own built in cup holders, and a cooler to keep drinks nice and refreshing. Want to work on your tan at the same time? Then the Face to Face Double Pool Float is a good option as well since you'll have more room to sprawl out on the float. Or, you can even do something as basic as this Side By Side Lounger. This is the ideal float to head down a lazy river in!
Family Pool Floats
A great family activity during the summertime is to hit the pool, river or beach! But when you have a large family, it's hard to keep track of all the little ones when they each want to go separate ways in their own float. For situations like this, a float that can fit multiple people will make the day fun and safe at the same time.


Two great options here would be the Shock Rocker Pool Float or the Sofa Island Pool Float. Both of these family floats have room for at least four people, and even more if you have little ones! Or, if you are looking for something a little less traditional, the Labyrinth Island Pool Float will keep all the kiddies in place while providing them with a float that they can play some fun games with.
Baby Pool Floats

Mom and child don't have to stay out of the water this summer! In fact, take every opportunity to get in the pool with your children, even as young as six months to begin acclimation to the pool.


Baby will be safe and sound in this Aqua Coach Baby Buoy Float. This heavy-duty float securely holds baby in place so they cannot wiggle out and into the water. For a float that is concentrated on safety and fun, there is the Baby Bopper Baby Seat Pool Float that not only has a secure seat for baby, but also features inflatable pets and a hammer that baby can whack away at for fun!
For little ones that are just learning how to swim, we offer the Swim-Tee Trainer float that fits around toddlers and has straps similar to a tank top to make sure kiddies don't slip away from the tube. All these floats are great at keeping your precious one safe during water-playtime!
Fun Pool Inflatables


Unique floats are one of the best ways to have fun in the pool! And here we have almost any wacky float you can think of! You can rub-a-dub in a giant tub of pool water with this adorable Inflatable Giant Ducky. Or, pretend to be a master of the sea with this Sea Turtle Ride On. We even have a Tea Cup Spinner for little girls (and boys) that want to enjoy this classic carnival ride anytime in the pool.


Love to rock and roll? Then try the Aqua Rocker Pool Float or the Aqua Roller Pool Float for one crazy rockin' good time. Or perhaps you are the type that likes to place emphasis on the oasis that is your backyard; the Oasis Island will help to create that calm atmosphere for you. Fun pool floats are the ideal way to shake up a mundane day.
Classic Pool Floats
And last but not least, we have our traditional single pool floats that are great for stretching out and relaxing on during a sunny summer day.


The possibilities here are endless, from our ever-popular and economical Mesh Lounge that keeps you cool by allowing water to flow through, to the Adjustable Kickback Lounger pool float that lets you relax in ultimate comfort. If the ultimate tan is your primary concern, then the Tan Dazzler Pool Float is a great option to kick back in and soak up some of those rays.
No matter what your style is, we have plenty of pool loungers to suit your wants and needs! We have even more floats online, so check us out at intheswim.com! Now get outside and have some floating pool fun and/or relaxation!


Sabrina Potirala
InTheSwim Staff Blogger