Sure, we all know that pool fountains are pretty to look at, but did you know the number one reason most people buy pool fountains is for a sound barrier. That's one way to tune out the neighbor's dog!
Also, research has shown that fountains are a great stress reducer, and the sound of flowing water promotes relaxation. Third, a constant water ripple keeps debris moving toward the skimmer.
There are a variety of fountains that can be added to a swimming pool, and as the buyer, you want to know all the options available. Following are some ideas for cool pool fountains that you can install on your own swimming pool!
When deciphering which pool fountain is best, keep in mind your budget expectations and the decorating style you are hoping to achieve.

Floating Pool Fountains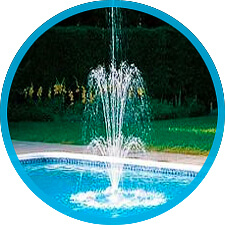 Floating pool fountains are made of plastic to float on the water's surface. Our best selling floating pool fountains are the Blossom and the 3-tier fountain shown here. An anchor helps position the pool fountain based on your preference, and a hose attaches to your return line to provide the water. The water spray height can be adjusted and some floating fountains have LED lighting that will glow during the night – with settings  controlled by handheld remote.
Wall Fountains for Pools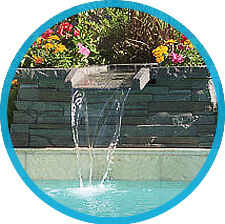 For individuals who like the idea of a floating fountain but want something more elegant, you can attach the fountain to a raised wall – and spout or shoot water. Small fountains can be controlled with a valve behind the wall. Larger fountains may need a dedicated line and valve, running from the equipment pad. If you have a pressure pool cleaner, wall fountains will lose their oomph while the cleaner is running. Our Scupper Waterfall shown here connects to any nearby return line, or cleaner line.
Pedestal Pool Fountains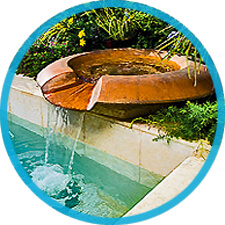 Easiest to hook-up, small animals such as frogs and dolphins are popular, along with overflowing pots or pitchers, set right on the edge of the pool or on a raised wall. For example, the Copper Wok pool fountain shown here taps off of any nearby return line, or can be used in a small separate pond with a small cover pump. Install a small valve and you can shut off or adjust the fountain water flow.
Larger Water Features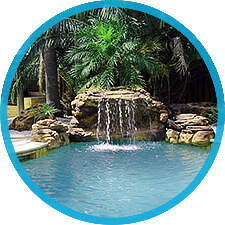 If your budget allows it, consider designing a personal waterfall in your backyard. If your pool already has a hill on the far side or one end, that could be a good spot for a cascading water feature, but is not required. Larger water features require a separate booster pump and 2″ plumbing lines, but are large enough to be heard clearly, and can be very dramatic, especially when there are more than one water feature.
Installing a Fountain
Floating fountains are the easiest to install. Just cut the included hose to fit and connect to a wall return fitting. Adjust flow from other returns to create more or less flow.
Wall or Pedestal pool fountains require you to dig up the return line, on that side of the pool, so you can cut the pipe and install a tee fitting to run a new line to the fountain. The Tee will divert the water to the fountain, and just before the fountain, install a valve to control the flow rate.
Larger fountains work best with a dedicated plumbing line, run all the way back to the pool equipment, where the water flow can be better controlled. Rock cascades or sheer waterfalls will require a separate booster pump, and a dedicated suction line from the pool, to provide enough water without affecting the pool filtration. Hayward Max-Flo VS makes a great booster pump.
More Ideas for Small Pool Fountains
These small potted fountains are affordable and easy to make. There are multiple tutorials available on the web for designing small fountains, so it should be a fun project with minimum amount of work.
Check out our selection of Small Pool Fountains, or if you want to go bugger, here are some links to get your wheels turning:
http://www.houzz.com
http://www.pinterest.com


Jaquelynn Pettinato
InTheSwim Staff Blogger