With the swimming season fast approaching, we've been hearing this question in our call center "What are the hot new pool toys this summer?" Our product scouts have been working hard all winter, scouring the planet for new, inventive, cool pool stuff.
Not all swimming pool toys and games are for kids, there are many that adults (like you) would find enjoyable. Even better than that, our scouts look for cool pool stuff that can involve the whole family, so that your pool brings more quality time together.
Let's take a look at the fun new games and toys for the 2012 swimming season!
For the Young Ones: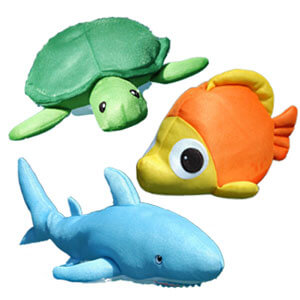 All youngsters love stuffed animals, so why not have them for

the pool?  Pool Petz, by NeoNoodle, are Plush Mesh Sea Animals – for the pool! Pool Petz float, so you don't need to worry about them sinking to the bottom.
Pool Petz are filled with EPS beads which make them super-buoyant, super-light, and quick draining. They come in 3 lovable varieties: shark, fish, and a turtle. Don't be surprised if your child wants to bring this pool toy in for the night, and no worries either, EPS beads and brushed polyester shell dries fast and completely.
For the Kids:
Who doesn't love going to an amusement park in the summer?  What if you could enjoy one of the rides in your very own backyard? The Tea Cup Spinner is a take on the classic tea cup ride. All you have to do is inflate it and start spinning!

While we're on the topic of amusement park rides, why not amusement park games? The Arcade Shooter is bound to be a hit. It has room for 3 kids (or adults) to play. First one to shoot out all 3 balls from the tube wins! No need to worry about supplying water, it comes straight from the pool, and straight back in! Fun target pool game can keep kids (or adults) occupied for hours.
Who isn't practicing their cannon balls all summer? With the Crash Mat, kids (or adults) can practice targeted jumping techniques. The person who can break the Crash Mat into the most pieces wins! Soft EVA foam target breaks apart into 10 jigsaw puzzle-like pieces. Score your jumpers on the number of pieces they can break the Crash Mat into, height of their Splash, and allow points for Style!
Ready, set, DIVE!
Looking for fun games to practice your dive and search skills?
Look no further… The Triple Fun Pool Game set has got it all in one! Includes a ring, a disc, and an egg in 3 different colors with different point values. Improves swimmer confidence, diving and breath holding skills. Parents, you're involved too; you'll need to have your swimmer close their eyes while you throw in these diving toys, and start the stopwatch…
Looking for something a bit more adventurous? Search for sunken treasure at the bottom of the pool, but watch out for pirates! Swim to Davy Jone's locker, and pick the lock on this buried treasure chest. Bring up the Booty. Throw the treasure back into the "deep ocean" and search again! You'll find gems, coins, and jewelry in the Sunken Treasure pool game.
For the Adults!
So you're having a party and need some extra entertainment in
the pool. Why not add Port-O-Pong, the pool version of the party game beer pong. Just add cups and your favorite party beverage. Available in blue and pink – the game possibilities are endless. Please drink responsibly around a swimming pool, and watch swimmers closely.
One more for those who like a little card playing with their pool time. With our Swim-up Black Jack table, you can enjoy an afternoon in Vegas without leaving your own backyard! Includes waterproof playing cards and poker chips. Casino style gaming or just a relaxed game of Go-Fish while in the pool is a great way to spend time with friends and family. Floating blackjack table is multi-purpose! Flipped over and it can become a floating hors d'oeuvre buffet! Or a place to hold a book while you float on a pool raft.
So, there you have it ~ some fun new toys and games to help you enjoy your pool a little more this summer. If your pool has lost some of its appeal, jazz up things this summer with some fresh, fun pool toys and games.
Have a Fun Summer!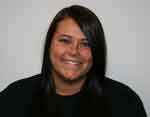 Lauren Dylla
InTheSwim Staff Blogger