POOL LIFT DEADLINE – JANUARY 31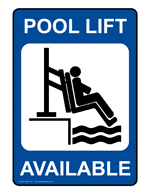 The deadline for pool and spa accessibility under the Americans with Disabilities Act (ADA) is just a week away, and all public and semi-public pools should be in compliance by the end of the month.
In September of 2012, the American Hospitality and Lodging Assn. was able to secure a one-year extension for compliance to January 31, 2013. According to current Department of Justice (DOJ) guidelines, all existing pools and spas at lodging facilities must do the following if it is "readily achievable":
Provide at least one means of entry (pool lift or sloped entry).
Have the pool lift positioned, battery charged and ready for use during operating hours.
Each body of water (pools or spas) must have a separate pool lift, or means of access.
Pool lifts must be secured to the pool deck – even if the pool lift is portable, with wheels.
Staff must be trained to operate, maintain and assist users with the pool lift.
If a pool is not opened to the public on January 31 (e.g. outdoor pools), pool lifts are not required until the pre-opening inspection.
If your pool has 300 linear feet or more of wall (measured along the inside wall), then your facility must have two pool lifts or entries.The additional means of entry could be another pool lift, or you can build a sloped entry, a transfer system or transfer wall.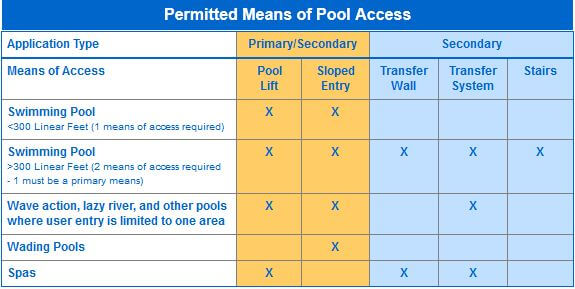 In addition, the location of your pool lift is an important consideration. Clear and level deck space of at least 36″ must be available next to the pool lift seat, to allow room for a wheelchair to move into position.
If your facility cannot immediately afford a second means of entry, your inspector *may* provide a reasonable amount of additional time to purchase a second pool lift, if one pool lift is in place and operational. Check with your local pool inspector for qualifying details.
Your facility may be able to take advantage of tax credits and other deductions to help offset the cost of compliance. Consult your tax adviser for details.
We have heard of law firms that are waiting for February 1 to begin actively pursuing litigation on behalf of plaintiffs who are denied public accessibility. To prepare your hotel, resort, country club, home owner's association or other public accommodation from lawsuits, or investigations by the Department of Justice or other civil rights enforcement agency, you need to be prepared.
Time is up! In The Swim has been at the forefront of the ADA guidelines, constantly monitoring the changes in the DOJ's interpretation of the requirements. We have a large staff of professionals in our Commercial Division that are well versed in the new pool lift laws, and will gladly help you sort through any questions or concerns that you may have. Call us at 1-800-765-7964, or visit our Pool Lifts page.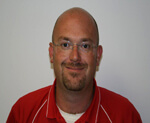 Tom Aiken
InTheSwim Staff Blogger