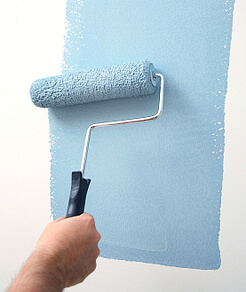 Looking for a great way to add some personalization and flair to your pool?! How about a brand new coat of paint?
Painting gives you the flexibility to make your pool look exactly the way you've always imagined! You can go with just one solid color, or you can get creative and bring to life any design you want!
Pool painting is a very economical choice that will last for years to come; allows for endless customizing options, and it's easy to do!
The first step to painting your pool is figuring out which pool paint you want to use. There are different options depending on what kind of bare surface you will be working with. Some paints last for 2-3 years while others, like our In The Swim Super Poxy Shield, can last for up to 8 years, making it the most cost effective option.
Just make sure before you choose your paint that you're using the right one! If your pool is already painted, it is very important you use the same kind of paint that was previously used for a proper bond to occur.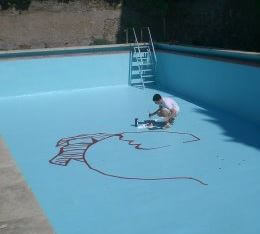 So now that you've chosen your type of paint, it's time for the fun part! Colors!  Are you looking for a classic, solid white or blue look? Do you like the two-toned look? How about a creative design? With a little imagination, you can turn your pool into a backyard ocean or aquarium (depending on how good you are at painting waves, dolphins, and fish!).
There's also always the option of abstract designs, logos (how about your favorite sports team?), geometric shapes, splatter coatings, and gradients! Your pool is your canvas! (Just remember to use the same type of paint throughout the entire process.)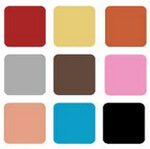 We stock the most common colors which are dark blue, pool blue (light blue), white, and black in most of our paint types, but there are endless options for custom colors. Just send us a sample of the color(s) you are looking for, and our paint technicians will come up with an exact match for you!
Now that you've picked your colors, you are just about ready to start painting. Next comes surface preparation. This is an extremely important step to painting your pool. It includes a 3-step process of washing and degreasing the surface, then acid etching (which removes any scale or deposits and creates millions of tiny pores for the paint to seep into), and then rinsing one more time to neutralize the acid and make sure any last traces of dirt or oils are gone.
Our pool paint prep kit will prepare up to 800 square feet of surface and comes with detailed directions for you to follow. Your next step will be taping off any areas you don't want to be painted. These include tile lines, safety hooks, and pool lights. Now it's time to paint! Make sure to read all the directions on the paint label before beginning. (When painting epoxy on bare concrete, a primer will need to be used first.)
Some pool paints will need to be mixed with a catalyst before beginning. All paints will need to be poured into a large bucket and mixed well before beginning. Skip the flat paint tray, instead use a paint screen in a bucket, and a paint roller with pole extension. Roll the paint on with constant pressure and overlapping strokes, and if you are painting any designs, be sure not to paint too thin with your brush.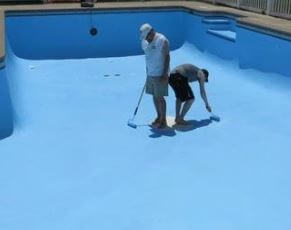 Make a Plan – It is important that you begin in the deep end and work your way into the shallow end so you can get out when you're done – unlike these fellows!
Follow all instructions for drying times and additional coats (if necessary) before filling the pool back up with water. Now you can sit back and admire your work!
So what do you think? Not only is pool painting an economical choice, but it's also a great creative outlet, easy to do, and fun too! It's a great way to personalize your pool for years of enjoyment.
Now what are you waiting for? Time to get started!


Christine Silvestri
InTheSwim Staff Blogger