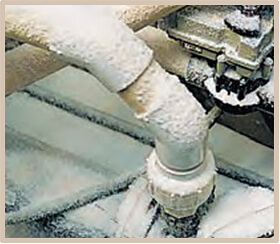 This was one of the worst winters in recent history – here in Chicago, we've had nearly 70 inches of snow, with an average temperature of 18.8 degrees. According to the Tribune, this is the third worst winter ever recorded!
Cold winters like this have the unfortunate side effect of freeze damage to unwinterized pool pipes and equipment.

Very soon, the weather will warm-up and the phone calls will start flooding in to our call center from our customers that have discovered a cracked pump, filter, heater or pipes.
FROZEN POOL PIPES
Underground pipes rarely freeze if they are deep enough, however, this winter had more days below freezing than any year on record! Every consecutive day of freezing cold increases the depth of permafrost in the soil, and can reach even the deepest pipes. When pipes are more than half full of water, they crack, usually in a tell-tale spider web fashion.

Cracked pool pipes have to be replaced, there is no way to patch or repair cracked pipes or valves. Cut it out with a hacksaw and replace with schedule 40 PVC, and deep socket PVC fittings, primed and glued with heavy duty PVC glue.
FROZEN POOL HEATERS
If you prime up the pump this spring, and notice water pouring out of your heater, first check that the drain plugs are tightly in place and the pressure switch is connected. If water still pours out under the heater, remove the side access plates, if you cannot see a visible crack.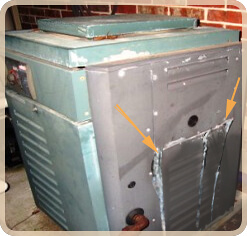 The most common freeze damage to pool heaters is a cracked rear header. The front header can also crack if left full of water. The heat exchanger is not usually affected. The repair involves removing the heater top, and side plates to gain access to the header bolts. Remove and replace, with new header gaskets.
FROZEN POOL FILTERS
In many cases, pool filter tanks can withstand the pressure of frozen water, and the external valve will crack first, allowing the tank to drain. In the case of top mounted sand filters, the valve can pop off the top, cracking the tank flange.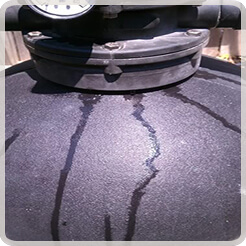 D.E. and cartridge pool filters can suffer damage to the internal grids and elements if a full filter tank freezes solid, cracking and crushing the media.
Filter tanks, flanges or clamp bands that show any sign of leaking or damage should be replaced immediately, for safety reasons.
FROZEN POOL PUMPS
Pool pumps typically have two drain plugs, one for the basket pot, and one for the volute. A cracked pool pump may not be immediately evident, due to small cracks in thick plastic, or in other cases, you can spot a cracked pump housing right away.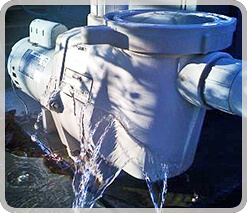 In most cases, a frozen pool pump doesn't need complete replacement, but repair to one or two pump parts. The usual repair for a frozen pump is to replace either the hair & lint pot, or the volute – the impeller and other pump parts are not usually harmed.
Freeze Damaged Pool Parts
If you find freeze damage this spring, remember that you are not alone – thousands of other pool owners around the country are making the same repairs to their pool equipment. 🙁
After you discover an item that is frozen, closely inspect all other visible equipment, pipes and valves for damage.
Take note of the Brand and Model of your pool equipment affected, and visit the In The Swim PartsFinder to find your part in 3 easy steps: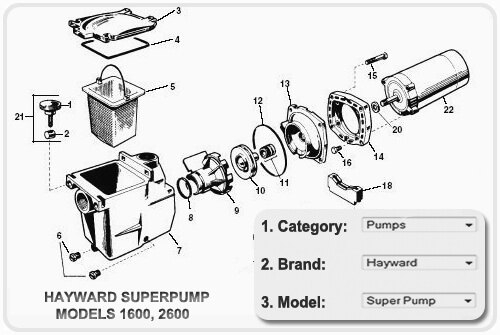 PartsFinder allows you to quickly drill down to the schematic diagram of your pool equipment, so you can easily select the individual replacement part(s) needed.

If you have any questions on how to make repairs to pool equipment damaged by this record breaking winter, or need help identifying the correct part, give us a call! We have Pool Parts Experts standing-by, waiting for your phone call.

Davy Merino
InTheSwim Blog Editor