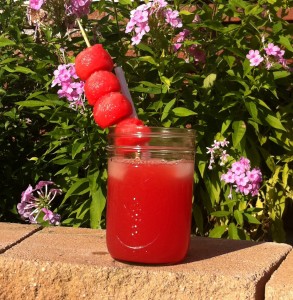 I have a confession: I loveeeee lemonade. Not just because it is delicious, but also because to me lemonade is the quintessential childhood summer drink. Nothing in those carefree summer days of mine could beat a long day of swimming under the warm sun with a nice cold glass of lemonade to freshen me up afterward. In fact, I loved it so much as a kid I had – like so many young children do – what seemed at the time to be the greatest idea ever: to open up a lemonade stand on my block with my family's secret lemonade recipe!
After about a half-hour and only two sales later – not bad, I thought – I shut up shop and enjoyed the real reward of the day: a dip in the pool and afterwards, the whole glass pitcher of the leftover lemonade! While my entrepreneurship goal of running a lemonade stand has since faded, my love for the lemony drink hasn't and still to this day nothing beats Watermelon Lemonade after a long day of swimming and sunbathing. So here I present you with a fantastic twist on this classic summertime drink that is sure to please adults and kiddies alike at the poolside.
Watermelon Lemonade Recipe
Ingredients:
6 cups cubed seeded watermelon
1 (12 ounce) can frozen lemonade concentrate, thawed
1 cup water
1 cup pineapple juice
1/3 cup simple syrup*
Directions:
1. Combine the watermelon and simple syrup in a blender, and process on medium speed until smooth.
2. Strain the liquid through a fine-mesh strainer to separate any solids, then discard the contents left over in the strainer.
3. Place lemon concentrate, water, pineapple juice, and watermelon in a large pitcher.
4. Mix well and pour over ice.
Presentation:
There are so many ways to serve this homemade lemonade if you're feeling fancy. Try putting the drink in a mason jar to give it a more rustic look that will be sure to remind your guests of sippin' lemonade on the porch country style. Garnish the drink with a watermelon skewer that you can easily make with a melonballer and some wooden skewers. Then throw in a straw and you are good to go! If you're in a time crunch but don't want to skimp on some sort of pretty presentation, just simply add a thin watermelon or lemon wedge on the side of your serving glass. Or even just simply garnish with a sprig of mint. Voila! Now you have summer perfection in a glass.
The thing that I love most about this drink is you can change it up in a variety of different ways. Here are some alternative ideas that still make for one heck of a delicious twist.
Spike it up: You can easily turn this delicious refreshment into a wonderful poolside cocktail by adding a splash of vodka. If vodka isn't necessarily your thing, try adding a bit of rum to kick up the tropical-esque flavor. Adults will certainly appreciate this little extra something special in their drink!
Make it bubbly: Sometimes fizzy drinks help to liven up a party. To turn this lemonade recipe into an imitation of a fruity soft drink, switch out the plain water for seltzer or club soda. If you want to add another layer of lemon flavor in your drink, you can use sparkling lemonade. Either way you can't go wrong, this combination is definitely a delicious win-win.
Watermelon lemonade is a perfect poolside summertime drink. It is so versatile that you could change up the ingredients anyway you'd like and still couldn't go wrong. If you have young children and they too have dreams of running a lemonade stand like I once did, try making this recipe. I guarantee that this watermelon lemonade will be a huge hit around the block! But be sure you save a bit for yourself; you're definitely going to want this drink around after a long day of swimming to quench your thirst.
*Making simple syrup is just that: simple. Just simmer one part water with two parts sugar until the sugar has dissolved and let it stand until cool. For this recipe, I did 1/3 cup of water and 2/3 cup of sugar and ended up with a bit more simple syrup than necessary. If you're like me and love all things super sweet, you could certainly add some of that extra syrup into your drink until it quenches even the most severe sweet tooth!


Sabrina Potirala
InTheSwim Staff Blogger