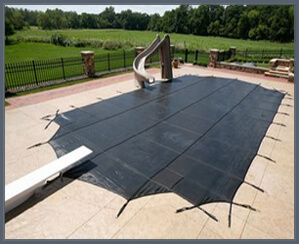 This article aims to be a reference article for you regarding pool safety covers. These covers are for both inground and above ground swimming pools (with complete decks) and they provide many benefits to the pool owner or operator. Pool safety is always regarded as the highest concern, as it should be.
Accidental drowning is all too common and unfortunate – it can occur in people of all ages, especially in children. It can also occur with animals – both wild and domesticated. You don't want to have to find dead frogs or other critters in the pool, just waiting for you to fish them out!
Pool Cover Benefits
Other advantages to owning a safety pool cover – also important, though not quite as important as safety – is protecting your pool. Algae can be formed in the water when sunlight is allowed to peek through to the water. Safety covers keep out the light and organic debris during the closed season.
Pool covers are an energy saving solution, since they conserve water and reduce chemical consumption. At the same time, covers reduce cleaning time – since it keeps dirt out of the pool. Before you leave this page to go out and buy a safety cover, there are a few different types of winter pool covers you need to be aware of before jumping in.
Pool Cover Distinctions
What's the difference between a pool safety cover and a winter pool cover? Safety covers are made from solid vinyl or woven mesh material. Safety covers are made to be pulled tightly across the pool and secured using straps that attach to brass anchors installed around the pool's perimeter.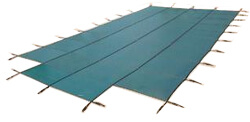 Safety covers are trampoline-tight, keeping leaves and debris dry, so they quickly blow away. Safety covers also keep children and pets out of the water, as they are able to hold thousands of pounds, safely.
Safety pool cover materials offer two different options – Mesh or vinyl covers. Mesh covers are not as expensive as most vinyl safety covers, and they are lighter as well. While winter covers may require maintenance during the winter to remove leaves and water, safety covers usually don't need any attention.
Solid safety covers won't allow sunlight to enter into the pool. As mentioned above, this is good because it keeps unwanted algae from growing in the water. Solid vinyl covers (without drain panels) will also keep contaminated water out of the pool.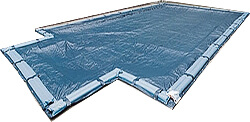 Meanwhile, winter covers offer pool protection – but the protection that winter covers were designed for is the weather. Winter covers should not be relied upon to protect children or animals because they cannot support concentrated weight.
When leaves fall onto the cover during the winter and it rains, they breakdown and leach their tannins into the water, and a mesh cover allows dirty water through to the pool. Solid pool covers however, will keep out that dirty water.
While winter covers blocks out the sunlight, heavy snow and tree branches can take down a winter cover, creating a nasty and costly cleanup. If you pay to have your cover removed in the spring (or if you do it yourself), the labor of removing and cleaning a water-bag type winter cover can be many times the cost of a safety pool cover.

Winter covers require more supervision and maintenance than a safety cover. They do keep out the sunlight but don't stay in place as a safety cover will. They also require frequent check-ups to remove standing water, clean debris or adjust the fit and tightness.
Pool Cover Costs
In the long run, a safety cover, which can last 15 years, will cost about the same as replacing a winter cover 3-4 times. Add to that the expenses of water bags and cover pumps, and the increased labor of springtime cover cleaning, and a safety cover can even be cheaper – in the long run.
Really it is up to you what you are willing to go without – the advantages and disadvantages of each allow you to anticipate potential issues you may expect from one or another, and you can decide based on personal preference, and what features are most important to you.


Alex Malamos
InTheSwim Staff Blogger