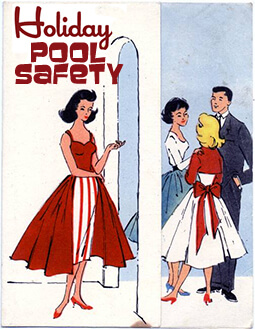 Time flies when you've been having fun swimming the summer away! Before you know it, instead of fun in the sun, friends are gathering to celebrate holiday cheer. Hot cocoa anyone?
Holidays are wonderful, but what do they mean for your pool? The pool can be an excellent source of fun and enjoyment for family and friends, but during those winter months when it's too cold to swim, it can become dangerous for friends and family if you don't take the right precautions.
Holiday Party Pool Safety
There are many ways to make your pool area safe for visitors including safety covers, gate latches, lockable ladders, signs, and pool alarms.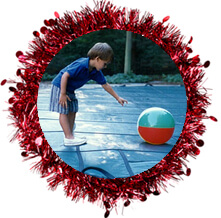 Safety Covers are an excellent investment for in-ground pools that can help to ensure everyone's safety, as well as add an attractive appearance to your closed pool. While regular tarp covers, held in place by water bags or blocks, are a great way to keep leaves and debris out of the water, they will sink down if any weight is applied to the surface. Safety covers are held in place by springs and straps that attach to anchor bolts installed into the deck surrounding the pool. It creates a tension that is strong enough to prevent even a car from sinking down into the water! Made from high quality materials that will last for years, giving you winter peace of mind.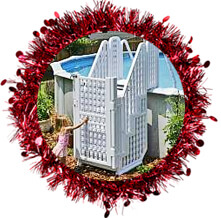 Above ground fence kits and locking ladders are a great way to make your above ground pool safe as well. The fence kits come in sections that can be added or subtracted to fit the exact size of your swimming pool. Made of rustproof resin, they provide a more comprehensive level of safety to your yard. Along with safety fencing, add a locking ladder to your above ground pool to offer the highest level of protection against accidents. These ladders either lock upward or have a "door" that totally closes off the step section leading up to the water, removing the possibility of danger. Remove the ladder if you don't already have a locking one in place.
Gate latches, pool alarms, and signs are also a great way to keep guests safe during the holiday months.

If you already have a gated pool area, that's great! Do you have a lock on it? Locks can be very useful for keeping people out of the pool area while you are distracted with your guests inside the house.

Pool Signs are also beneficial to inform guests that the entire pool area is off limits, and pool alarms offer a great backup system for those "just in case" situations.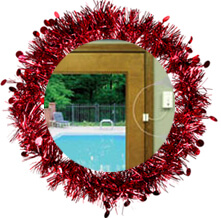 Pool Alarms use a sensor to detect any weight that should enter the pool and sound an alarm to alert you. They are a great tool in saving children, adults, and animals from accidents. Door Alarms on the back doors or fence gates is a smart idea, to alert you that someone has opened a door that leads to the pool. It's a small expense to protect children and grand children; your own, or those of your holiday guests.
During a holiday party or get together, it can be hard to keep track of young ones in the house. If your pool is not fenced off, or without a safety cover, take a moment to lock doors leading to the pool, and place a sign that older kids (and adults) will hop

efully read.
So now that you've created a safe environment for all of your winter and holiday guests, it's time to grab that hot cocoa, sit back, and enjoy that fire with your friends and family!


Christine Silvestri
InTheSwim Staff Blogger