Here's a dirty little pool secret: the main point of being in a pool for most adults isn't to swim. Pools are all about chillin'. Sure, the occasional volleyball game is played, but let's be honest, 99% of the time we're in, around or just thinking about the pool, it's all about kicking back and taking it easy. What's the best way to kick back while in or around the pool? Yep, put your cocktail swim shorts on (is there such a thing?), we're talking pool bar ideas.
For most of us who have experienced a poolside bar, it was probably at some type of resort. However, I'm thinking more about the backyard pool when it comes to hanging out with friends on a summer evening, so I've come up with a few pool bar ideas that, for the most part, are doable to some degree.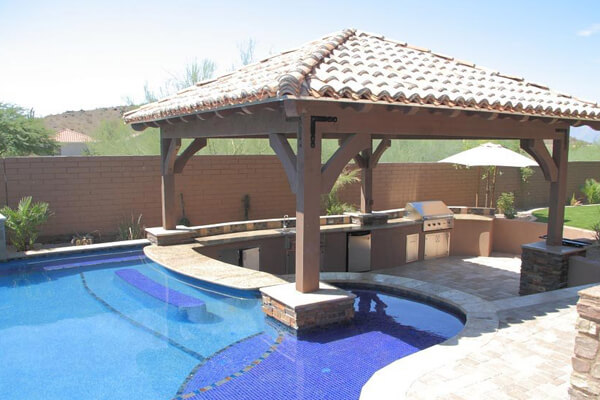 Personally, if I'm doing a poolside bar, it will have to be versatile, meaning the bar can be used while outside the pool and while inside the pool. After all, if you're having friends over, not all of them will want to get wet to join in the fun, and having a place for guests to sit on dry land and also while in the pool is ideal.
I really like the pool bar look where the stools are built-in and solid, yet blend with the water and the pool's surfaces.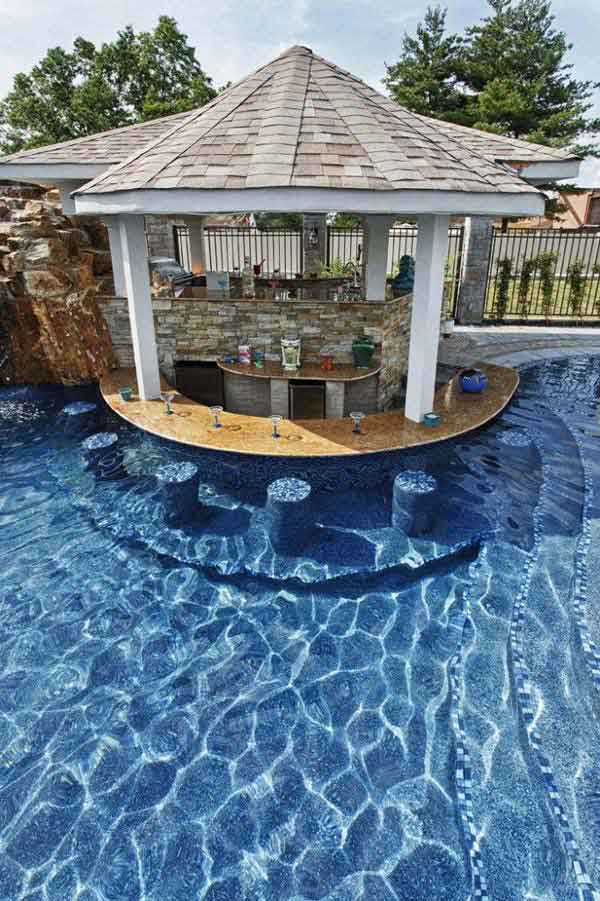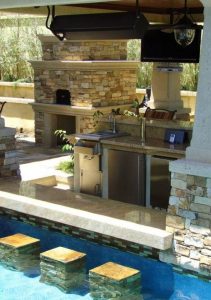 Now here's another nice pool with a swim-up bar, but there's something about the brick and stone in the water that just makes me cringe. Perhaps I endured too many skinned knees and elbows as a kid which is why I can't help but think I'd end up losing skin somewhere due to these stools and wall.
However, I do appreciate the big screen TV and overhead heaters. And you can't go wrong with a full wet bar, ice machine and dishwasher, with enough counter space to really spread out!
And when I'm not in the kitchen, I'll be kicking back in front of the fireplace. But I'm not going anywhere near those bar stools.
This pool bar incorporates a man cave – literally a cave for real with a waterfall and water slide. Yes, this is someone's backyard. They look out at this all the time and quietly think "holy begonias, I have a cave, waterfall, waterslide and swim-up bar in my back yard." The glass refrigerator doors are a nice touch.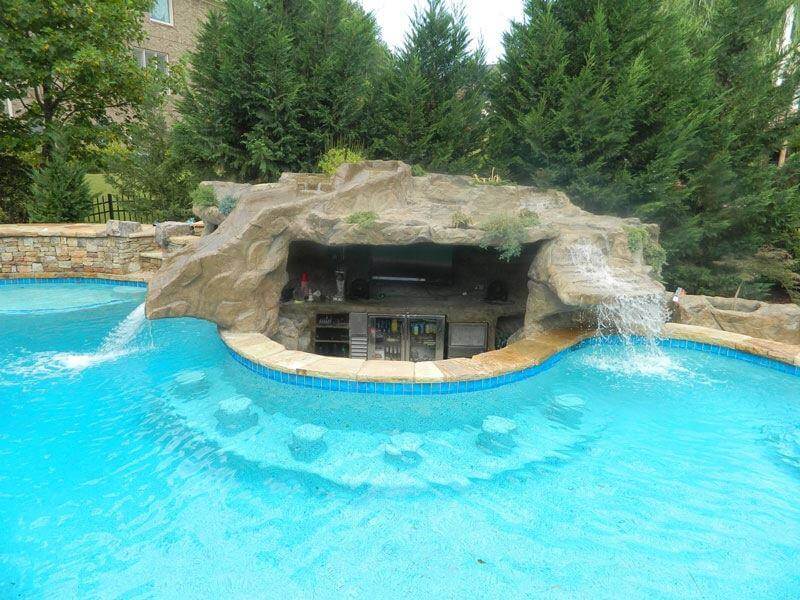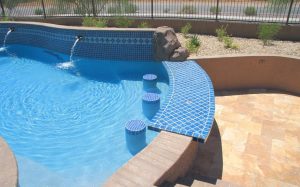 However, to enjoy a poolside bar, you don't have to go ape nuts like the ones above. Simple, attractive and versatile will do just fine, and whether you have an inground or above ground pool, you might find it's not as hard or expensive as you thought to put a poolside bar in your own pool.
Here is an example of a backyard poolside bar that can be enjoyed inside or outside of the pool. There's no fancy structures, no stainless steel appliances or 4K OLED TVs, just a comfortable place to enjoy a drink and snacks with friends in and around the pool.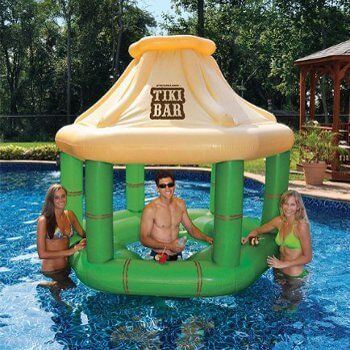 Of course, constructing any type of permanent bar in or around your pool might be too much commitment and/or cash for you, but don't be down in the dumps, there are options!
This inflatable floating tiki bar by Swimline works whenever you want it to work and fits inside a nice poolside storage cube when you don't want to use it.
If your friends tease you, remind them you're the one with the pool and they're free to hop a flight to Miami Beach if they want to imbibe at some fancy swim-up pool bar.
Finally, you get a peek into my player level. Forget all the fancy stuff, the high-end finishes and the foo-foo drinks. For me, it's all about the drink, the atmosphere and the company. The most expensive part of the poolside bar below is the gin in the [plastic] martini glass.
That's the way pool life should be…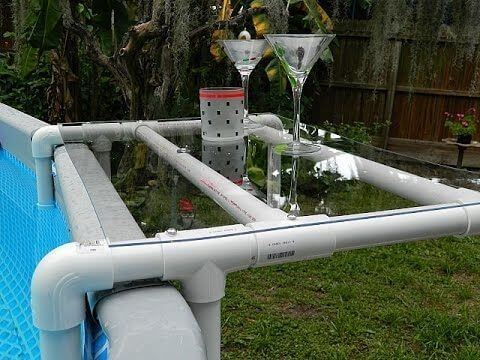 For more poolside bar ideas, see Dana's post – Pool Bars for Backyard Parties, to select a color scheme, style and size that fits your backyard best.
What are some of the "must-haves" for your poolside bar? If you could design one and have it built, what would you do? If you already have one, show us your pool bar – whether it's worthy of a Las Vegas penthouse or a simpler design, Leave a Reply below.


Larry Andersen
InTheSwim Staff Blogger