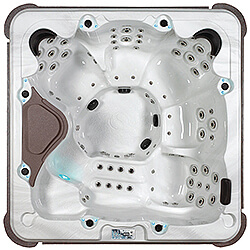 Last month, you may have learned that In The Swim sells inground pool kits to homeowner pool builders. Now you know, again. But did you also know, that we have a large spa and hot tub department?
We've been selling portable spas for years, like the Intex PureSpa and earlier this year we branched out into full featured spas and hot tubs – delivered right to your doorstep.
Many pool owners tend to also be spa owners, so this was a natural extension for InTheSwim. And, our strong buying power has enabled us to offer these top shelf spas at rock bottom prices.
And since price is still such a big factor these days, let's break down this spa and hot tub buyer's guide by the price point you would be willing to spend. That is, if you were in the market for a new spa or hot tub ~ ?
Spas for Under $1000
For under a grand, you can join the over 5 million spa owners in the U.S., and soak away your aches and pains. This group of low priced spas are known to us as portable spas, and they are truly transportable. Seating is limited, so plan to invite only your closest friends.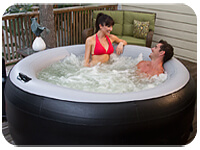 EZ Spa – this inflatable spa is ready when you are. Heavy duty marine vinyl inflates in 10 minutes to a thick and comfy vessel. Fill with water and attach the one piece pump, filter and heating unit. Inflate the locking spa cover, and you're just minutes away from entertaining 2-4 adults. Great for camping, RV's, rooftops, events or even your backyard!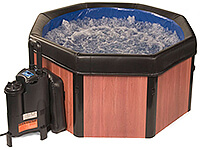 Spa-N-A-Box – Assemble the frame, install the liner and start filling this instant hot tub. Quick assembly and dis-assembly makes this a great spa for the great outdoors. Comes with a locking insulated cover, filtration system and 1000 watt heater. Fits 3-5 adults in 280 gallons of bubbling hot water. Extremely durable and packs down to a small size for portability. Or set it and forget it. Plugs into standard household outlet.
Spas for $2500 – $3500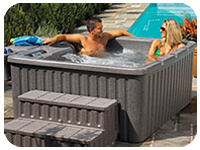 AquaRock Serene Spa – Our entry level permanent spa features 14 jets for 4-5 adults. Underwater LED light, 2 hp pump and 4 kw spa heater. Classic spa design with foot well and comfortable seating all around. 216 gallons in an all resin cabinet. Like all of our spas, includes an insulated spa cover to lock in the heat, and keep the spa hot and ready anytime. Equipment is cleverly housed beneath.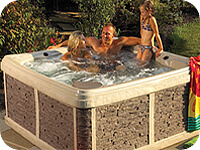 AquaRock Euphoria – 28 jets surround this 6 person spa. Underwater LED lights, 2 hp pump and 4kw stainless steel heater. Round hot tub design and attractive cabinet styling in 3 colors to blend with any outdoor decor. 300 gallons fills this 75″ diameter hot tub. Comes ozone ready, and with an LED backlit topside control. Spa cover included. Hooks up to 120 or 240 volt power.
Spas for under $4000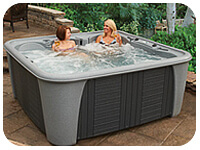 AquaRock Tranquility Spa – Step up to 28 stainless steel spa jets (12 of them adjustable), 8 total lights, including a lighted waterfall, and a 4.0 hp pump! This oversized square spa seats 6 persons, with a lounger and Captain's chair counted. 300 gallons, at a depth of 32 inches. Ozonator installed and backlit controls mounted topside.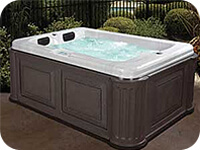 AquaRock Fiji Spa – Getting serious now – 40 stainless spa jets, 4 hp pump and a 4kw heater! The Fiji is a lounger spa, with two full size lounges, and a length of 91 inches. Ozone equipped, built in headrests and a deep 36 inches for full submersion. Spas in this category require 240 volt power (like a clothes dryer), to operate the full tilt equipment. Super attractive cabinet styling.
Spas for Under $6000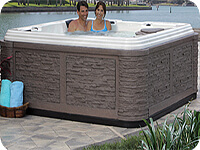 AquaRock Morocco Spa – 60 stainless steel jets around a rock styled cabinet available in 8 colors. Our strongest 5 hp spa pump, with adjustable jets for 6 seats, including a lounge chair, Captain's chair, and cool down seat. Ozonator, waterfall and LED lit controls complete the package of this 400 gallon, full depth spa. Spa cover included.
AquaRock Venice Spa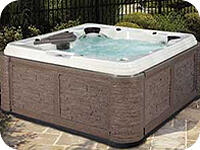 – 60 jets surround our premium, top of the line spa. Included are two 4 hp pumps and air blower for full hydrotherapy action. Ozonator installed, and 16 points of light including the backlit waterfall cascade. Seats for 6-7, with 3 oversized Captain's chairs. Lifetime warranty on the all-resin, no maintenance cabinet.
These quality spas are American made, at a certified 'green' manufacturing facility, in Pennsylvania. These are some of the most energy efficient and long lasting spas, made with a sturdy style, and we are proud to be offering them to you, at such affordable prices.
If you miss the water of your inground pool now that it's fall, let us help you stay "In the Swim" all year round! Check out the full line of spas and hot tubs, and accessories at InTheSwim!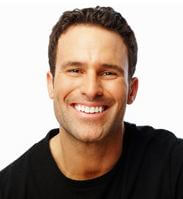 Davy Merino
InTheSwim Blog Editor