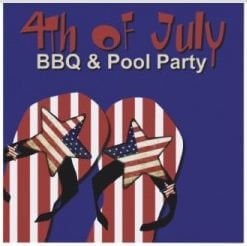 The Fourth of July is right around the corner. Plan a Perfect Patriotic Pool Party!
A lot of planning goes into the perfect pool party and you don't want your invitations, decorations, drinks, entrees and desserts falling short.
Pool parties for children or adults. Here are a few recipes for fun Red, White & Blue pool party treats.
Pool Party Drinks & Coolers
Patriot Punch
Ingredients:
Ice Cubes
Diet 7up (or any Diet Lemon-Lime)
Blue Color Gatorade
Cranberry Juice
Instructions:
Fill a clear glass with ice cubes. Pour the drink with the most sugar (check the nutrition label) into the glass first. For our red, white, and blue recipe, we will start with the cranberry juice.
Very slowly add a beverage that contains less sugar – in this case, our Blue Gatorade. Be careful to pour it slowly onto an ice cube – not directly into the other drink – to keep the layers from mixing.
The final layer is the White, the Diet Lemon-Lime soda, because Diet has the least sugar content.
Red, White & Blue Hpnotiq Martini
Ingredients:
2 oz Hpnotiq
1 oz citrus vodka
1 splash lemon lime soda
Grenadine
Instructions:
Shake first three ingredients with ice, strain into a plastic Martini glass. Slowly pour in Grenadine along edge. It will slide to the bottom. Garnish with coconut or pineapple.
Pool Party Entrees
4th of July Patriotic Taco Salad
Ingredients:
1 pound ground beef
1 medium onion, chopped
1-1/2 cups water
1 can (6 oz) tomato paste
1 envelope taco seasoning
6 cups tortilla or corn chips
4 to 5 cups shredded lettuce
9 to 10 pitted large olives, sliced lengthwise
2 cups (8 oz) shredded cheese
2 cups cherry tomatoes, halved
Instructions:
In a large skillet, cook beef and onion over medium heat until meat is no longer pink; drain. Stir in the water, tomato paste and taco seasoning. Bring to a boil. Reduce heat; simmer, uncovered, for 20 minutes.
Place chips in an ungreased 13-in. x 9-in. dish. Spread beef mixture evenly over the top. Cover with lettuce. For each star, arrange five olive slices together in the upper left corner. To form stripes, add cheese and tomatoes in alternating rows. Serve immediately. Yield: 8 servings.
4th of July Patriotic Pizza
Ingredients:
1 tube refrigerated Pizza Crust
2 slices of American Cheese
8 string cheeses, cut in half lengthwise
1 jar (15 oz) pizza
Instructions:
Using a 1-in. star cookie cutter, cut eight stars from the American cheese. Cut each strip of string cheese in half lengthwise. Spread pizza sauce over crust. Bake at 400 degrees for 5-7 minutes.
Remove from oven. Arrange stars in the upper left corner. For stripes, arrange 15 pieces of string cheese over sauce (1 piece left for hungry helpers). Bake another 5-7 minutes or until cheese is melted and crust is golden brown. Yield: 16 slices.
Pool Party desserts
4th of July Rice Krispy Treats
Ingredients:
6 tablespoons butter or margarine
2 Bags, 10 oz – marshmallows
12 cups Kelloggs Rice Krispies cereal
Red and Blue food coloring
Instructions:
Make 3 small batches. In large saucepan melt 1/3 or 2 tablespoons of butter over low heat. Add 1/3 of the marshmallows and stir until completely melted. Add Blue, Red or No color to each third of the ingredients. Add 1/3 of the Rice Krispies cereal. Stir until well coated. Transfer each mixture to a separate bowl.
Using buttered spatula or wax paper loosely press each mixture into 13 x 9 x 2-inch pan coated with cooking spray. Each layer should be about 1″ tall. Cool and Serve.
4th of July Patriotic Trifles
Ingredients:
1 package (3 oz) Berry Blue Gelatin
1 package (3 oz) Strawberry Gelatin
2 cups boiling water
1 cup cold water
2 cups cold milk
2 packages (3.4 oz) instant Vanilla pudding
1 tub (8 oz) frozen whipped topping
1 pint fresh blueberries
1 quart fresh strawberries, quartered
1 prepared angel food cake, cut into 1″ cubes
Instructions:
In two small bowls, combine each gelatin flavor with 1 cup boiling water. Stir 1/2 cup cold water into each bowl. Pour each into a separate, ungreased 9″ square pan. Refrigerate 1 hour or until set.
In a large bowl, whisk milk and pudding mixes for 2 minutes. Let stand for 2 minutes until soft-set. Fold in 2 cups of whipped topping.
Set aside 1/4 cup blueberries and 1/2 cut strawberries. Cut the gelatin into 1″ red and blue cubes. In a 3 quart trifle bowl or serving dish, layer the red gelatin cubes, and cake cubes. Pour pudding over top of this layer, top with blueberries, strawberries and whipped topping.
Build another layer on top of blue gelatin and cake cubes. Top with remaining blueberries, strawberries and pudding mixture, or whatever else is leftover.
You can put these pool party recipes to good work all summer long. Memorial Day and July 4th pool parties are obvious best uses for these red, white and blue outdoor food recipes, but they can also be fun any ol' time of year.
Now you can plan your own patriotic pool party for this Fourth of July! Add some festive candles, streamers, paper plates and napkins. Toss half a dozen red, white and blue beachballs into the pool.
Fun and patriotic music from the Beach Boys, Springsteen or Toby Keith can add another layer of interest to your pool party ideas.
Happy Fourth of July America!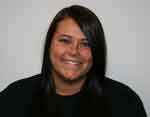 Lauren Dylla
InTheSwim Staff Blogger