Extra! Extra! Read all about it! Robot cleaners take over home pools everywhere! It's true ~ robot cleaners are storming the planet, looking for a cool pool to call home.
First let me put your mind at ease, it turns out that robot pool cleaners have come in peace, and have no plans to enslave the planet. Just the opposite in fact, they come to emancipate us from the drudgery of cleaning the pool with old methods.
Now I know that many of you value your time spent cleaning a pool but wouldn't you rather spend that time enjoying your pool? Robot cleaners give you back your pool time; keeping your pool spotlessly clean, while filtering your water.
While it may sound too good to be true, it is actually true! You can lounge by the pool while your cleaner does all the work. Many robotic pool cleaners will even climb the walls and scrub the waterline – all while you sit on the edge or relax and watch the baseball game.
Pool robots are friendly, and safe to have in the pool. They come with a transformer to step-down your power from 120v to 12v, so that if the cord happens to get cut and you are in the pool you are still able to get out of the pool safely. (Note, we suggest you avoid swimming with our new robot pool cleaner friends, as you can interfere with their cleaning cycle).
How to Select the Best Robot Pool Cleaner
There are a few things that must be considered before hiring on the robot pool cleaner of your dreams. First, is your pool above-ground or in-ground. These robot cleaners are distinctly different. The main distinction is that above-ground robot cleaners do not climb the walls, whereas most in-ground robot pool cleaners will climb and clean the walls and the waterline. Above-ground pool robots prefer to work on a flat bottom pool, and may not be able to climb out of the deep end, if used on in-ground pools.
After narrowing your choice of robot pool cleaners into aboveground or inground robots, your next step is to look for a cleaner that will reach all ends of your pool. Pool robots should be matched to your pool size.
If a size is not specifically listed on a robot cleaner, look for the cord length, making sure that the floating power cord is long enough to reach from one end of the pool to the other.
Once you have figured out the cord length, you can determine what type of filter you want. Robotic cleaners have their own filter that collects the debris. There are three different types of internal debris traps.
1.    Bag – Bags are the most common type of filter used in robotic pool cleaners. Most come with a standard filter bag that will pick up most debris. Many also allow you to purchase a leaf bag or a sand and silt bag to depending on what size debris is most commonly inside of your pool. The standard bag will filter water down to 2 microns!
2.    Cartridge – For those of you with cartridge filters on your pool these are the exact same material but instead of round filters you have 2-4 flat filters. These will filter down to a particle size as low as 5 microns. Pleated cartridges are similar to what's used in your car or home cooling system. Simply rinse out and replace them into the carriage.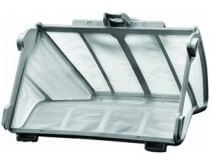 3.    Canister – These filter cartridges are exclusive to Polaris Robotic Pool Cleaners. These are a patented design that won't lose water flow as quickly as a cartridge or bag filter. They don't filter down as small as these other robots, but will require less cleaning to keep it operational. 60 micron rating, which traps most visible dust.
The only question left is…When are you going to let a robotic pool cleaner take over your pool and free you up for more time to relax and enjoy your life?


Brett Rotelli
InTheSwim Staff Blogger