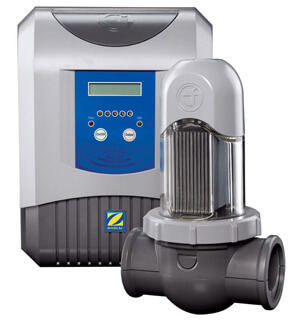 Salt Chlorine Generators do require some maintenance and repair. The salt cell will eventually lose performance and the controller circuit boards can develop problems over time.
New technology in salt systems may also sway your decision to repair or replace your salt chlorinator. Newer models self-clean and self-diagnose and other advanced features.
Chances are, at some point you will face an expensive repair to your salt system, I'm talking about either a new salt cell, or a new control board. Both of these repairs can approach half the cost of a new system.
How do you know if you have a salt chlorinator problem? Usual symptoms are low chlorine output, as determined by your water tests, indicator lights or error codes flashing on the control box, or no lights at all.
Troubleshooting a Salt Chlorinator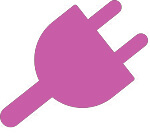 First, check power. If your salt cell is plugged into an GFI outlet, make sure that the test button is not popped, or tripped. If your salt system is hardwired, variations in voltage could cause the controller to go a little haywire.

Secondly, maintain the proper salt level in the pool. Using salt test strips is recommended, even if your unit displays a digital salt level – it could be wrong.

Check the water flow. Dirty pump baskets, clogged impellers or filters can reduce water flow to such a low point, that very little chlorine is produced. Check the pump timer too, for the same reason.
Check your water balance. Especially your pH,

and your Cyanuric Acid levels. High pH and low CYA can make it hard for chlorine to be effective. Keep a pH level of 7.2-7.6, and your level of CYA (or Stabilizer), at 30-50 ppm, to reduce the workload on your salt cell. Using the salt cell too much increases scale, and may cause premature cell failure.

Got a clean salt cell? As it creates the electrolysis needed to convert the salty water to chlorine, the metallic plates of a salt cell develop a scale build-up that reduces chlorine production.
New Salt Systems can reverse polarity to slough off accumulated scale. Other units may have an indicator light to let you know when the cell needs to be manually cleaned. Older salt systems have neither, and require periodic inspection and cleaning.
Good flow, proper water balance and salt level, and a clean salt cell can restore chlorine production, or in some cases, correct unrelated error codes. So try these things first, and you may not need a replacement salt cell, or new controller hardware.
Buy New or Repair Old?
Back to the original question. Well, if my troubleshooting tips didn't help you, the next step might be to assess the likely parts needed to repair the salt system, so you can determine the probable repair costs, to weigh against the cost of a new salt chlorine generator.
If the salt system is still within the warranty period, by all means, get on the phone with the manufacturer's support reps, for some advanced troubleshooting, or warranty service.
Most salt cells last 3-5 years, depending on the salt system, and situational factors. The control boards used can last 3x as long, even in the outdoor environment, or they could fall victim to insect, power or moisture issues.
If you've invested too much money into your current salt system, and are finding it unreliable, perhaps switching brands would be appropriate. Or, if your system is over 10 years old, you may enjoy the features and benefits available on our newest salt systems for pools.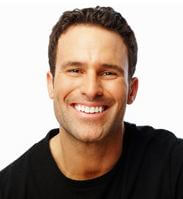 Davy Merino
InTheSwim Blog Editor