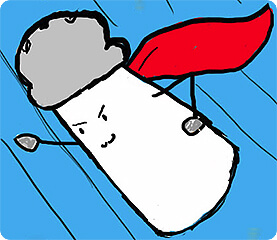 Pool owners know how much work and effort is necessary to maintain a healthy pool. It's an endless job that can feel like a chore.
Wouldn't it be nice if there was a way to receive reliable assistance? Salt Chlorine Generators provide that extra help, saving you time, money and effort!
Salt Chlorinators give pool owners an easier way to maintain healthy pool water. As a pool owner, there is enough to worry about – any help would be great for anyone.
Salt Chlorine Generators assist you with maintaining water quality. You can rely on these handy chlorinators to consistently add the sanitizer needed to keep the pool water clean and clear. Salt systems convert salt into chlorine so that you don't have to add chlorine yourself. Instead, you just add salt to the pool, which is transformed into chlorine by electrolysis.

A salt pool is constantly being sanitized as long as the pump is running. One bag of salt can keep proper levels for months at a time, and evaporation won't reduce your salt levels. Salty water is safe for swimming, and is just a fraction of the levels of salt found in the ocean.
As pool water passes through the salt generator cell, it creates chlorine and releases it back into the pool. The salt cell instantly converts sodium chloride into hypochlorous acid, which immediately begins working, sanitizing the water.

There are several types and brands of salt pool chlorinators on the market. Let's take a look at a few of these helpful chlorine generators. We have over 10 salt systems available, more than one that's perfect for your pool type and size. Let's Get Salty!
Pentair IntelliChlor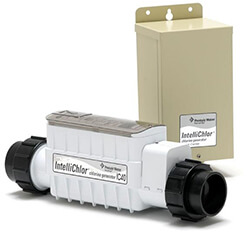 The IntelliChlor has easy, push button operation, and features a bright salt cell display, allowing you to check the salt levels and chlorine residual at a quick glance. It also displays water flow, water temperature and cell system status.
The IntelliChlor is made by Pentair, one of the most respected names in the pool industry. It comes with an automatic shut-off below 50 degrees to prevent overworking the salt cell during cold weather. The titanium cell is easily removed for cleaning or inspection.
The Intellichlor can be wired with 115v or 230v, which means you can plug into a grounded outlet, or hard wire it directly to a circuit breaker, or connect to an existing timeclock or controller system. Like most inground salt generators, grounding and bonding the power center is required.
Hayward SwimPure+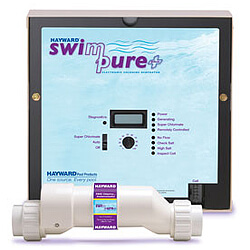 The SwimPure+ comes from another trusted name in Pool Equipment – Hayward. The Turbo Cell generator plumbs in-line, and comes with two different disconnection options for removal and installation with ease.
The control panel can be hard wired in either 120v or 240v, and should be installed by a electrician.
The SwimPure is very simple to use, so you don't get bogged down by technical details or confusing operation – just relax and let the SwimPure maintain the water. You can select the output of chlorine – between 1 and 100 percent.
The Control Board provides electricity to the cell – allowing users to select the amount of electricity that is given to the cell – to control the amount of chlorine that is produced. Typical cell life span can vary, with a maximum of up to 7 years.
Pool Pilot Digital Nano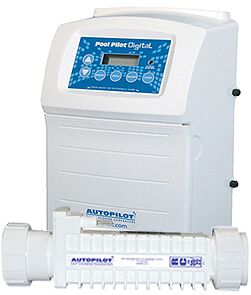 The Pool Pilot Digital Nano by Autopilot comes easy to install and will be able to let you know how much salt should be added, if it is low. It has push button controls and an automatic salt cell cleaning function.
The tri-sensor will be able to measure the water temperature, flow and salt levels of the water, and the Nano will be able to maintain swimming pools up to 50,000 gallons.
The Nano also boasts a patented temperature compensation feature, Freeze protection and multi-language digital display.
It is recommended that an electrician hard wire the control box, which can be optionally configured to replace a mechanical time clock, and control the pool pump operation.
SolarChlor XT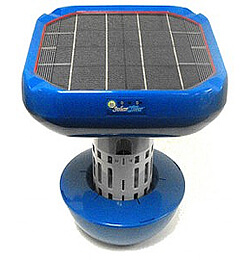 The SolarChlor XT is particularly interesting because it is a floating salt cell – powered by sunlight. This natural chlorine generator uses  high output solar panels to produce chlorine.
Solar Chlor is safe to swim with, as it floats in the swimming pool. Additionally, it is self-cleaning! SolarChlor XT comes with a 3 year warranty and is suitable for both inground and aboveground pools, up to 15000 gals (use 2 or more for larger pools). Comes with a 3-year warranty.
No digital display, no bells and whistles, but if you want an easy to use and inexpensive salt chlorinator – look no further. Just add salt to the pool, and drop in the SolarChlor to begin making your own chlorine, instantly!
SmartPool ChlorEase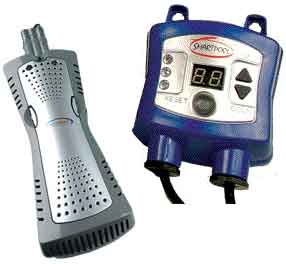 The ChlorEase aboveground salt generator is designed to hang over the wall, under the top rail of an above ground pool.
A 3 ft power cable runs from the wall unit to the digital display panel, with diagnostic status lights, chlorine output display, and programmable timer.
No electrician required, the 18 ft power cord runs from the display panel and conveniently plugs into any grounded electrical outlet. Economical and durable, the ChlorEase installs in minutes and comes with a 1 year warranty.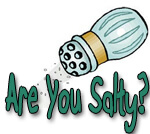 You Salty, Bro? Stop buying, storing and handling dangerous chlorine products. Installing a salt chlorinator removes the day to day drudgery of testing and adding chlorine, and the salt makes the water feel silky smooth and helps buffer and stabilize pH levels.
Salt Chlorinators only need salt added to the pool once or twice per year (which you can buy locally), so you don't have to constantly worry about checking the salt levels. You do have one worry however – salt cells eventually deteriorate, losing the protective coating on the blades. After 4 to 5 years, the chlorine output will diminish to a point where it's time for a salt cell replacement.
Worry about that when the time comes – install a salt chlorinator! Salt systems are now standard equipment on over 75% of new pools built in the U.S. – Join the millions of satisfied customers, and Get Salty!


Alex Malamos
InTheSwim Staff Blogger