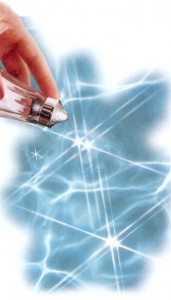 Salt Chlorine Generators – just add Salt!
It really is that easy to make your own pool chlorine. Just add salt to the pool water and hook up your salt chlorine generator.
When the salty water passes through an Electrolytic cell, or a set of electrically charged metal plates, the NaCl molecule separates into Sodium and Chloride. In the presence of water (H2O), it recombines into Hypochlorous Acid (Chlorine), Sodium Hydroxide and Hydrogen Gas. Chemically speaking, the equation looks like this:

Let's take a look at the equipment needed to make your own pool chlorine. I've broken it down into aboveground and inground salt systems.
Aboveground Pool Salt Chlorine Generators

Hayward Aqua-Trol Chlorine Generator
For any pool type up to 18000 gals
Makes up to .75 lbs of chlorine daily
Self-cleans by reversing cell polarity
Easy to read LED indicators and readout
24-hour timer will control your pump
3 year limited warranty

Saltron Retro Pool Chlorine Generator
Easy in-pool installation, no plumbing required
Programmable digital timer controls chlorine
Commercial grade titanium cell plates
Self-cleans by reversing cell polarity
Clear cell housing allows for easy cell inspection
LED indicator lights and salt level readout

ChlorEase Saltwater Chlorinator
Two models available, Standard & Ultra
Digital Diagnostic Display and indicator lights
Programmable timer adjusts chlorine output
Hang chlorinator on pool wall, plug in controller
23 ft Controller cord reaches most outlets
1 year limited warranty
Easy to remove cell for inspection / cleaning

SolarChlor XT salt chlorine system
The only Floating salt chlorinator system
Solar cell storage provides power to salt cell
Self-cleaning cell plates by reversing polarity
LED indicator lights on edge of SolarChlor
Patented convection-flow design
Add salt to the SolarChlor, not the pool
Fill the base with any salt pellet brand
3 year limited warranty
Inground Pool Salt Chlorine Generators

Jandy AquaPure Ei Salt Chlorine Generator
The first 120V plug-in chlorine generator
Easy to install; just drill a hole, clamp to pipe
Reverses polarity to self-clean the salt cell
For all pool types, up to 35,000 gallons
Produces .93 lbs of chlorine per day
Integrates with Jandy Aqualink system
Titanium electrode blades with precious metals
LCD status screen, LED indicates salt and flow
Built in electronic flow sensor protects cell

Hayward Salt & Swim salt pool system
Uses replaceable 6 month, or 12 month cell
Compact cell design saves plumbing space
Reverses polarity to self-clean salt cell
For all pool types, up to 25,000 gallons
Super-Chlorinate function shocks the pool
Unionized cell for easy cleaning, replacement
Waterproof controller is fully protected
2 year limited warranty

Hayward SwimPure Chlorine Generator
Famous Turbo Cell plumbs in easily
Micro adjust chlorine level from 1% to 100%
Locking, weatherproof outdoor enclosure
Microprocessor automates all functions
Digital salt display and 8 diagnostic indicators
Super-chlorinate function
UL, CUL, NSF listed
3 year limited warranty
Accessories for Pool Salt Chlorine Generators
Salt chlorine generators don't work very well without the salt. Most of the units above, with the exception of the SolarChlor XL, need about 3000 ppm of salt in the pool. This equates to about 1 teaspoon per gallon, or a 40lb bag per 2000 gallons of pool water. You won't taste it, or see it – but you'll feel the silky soft water.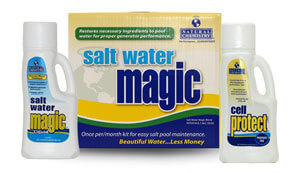 Salt Water Magic makes it easier to manage the water balance in salt pools. With a blend of enzymes, phosphate and metal removers, Salt Water Magic makes your salt cell work more efficiently and effectively.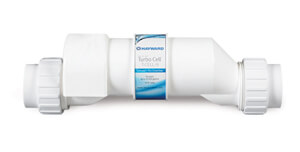 Replacement salt cells. They don't last forever. After 4-5 years, you may need to replace the salt cell to keep the electrolytic fun going. We carry replacement salt cells at a low cost.
Salt chlorine generators have made chlorine management simpler and safer. The water takes on a softer quality, resulting in less skin and eye irritation. Stop lugging those chlorine buckets back and forth, and make the environmentally responsible purchase of a salt system for your pool. You'll love the new system, and as an added benefit – your neighbors will be so jealous!

Davy Merino
InTheSwim Blog Editor