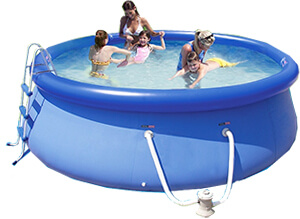 Planning on putting up an Intex pool in your backyard this weekend?
There's a right way, and a wrong way to do it. Here's both ways…
Portable Pool Location
The location for your pool considers many factors like sunlight, visibility, location of power and water, and fencing or barriers to entry.

The Right Way: Sunny patch of grass in the backyard – flat, level ground – good storm water run-off – fence or barriers – good visibility – close to power and water.

The Wrong Way: Under a large tree – on a slight incline – too far from the hose or power – floods during heavy rains – no fence – can't see pool from house.
Flat and Level Ground
Level ground is very important, if off by just 1-2 inches, a soft-sided pool can roll towards one side, which puts stress on the pool, and could lead to a blow out. This is the most important step in setting up an Intex pool! A good location is high and dry, and also flat and level.

The Right Way: Place a stake at center point, and use a long string to spray paint a border that is 1ft larger than your pool. Use a line level on the string to measure for level at 12-36 points around the pool. Use flat shovels or a sod cutter machine to remove turf, and lower the high spots. Add a one inch layer of sand.

The Wrong Way: Raise the low spots by adding sand – not checking for level. Using sand to fill in low spots is not advised, this results in uneven weight distribution, uneven floors and if erosion occurs, you could have a blow out.
There are very few yards that are absolutely flat and level, and require no ground work. Depending on your equipment, it can take 2 hours, or 20 hours. If you have substantial grading to do, look into renting a skid steer loader or sod cutter.
If you are digging out more than a few inches, call811,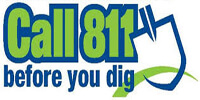 to have your underground lines marked. If you are digging out more than a foot, you may want to think about constructing a small timber or block retaining wall to direct water around the pool.
Intex Pool Set-Up
With the location carefully considered and the site prepared with a clean, flat and level base, covered by the ground cloth, you are ready to install the pool.

The Right Way: Grab a helper and spread the ground cloth over the prepared ground, stake in the corners to keep it tight. Roll out the pool material and carefully spread it out, being careful not to snag it on stakes or sticks.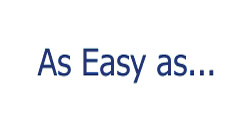 For Easy Set pools, inflate the top ring and begin filling the pool. For Metal Frame and Ultra Frame pools, assemble the frame pieces as per instructions, until the pool is fully erected, then begin to fill the pool.
Removing wrinkles in an Intex Pool: The packing wrinkles will mostly smooth out, but a few made need some assistance from you while the pool is filling.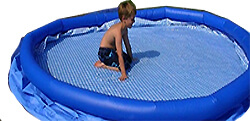 When you get about 4-6 inches of water, gently get in the pool, in your swimsuit, and begin to slowly push any wrinkles to the outside with your hands. Grab a helper or two if you have a large pool, and work any wrinkles from the center of the pool to the walls. Heavy adults can use 2×4's to stand or kneel on, to protect a sand base.
Once the pool is half full, wrinkles are almost impossible to remove, so be ready to get in once you start filling.

The Wrong Way: Trying to do it yourself – not having a level base – sharp rocks and sticks under pool – not using a ground cover – using sand to raise low spots, instead of shaving down high spots – not working out wrinkles. Using air compressor on the Easy Set inflatable top ring – setting up pool on a wood deck or balcony – skimming the installation instructions and not watching the DVD!
As you can see – there's a right way and a wrong way to set up your Intex pool for the summer. Take your time to do it right, especially with your prep work on the ground, and you'll be swimming in no time!
Enjoy your Intex Pool this Summer!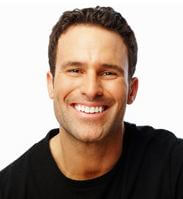 Davy Merino
InTheSwim Blog Editor

FEATURED PRODUCTS: