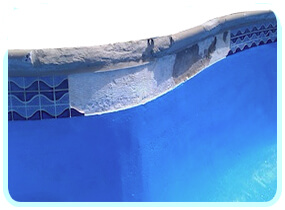 Inground Pool Tile Problems
Pool tile at the waterline is a protective and decorative element on inground pools.
If your pool tile has begun to crack and crumble, repair it!
Pool Tile Repair Materials List: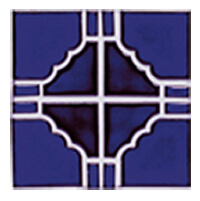 Small chisel and hammer
EZ Patch #1
1/4″ notched trowel
Sponge or rag
Mixing bowl or small bucket
Matching Pool Tile
Where to Buy Matching Pool Tile
Starting at the bottom of the materials list may be best. If you have just a few pieces that fell off, and you have the pieces – you're fine. But, if you have more than a few inches of tile to replace, using 'sheet tile' is easier, and gives a better result.
Where can you find the original pool tile used by your pool builder? The first place to ask is your pool builder, if they are still around. Snap a photo and email it to them if they need more detail, other than color, style and when the pool was built.
Second best place to look may be with local pool stores, who can order from a local pool supply distributor, or from another source. Again, a picture or tile sample is most useful. You can also call Ceramic Tile stores in your area, to see if they carry any 'frost-free' swimming pool tiles.
Next, you can search online – but there's not much happening in online pool tile sales. There are some sites like littletileinc.com that have lots of pool tile catalogs you can look through, but no online ordering, and I suspect they may have a 1 case minimum, which is usually at least 20 – 12″x12″ sheets of tile.
If you can't locate the tile, you could use a close match tile, especially for small repairs, maybe on areas you can't see from the house! Buy the same color, and close to the same size, and shape, if it's mosaic tile.
If you are desperate for a few small pieces, you could remove the tile from the horizontal skimmer shelf, replacing with a similar color, and using the removed pieces in another, more visible location.

Assuming that the tile has been obtained, we can move on. The other items on our materials list will be used for tile bed preparation, replacing the tile or clean-up.
Tile Bed Preparation
The surface that you re-apply tile to may need some work. In the top image, we see a broken out area that was patched with some hydraulic cement, to bring the surface up to level with the surrounding tile bed.
If there are sizable cracks, enlarge them and remove any loose material with a disk grinder or chisel, and fill them with hydraulic cement (if deeper than 1 inch) or EZ Patch #1 (less than 1 inch). Fill in any holes to create a flat, even surface for the new tile. Allow any patches to dry for 24-48 hours before continuing.
Use the chisel or a small, sharp flathead to remove any pieces of grout still stuck to the surface, and to create a good 'ledge'. This bottom edge, or the notch in the pool plaster, is useful when hanging new tile.
If the surface has been exposed for some time, it may be good to clean it before retiling. A degreaser such as TSP or Simple Green can be used for cleaning, to improve the bond of the tile cement.
Replacing Pool Tile
During a cool part of the day – not too hot, use pool water, or a hose to wet the area to be repaired thoroughly. If the surface is hot and dry, it will suck the moisture out of the setting bed of mortar.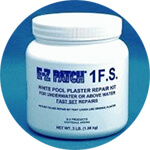 EZ Patch 1 F.S. (Fast-Set) pool tile repair works best when you can lower the water level below the tile, but it can also be used underwater.
Mix up small batches of EZ Patch #1, 1 cup at a time, with water and the included bonding additive. Mix until a peanut butter consistency is reached. Spread it onto the moist tile bed with a 1/4″ V-notched trowel, raking the bed to create 1/4″ rows or furrows of the EZ Patch tile repair mix.
Quickly position your sheet tile, and press it firmly and evenly into the bed of pool mortar. Some will squeeze through the tiles and out the sides. Be sure to press on all areas or pieces of the tile, and that the tile remains level and plumb. Mosaics need some extra finesse, to align and space the pieces correctly.
If the mix is too wet, or too dry, or the bed too thin, the tile may slowly fall off. After placing the tile, stay with it for a few minutes, to be sure it's not sliding or slumping, then keep an eye on it, as you move on to the next tile section.
Work fast! EZ Patch Fast Set gives you only 5-10 minutes to work with the mix. Mixing small batches, progressing foot by foot, is most efficient.
If you are placing small, individual pieces of tile, and not using sheet tile, "butter" the back of each piece with EZ Patch, rake it with a notched trowel, and press it on to the moist, prepared surface. Hold it in place for 5-10 seconds.
After your tile have been set, gently wipe away large hunks of excess tile mix; but avoid cleaning or touching the tiles too much for 24 hours.
Grouting Pool Tile
After your tiles have set-up for 24 hours or so, you can grout in between the tile pieces. EZ Patch #4 is an excellent waterproof pool tile grout. Again, mix up small batches of 1 cup or less, to the peanut butter consistency (creamy, not chunky!).
Use a sponge, grout spreader, or a piece of stiff cardboard to force the grout into the spaces between tiles, and the space above the tile. EZ Patch 4 also makes an excellent material to parge the area where the tile meets the skimmers.
Tile Repair Clean-Up
The final step! After the grout has set up for about an hour, you can very gently give it an initial cleaning with a wet sponge or small towel.
Allow the tile grout to set-up overnight, and you can then give it a final clean-up with a sponge or towel, buffing to remove the white haze.
Any 'glops' that fall in the pool can just be brushed off the surface. If they harden onto the surface, a chisel will pop them off easily.
Now That Was Easy!
The hardest part about making small pool tile repairs may be finding the replacement tile! Once that's done, the rest is easy breezy.
Happy Tile Repair!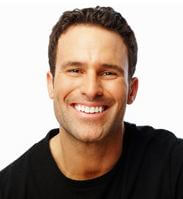 Davy Merino
InTheSwim Blog Editor