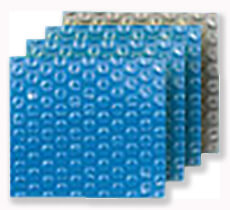 Solar covers help to maintain much warmer water as well as prevent the evaporation of water and chemicals, both which save you money!
There are several ways to use the sun to heat your pool. Traditional Solar Blankets, are available in all sizes, ranging in thickness from 5 mil to 16 mil.
Liquid Solar Covers create a molecular heat shield to retain pool heat, and Solar Sun Rings offer a unique and easy way to harness the sun's energy for pool heating.
Solar Cover Selection
We like to say that we have a solar blanket for every budget. Once you select the size of solar blanket – you'll be presented with 8 choices of 4 thicknesses and 4 color types. 5 mil, 8 mil, 12 mil and 16 mil – each with corresponding greater warranty periods.
For color choices, you could select the standard blue solar blankets, clear blankets, or blue with a black or silver underside coating to keep more heat in the pool. We offer such a wide selection, to meet your both your budget and your pool heating needs.
Solar Cover Sizing
To determine what size solar cover you need, simply measure the longest and widest points of the pool. When the cover is installed, it's best to completely covers the water's surface so there aren't any gaps for heat to escape. Solar covers can be easily cut to size, so for freeform or kidney shaped pools purchase an oversized cover to ensure it will completely cover the water's surface after it is cut to size.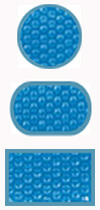 Remember that solar covers are available in round, oval or rectangular shapes. You will often see designations of "inground" or "above ground" solar covers, but there is no difference in the material. Generally, oval and round covers are installed on above ground pools and rectangular covers on in ground pools, but depending on your pool shape – you may be better off purchasing an oval or round cover for your in ground pool.
Those with an "L" shaped pool, or other very large pools may find that they are better off purchasing 2 (or more) smaller solar blankets than they are buying a large oversized one and cutting it to size. It may make more sense financially as well as cutting down on waste of the material which is better for the environment.
For pools with a step section that needs to be covered, don't worry about purchasing an oversized blanket and cutting to size, just purchase a step section piece. In The Swim offers 4'x8' pieces of solar blanket for step sections in 12mil and 16mil material.
If your pool is so large that the blankets offered in stock just aren't big enough, keep in mind that many pool supply companies, including In The Swim, can special order larger sizes, but only in rectangular shapes. You will still have to cut it to fit if you have a free form pool.
Solar Cover Installation
If your pool is rectangular, round or oval and you were able to find a cover that is your exact pool size, then the job of installing your solar blanket is pretty easy – simply lay the cover on the pool with the bubbles facing down on the water, and the smooth side facing up towards the sky.
If you have a freeform pool and need to cut the blanket to fit, the best way to do it would be to have a few people help you stretch the cover out taut over the pool and place weights around the cover to help hold it in place. Nothing too heavy or sharp of course, you don't want to damage the cover. Winter cover water tubes would be a good choice. Don't worry about the cover being drum tight, it should be floating on the water before you cut.
Once you have the cover in place, carefully cut two sides of the solar cover around the perimeter of the pool, cutting right up against the coping to make sure there won't be any gaps between the cover and the pool wall when it is lying on the water. When half of the cover is cut, use your pool brush to push the cut sides up against the edge of the pool, and to smooth out the blanket, removing air bubbles beneath.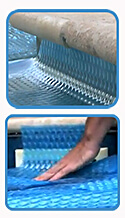 For pools with lots of surrounding trees and debris, some people like to cut the cover larger, to keep leaves from falling in around the edges. This works best on rectangular pools – it's harder to get the solar blanket to lay  flat against curved wall sections.
If you do try this method, you may also want to cut a square flap of solar blanket material to insert into the skimmer. This allows you to use a hose and/or your pool brush to clean the solar cover, directing the debris on top of the cover into the skimmer, before removing the blanket.
A razor knife would be good tools for this task, or a sharp pair of scissors. Be careful not to cut off too much, you can always trim off additional if necessary.
Solar Cover Use and Care
Generally speaking, you should have the solar cover on the pool whenever it is not in use.  During the day having the cover on the pool helps to prevent water and chemical evaporation in the hot sun, and at night it will help to insulate the water to maintain the heat you have gained throughout the day. Using a solar cover (especially at night) will help to increase the temperature of the water over time because you will maintain more of the heat you have gained each day.
Solar covers are durable, but they will be damaged by unbalanced water over time, and they should not be used immediately after shocking or superchlorinating the pool.  Allow the water to circulate for several hours after shocking before placing the cover on the pool to prevent premature breakdown of the cover.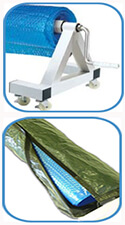 Using solar blanket reels can double the life of your solar blanket, keeping it rolled up prevents pinching and folding, and protects the cover from damaging UV rays.
During winter, store your solar blanket out of the elements, indoors if possible. Clean and dry your solar blanket, then fold and roll it up for safe storage. If you have no space to store a large solar blanket during the off season, keep it rolled up tightly on the solar reel, and then wrap it up with our Solar Blanket Cover (yes, it's a cover for the cover!).
If you have any questions about sizing a solar blanket or you determined you need to purchase a larger size, please give us a call at 1-800-288-7946, we are here to help!


Jackie Wolski
InTheSwim Staff Blogger