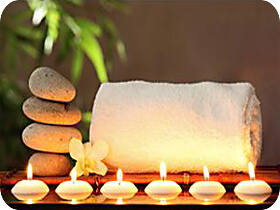 Relaxing in a home spa or hot tub after a long day is a great way to unwind – not only does bubbling, warm water soothe tense muscles, it helps you relax and melts away the stress of the day.
Spas and hot tubs are very relaxing on their own but to enjoy them to their full potential, here's some useful spa accessories.
Spa Chemicals:
In order to ensure that the time spent in your spa or hot tub is enjoyable and also safe, it is extremely important to keep the water clean and sanitized. Spa water that is not properly sanitized will not only look and smell unpleasant; it can also cause illnesses and infections.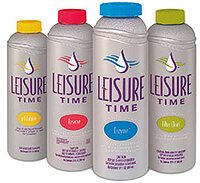 Spa and hot tub chemicals are readily available and are quite easy to use. In order to save you money and save you from becoming overwhelmed from too many choices, we have only the top brands of spa chemicals, and only necessary chemicals, those that we use in our own spas.
Spa Fragrances:   
Spa Aromatherapy is a favorite indulgence of mine – satiate all of your senses and experience a luxurious soak with spa fragrances. Uniquely formulated spa & hot tub fragrances & moisturizers are excellent for relieving stress and lifting your mood.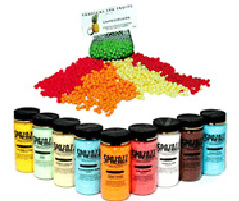 These amazing fragrances are available as Spazazz Elixirs and Water Crystals will transport you to a tropical island or a garden full of orchids for unmatched relaxation.
Also popular is the Just Soft Water Moisturizer that not only prevents dryness, but has special emollients to leave skin feeling smooth,silky, and dare I say, sexy.
Steps, Rails & Furniture:
Steps and rails are not only a practical solution to safely accessing your spa, they can also add an aesthetic appeal and a decorative touch to your hot tub. Spa steps are available in a large variety and come in assorted styles, colors, and prices. Made from redwood or resin, spa steps are designed to match any décor and meet any budget.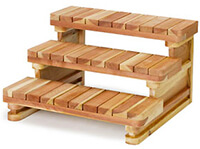 Maybe we can interest you in something basic like Leisure Accents Handi-Step which is attractive, durable, and very affordable or, for my readers who prefer a little more luxury, we have a full line of 100% Redwood Spa Steps – you can't go wrong with any of these.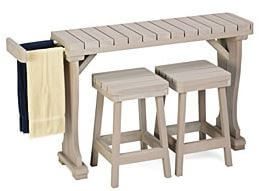 Spa furniture is also an excellent addition to your spa surroundings. Available in a huge variety of styles and materials, Spa Tables & Stools offer an ideal place for you to rest, dine, or simply to store your belongings while you relax in your spa.
We also offer decorative Safety Rails, a Towel Rack and Spa Caddy that will not only enhance your own backyard but also make great gifts this holiday season.
Replacement Spa Pillows:
Add comfort and style to your spa time with replacement spa pillows. Sturdy pillows are especially designed to support your head and neck so you can relax in luxury. Easy to clean, no maintenance spa pillows are very affordable and make great gifts too – buy for yourself or for friends; they will thank you forever. 5 styles to fit dozens of different spa models.
Have a fun and relaxing Thanksgiving! Make your spa time more enjoyable this winter by adding some of these fabulous spa accessories.
There are dozens more in our online store, I'd show you more, but it's time for me to go home and enjoy my own spa and try out some of these spa accessory samples!


Ayesha Aslam
InTheSwim Staff Blogger