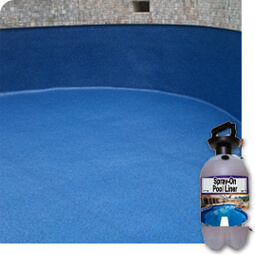 Do you dread measuring your pool for a new liner? Are you sick and tired of the back-breaking task of installing a new liner every few years?  Would you love to never have to take on that chore again? Then have we got something for you!
Introducing Spray-On Pool Liner: The World's First Pool Liner in a pump sprayer!
This ridiculously revolutionary new formula takes all the frustration out of liner installation! No more measuring, no more fighting with folds and smoothing out wrinkles, and no more heavy lifting! You will never need to order a custom liner again! And the best part is the 50 year warranty!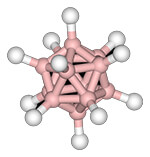 This amazing new product was formulated by a team of the world's most experienced chemical scientists. They have engineered a formula utilizing polymeric peptides that bonds instantly and melds into the wall and floor of your pool. As you spray, you'll see the solution turn from a light foam into a smooth, vinyl-like finish in seconds, right before your eyes!
The finished color is bright and rich, and the surface is impervious to pool chemicals, UV rays and cold temperatures. Guaranteed never to fade, peel or blister! It's almost indestructible, but if there's ever a tear, just spray on some of the underwater touch-up, and it's like new. No more struggling with vinyl liner repair kits, messy glue and ugly patches!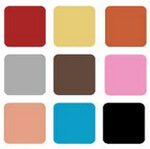 Available in all the colors of the rainbow, and now in pink camouflage too! All you have to do is choose your color and size of pump sprayer. Available in 1 gallon touch-up size, or our 2.5 gal pump sprayer, shown below and the new 5 gallon backpack sprayer. We also have 55 gallon drums for commercial applications, at waterparks and aquariums – any large underwater surface!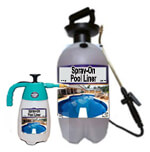 Coverage: Each reusable or recyclable pump sprayer will cover 700-800 square feet of area, and the 5 gal size provides up to 1600 sq. ft. of coverage, depending on how thick you spray it on, or on the roughness of the pool floor.
With this product, you will never have to worry about cumbersome liner prep ever again! Here's how it works:
First, drain your pool and remove your old liner. This product can be applied to any wet or dry surface. Just patch any divots or cracks in your pool floor, and brush down the walls. Keep the product at room temperature until just before application. and then spray in an even, back and forth method.

Be sure to wear all proper safety equipment, like the full hazmat suit and respirator during application process (see warnings listed below!).
You'll be amazed at how quickly the spray will adhere to the surface and bond together to form a perfectly smooth new liner! Within a matter of minutes, you'll be on your way to a brand new pool liner that could be the last pool liner you ever need!
We really hope you're as excited as we are about this amazing new product! It is taking the nation by storm and is changing everything we've ever known about liner installation! Who knew it could ever be so easy? Make sure to order yours today, but first, make sure you read through the warnings below (included here as a courtesy for your safety).
Spray-On Pool Liner Warnings:

Be sure to stand clear of spray while applying. This spray bonds and dries extremely fast!

Do NOT get between wall and sprayer or you may become bonded with the wall/floor and inadvertently become part of your new, beautiful pool liner!

It is extremely important that you wear the proper safety attire while applying Spray-On Pool Liner. *Hazmat suits and respirators sold separately!

Failure to read all directions and warnings indicating that this product is NOT in any way REAL may result in intense feelings of foolishness… HAPPY APRIL FOOLS DAY!
NOTE: Spray-On pool liner is not an actual product, we just made it up for April Fool's Day, but we've had a lot of phone calls asking about it – so I have to let you know… it's not real!


Christine Silvestri
InTheSwim Staff Blogger