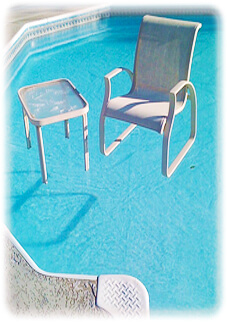 Frozen pools are on the way! Growing up in north Texas – winters were cold, as it is in many parts of the country's mid-section We were definitely in the sunbelt, but a little too far north for a mild gulf coast winter.
In those areas of the sunbelt that have freezing temperatures, (which is most areas) should you winterize the pool? Yes – if you aren't going to use the pool until spring – winterize it!
Benefits of Winterizing a Sunbelt Pool
No electrical or heating costs
Extended equipment lifespan
Protects against freeze damage
Take a break from pool cleaning
Ways to Winterize a Sunbelt Pool
Cover & Continue
Partial Winterization
Full Winterization
Depending on how cold your winter weather is where you live – the simplest way is to simply Cover the pool and Continue with a small amount of daily filtering and chemicals, and full operation during cold snaps, or freezing temps.
With some higher level of difficulty, I offer two more ways to winterize a southern pool, a Partial Winterization or a Full Winterization. A summary of each pool winterizing method are below, click through the links for more information.
Cover and Continue
The first way to winterize a sunbelt pool is to cover it with a good winter pool cover, and reduce the operating hours to just a few hours daily, except during periods of frost or freezing.
With a tight fitting cover, your pool stays clean and sunlight is blocked, so very little sanitizer or algaecide is needed to keep the water fresh.
A mesh safety pool cover is the easiest, safest and best looking winter pool cover. Mesh allows rain and snow melt to pass thru, no cover pump needed, just lower the pool water level as needed with the pool filter pump.

Freeze sensors can be installed with an Intermatic digital timeclock, or pool system controllers, to turn the pump on if temperatures reach a set point. More about pool freeze protection.
Partial Winterization
Test and balance your pool water, and shock the pool a few days before closing. Then add a winter chemical kit, following kit instructions.
Backwash your pool filter, and continue to lower the water level 6-12 inches below the skimmer opening. You can also use a submersible pump.
Cover the pool tightly; use a small pool cover pump to remove standing water from solid covers, or to lower the pool water level for mesh covers.

Drain the pump, filter, heater and any aboveground pipes. Remove chlorine from chlorinators. Add a gallon of pool antifreeze to the skimmer line and plug it. More about pool skimmer winterization.
Full Winterization
Clean the pool and test and balance the water, shock the pool and then add a pool closing kit, as described above.
Backwash the pool water level down 6-12″ below the skimmer, 6″ for solid covers, or 12″ for mesh covers. Close the skimmer valves to continue pumping below the skimmer opening via the main drain. Cartridge filters may need to use a submersible pump to lower the pool level.
Remove the drain plugs on pump, filter, heater and place into a clean pump basket. Remove DE grids or cartridges for cleaning, then replace into the tank. Shut off the power at the breaker and timeclock.

Blow out the lines. Connect a blower to the skimmer, or use a small compressor at the pump, and blow air through the pump, filter and heater, and back through the pool returns. Plug the returns and skimmers tightly. More about blowing pool pipes.

No matter what pool closing method you use – cover the pool tightly to keep the pool clean and to block sunlight. Use a cover pump to remove rain water and snow melt, keeping the water level below the skimmer. More about winter pool covers.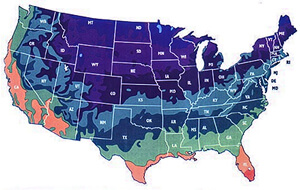 And if you're still on the fence about 'weather' or not to winterize, take a look at your placement on the map. All parts of the country, except the pinkish-orange areas are hit with few to frequent winter freezes.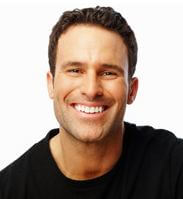 Davy Merino
InTheSwim Blog Editor