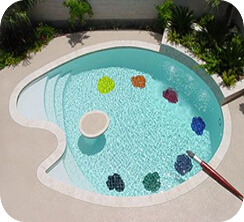 Design Styles are the style of decor that serves as the framework for architecture, furniture and interior decorating.
Pool Design Styles are the very same, using form and function, textures and colors, to evoke the style of design.
Here's 7 schools of pool design; how creative pool builders and crafty pool owners can design a pool with personality.
Zen Pools
Asian inspired pools, often called Zen pools, are quiet serene places for meditation or reflection. Natural rock, plants and lighting create a tranquil space.
Tropical Pools
Tropical pools are filled with boulders, water falls and lush with rain forest greenery. In true form, tropical pools give the feeling of a natural swimming hole, discovered deep in the jungle.
Mediterranean Pools
The Mediterranean design style typically evokes Tuscan themes, with porticos of old world design, capped with pergolas and infused with beautiful climbing vines.
Country Garden Pools
A classic garden pool is purposely minimal in accouterments and is uncluttered by diving boards or hand rails. Oversize coping stones and grass is all you need.
Contemporary Pools
Modern and post-modern pools mate geometric designs with luxury stones and surfaces and bold lighting for dramatic effect. Infinity edges are common with this pool design style.
Western Pools
Western pools use desert tones, natural stones and rocks, to blend with arid surroundings. Mix in some desert friendly plants and trees along with colored rocks.
Coastal Pools
Coastal pools can adopt a sub-theme of beach, sea-life or nautical and decorate accordingly. Hues are pale and muted to match water and sand tones. Ocean mosaic tile inlays can be added to any concrete pool.
---
Whatever pool design style you choose, bring together elements in the pool, deck, landscape, furniture and fence to unify the theme. Landscape designers and pool builders can help, or do it all for you!

Davy Merino
InTheSwim Blog Editor