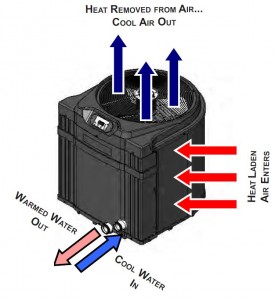 Swimming pool heat pumps offer warm pool water at a fraction of the cost of gas pool heaters, and unlike solar heaters, continue to heat the pool during cloudy, rainy periods.
Pool heat pumps work similar to a home heat pump. It acts like a reverse air conditioner, removing the ambient temperature in the air, with the use of an evaporator coil, liquid refrigerant and a compressor. The heat from the outside air is transferred to the pool water moving through the heat pump.
Advantages of using a pool heat pump
No emissions, and very low energy use
Reliable heater, requires no maintenance
No dangerous gas or flames used
Easy to install, operate and troubleshoot
Highly efficient, cheap to operate.
This blog post is a Buyer's Guide – to help you select the best pool heat pump for your pool size and usage patterns, and answer some questions about heat pumps along the way:
Sizing a swimming pool heat pump
Pool heat pumps are typically matched to the number of gallons in your pool. If you don't know or aren't sure how many gallons you have, measure your pool, and use this pool volume calculator tool.
Some heat pump manufacturers don't list the gallons, but list their heaters in terms of the BTU output. Most models are in the range of 50K (50,000) BTU's – to 125K BTU's.
50K BTU heat pumps are meant for small pools, or aboveground pools, under 12,000 gallons. It will work on larger pools, but heating will be slow and total temperature rise may not be what you desire.
The larger the BTU output, the faster the heating (still slow by gas pool heater standards) – and the greater temperature rise the pool heat pump can achieve. A nice sized heat pump can bring the pool up 30 degrees (or from 50 to 80 degrees).
Another factor that could affect the size of heat pump that you buy; if you have high winds and no pool cover, you will suffer from a great deal of heat loss off the top of the pool. If you do have wind blocks and/or an automatic pool cover, you could potentially buy a smaller heat pump.
Selecting a heat pump brand
With so many on the heat pump bandwagon, there are a lot of brands to choose from. Many of the names you may not recognize, like TropiCal and AquaCal. These companies are the originators of pool heat pumps, selling thousands throughout the  80's and 90's. As sales increased, big brands like Hayward and Pentair took notice, who are now making pool heat pumps as well.
To make it easier to choose from, we list 6 different pool heat pump models, from 4 manufacturers. Prices vary, according to the features installed on these different models. Some of the most popular options out there that all models have is:
Titanium Heat Exchanger
Thermoplastic jacket or exterior
Digital display, electronic controls
Environmentally friendly R410A refrigerant
Some models will have more advanced diagnostic indicators (idiot lights), a super-quiet Scroll compressor, or a more compact design. Warranty is another point of differentiation between our 6 models of heat pumps. Finally, the high end pool heat pumps have the ability to also cool the pool, in the event that summer heat brings the pool water to unbearable temperatures!
Installing a pool heat pump
There's not much difference in installation methods among our pool heat pumps. There are some size considerations, so if you have a smaller space, look to the product dimensions in the brochure or the owner's manual (linked from our heat pump pages).
All heat pumps will need to be installed on a level platform or slab. You cut the pipe after the filter and any chlorinator, then connect the pool plumbing in and out of the heat pump. Heat pumps require a 30-60 amp breaker, depending on their BTU output size. Your installation may require bringing more power to the equipment pad, or if you're lucky, you have enough room left to add the required breaker size to the panel. To be safe, use a qualified electrician to perform the electrical hook-up on your new heat pump.
Happy Heating!

Davy Merino
InTheSwim Blog Editor