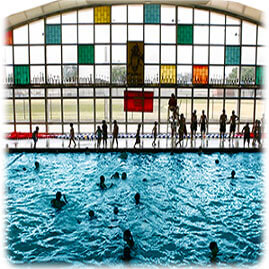 It's depressing, but the swimming season is coming to an end. Depends on where you live, you may have months longer, but for us in Chicago, that is not the case.
If we want to swim past August or early September, we have two options – take advantage of an indoor pool at the park district, or invest in a pool heater.
OK, so it's not that easy – you still have to figure out what in-ground pool heater is the best for your pool and for your lifestyle.
Let's slow down a bit – there are three different pool heater types out there. Between Heat Pumps, Solar Heaters and Gas Pool Heaters, there's a lot of homework to do, but luckily you've found this article.
Electric Pool Heat Pumps
Heat Pumps have a lower operating cost and emit no exhaust, as compared to natural or propane gas heaters. They need at least 45° outside air temp to produce heat, and are more expensive to buy than a gas heater. while the long-term cost is less than using gas.
Pool heat pumps are up to 97% efficient and run silent with the exception of the fan motor. They require no gas, which makes them safer to operate. Although they use very little power, heat pumps do need a lot of power, which may require the services of a local electrician.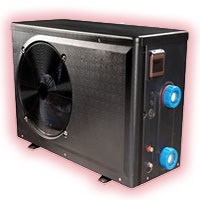 AquaPro ECO500 Heat Pumps will prove durable through various weather conditions. What stands out about the ECO500 is that it has easy to install PVC slip fittings and is particularly useful in hot climates. In the long run you will save on heating costs. Units require 220v; 50K BTU for 16,000 gallons.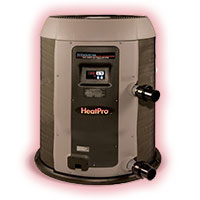 Hayward HeatPro Heat Pumps are easy to install and are made specifically for silent operation. The LED control panel is easy to see, while the heat pump itself can take a beating from the weather with its weatherproof shell. Digital LED controller easy to use; also has a titanium heat exchanger. Select from the 95K, 125K and 140K BTU Models.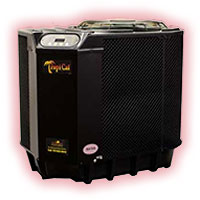 TropiCal Heat Pumps not only work for small in ground pools, but it even works on aboveground pools as well. This compact heat pump has the ThermoLink Titanium Heat Exchanger which comes with a lifetime warranty. It is environmentally friendly and comes in 50k, 75k and 115k sizes. It even offers controlled automatic defrost protect.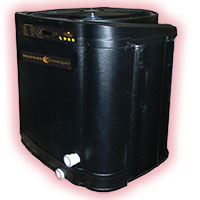 AquaCal Super Quiet Ice-Breaker heat pump is particularly interesting because it is useful all year round. If the weather is too cold, you can count on it to keep your pool comfortably heated. On the other hand, you can also use it to cool down the pool in the heat of the summer. The controls have a bright blue display for easy viewing.
Gas Pool Heaters
Pool heaters are available for propane and natural gas. Natural gas heaters connect to a home gas meter for the gas supply, while a propane heater runs on LPG from a storage tank; refilled regularly by a local propane delivery service.
Gas heaters can be either millivolt, or electronic ignition. Millivolt heaters have a standing pilot, but electronic heaters use a spark to light the pilot when needed.  Electronic heaters also have digital controls and diagnostics. Most (85%) gas heaters sold are electronic, but some people prefer the more mechanical millivolt control system.
The biggest benefit of gas heaters is speed of heating; they consistently raise the temperature about 1° per hour. Heat pumps and solar heaters take much longer to heat up, adding up to 5° per day, depending on the weather.
Jandy LXI Pool Heaters have low NOx and electronic hot surface ignition systems. The User-friendly control panels have touch automation and backlit display, and can be integrated to popular Jandy control systems. Able to handle pH swings, and high salt content, the corrosion-resistant cupro-nickel heat exchanger is extra durable.
Hayward Universal H-Series Heaters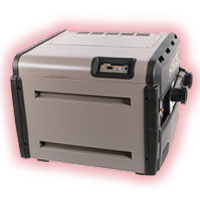 comes in both natural gas and propane. Great for use as a replacement or a new heater, with it's low profile. The Digital LED control panel provides users with simple operation and advanced diagnostics. The cupro-nickel heat exchanger has durability to last for years, even in salt water.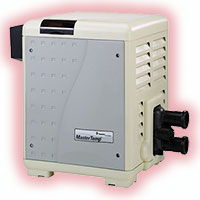 PentairMasterTemp pool heaters are an eco-friendly gas pool and spa heater with a digital display and built-in indicator lights that you can easily monitor. Between its compact design and quiet operation, you may even forget it's there. It will quickly heat up your pool and can handle hot southern sun and frozen northern conditions.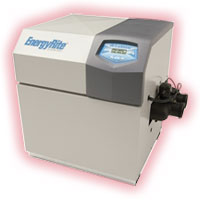 Another reliable gas pool heater is the Lochinvar Energy Rite Heater. Environmentally friendly and has low emissions. Because it doesn't use gaskets in its design, it will not require replacement parts as often as other heaters. It comes with multiple options for venting and has the most advanced digital controls, and the ability to program heating cycles.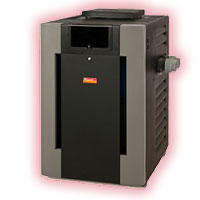 Raypak Digital pool heaters are well known for reliability and being service friendly. The fuel efficient digital system can run on 120v or 240v and will generate a pilot when there is a need for heat. Offers simple setup and easy to understand diagnostics. Remote controls are simple as well, and it can be used on a pool or a spa.
Solar Pool Heaters
Finally, solar pool heaters – harnessing the power of the sun, these heaters are great for both inground and above-ground pools. Economical and Eco-friendly!
Solar systems don't require a professional to install gas or power, they are completely DIY. You can mount the panels toward the sun, or just lay them on the ground in a sunny spot near the pool filter.
Another type of solar heater is even easier to install – floating solar blankets, squares or rings are dual purpose, adding heat from the sun, and also helping retain the heat in the pool.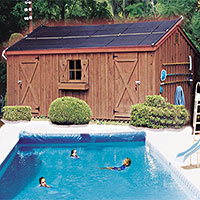 SmartPool Solar Heating Systems are available in two sizes. The 4×10 foot option can be mounted vertically or horizontally, while the 4×20 foot panel can only be mounted from horizontal position. Your pool pump circulates water through the solar panels and warmth flows back to the pool. Systems come with hardware, pipe adapters, diverter valve kit and end caps.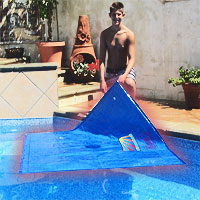 Solar Heat Squares are an unsinkable heating system created from 2 sheets of UV-resistant vinyl with a closed cell foam core. It pulls in the heat from the sun and transfers it into the water. Solar Heat Squares work in above ground and in-ground pools, and they do not require inflation. Measures 54″x54″, each one has 20 sq ft of solar power. Just lay on the pool!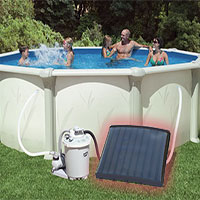 AquaQuick SolarPro XF pool heaters are a quick and slick way to add a 10 sq ft solar panel to aboveground pools. Add two in tandem(side by side) for double the heat! Super easy installation. Pull the unit out of the box, cut your return line hose and connect the hoses into the solar panel. Purchase the optional bypass kit to turn off the solar heater during rainy weather.
Pool Heater Installation
Heat pumps and solar heaters must be installed outside, preferably in a dry, sunny area. Gas heaters can only be installed indoors or under a shelter if they are properly vented. For safety, it's best to also install gas pool heaters outside.
Gas heaters should have the gas hook-up done by a qualified gas tech, and heat pumps should be wired and bonded by an electrician. The placement and plumbing for either is easily done by any handy pool owner. Solar heater systems can be completely DIY installed.

Just because the temperature drops, or the sun starts to go down doesn't mean you have to stop enjoying your pool. You can adjust to the weather accordingly with several heating options – from heaters to solar rings.
Depending on where you reside, and how large of a pool heater you install, you can add another 4-8 weeks onto each end of your swimming season.
Wherever you are, even here in the frozen north, you have options, and don't have to worry about being restricted to just one pool heating solution.


Alex Malamos
InTheSwim Staff Blogger