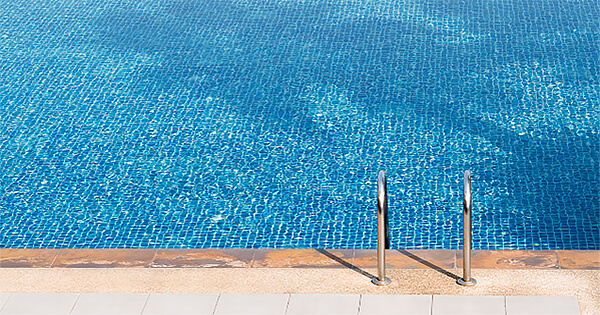 Pool steps and ladders are an element of swimming pools that are often an afterthought for many pool owners. They are a vital aspect of a pool's overall safety and can also serve as an understated design accent to give your pool deck a modest splash of style.
Odds are, if you are considering a new handrail, ladder or step system for your above ground or inground pool it is because you have a severely outdated, possibly dangerous ladder.
Let's take a look at the best swimming pool handrails, steps, and ladders that are built to last, while boosting the subtle aesthetics of your pool area.
Inter-Fab has given a fresh approach to the form of inground pool handrails without sacrificing the fundamental purpose: a safe and durable accessory to enter or exit the water. There is almost an element of sci-fi to these sleek, stainless steel designer rails – eye-catching yet versatile enough to mesh with any pool's existing decor. Paired or single-standing, Inter-Fab Designer handrails break the norm and are a classy way to give your pool deck (or spa) some flair.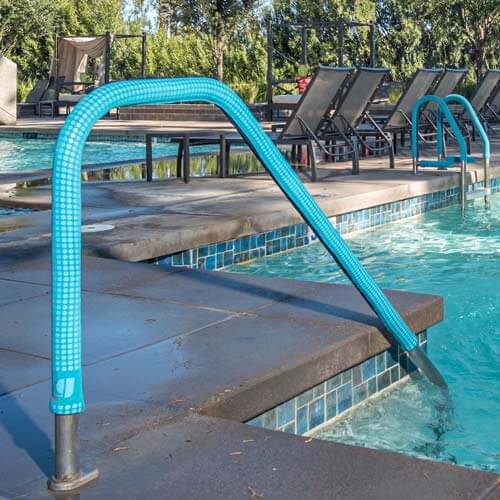 Keeping with the concept of maintaining safety standards while stepping up the visual impact potential of your pool or spa handrails are the Kool Grips Handrail Covers.
KoolGrips are made with heavy duty polyester and spandex fabric blended with UPF/UV inhibitors (so they don't fade in the sun) and are anti-microbrial.
They are available in 3 colors and are a more affordable way to update your pool or spa handrails without replacing them entirely.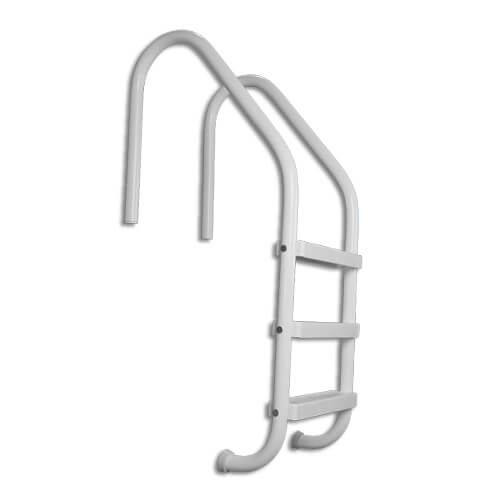 SAFTRON's high-impact polymer ladders are made of specially formulated compounds that make them corrosion-proof and perfectly matched for saltwater pools.  The reinforced, encapsulated steel makes them incredibly durable and sturdy. The aforementioned high-impact polymer exterior makes SĀFTRON ladders impervious to not only saltwater but to pool chemicals and sun while remaining cooler to the touch. Available in 5 colors to match your pool color scheme.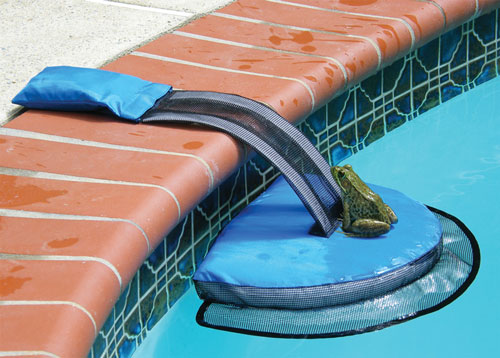 Let's not forget our 4-legged friends' life-saving exits to your pool.  It's easy for small animals to accidentally end up in your swimming pool but for most it is almost impossible for them to get out which often results in a tragic but avoidable accident.
The Frog Log Critter Escape Ramp is a simple, basic set up that requires no installation, is extremely affordable and provides an easy exit point for small animals.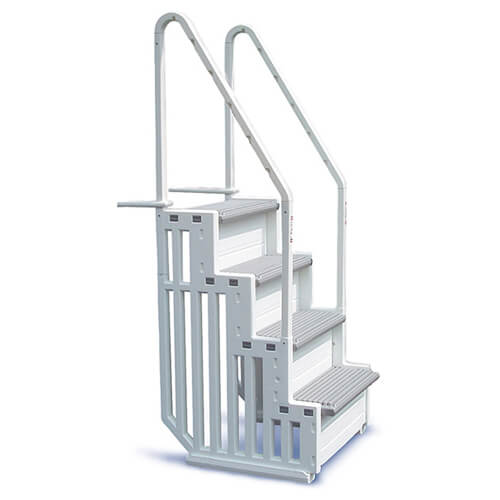 Switching gears for above ground pool owners, the Staircase Above Ground Pool Steps makes getting out of your pool much easier and safer. Built of sturdy resin polymers, these pool steps have a 400 pound capacity and can withstand the sun's harmful UV rays and pool chemicals such as chlorine. The above ground pool steps use two mounting brackets to fasten to your pool's deck, and dual handrails provide even more stability for entering and exiting the pool.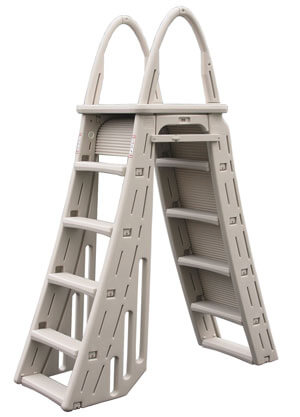 A step above (ahem) the Above Ground Pool Staircase System is the Roll Guard A-Frame Safety Ladder.
This high quality system offers the ability to allow or prevent access to your above ground pool as you see fit. Simply use the unique roll-down safety barrier to cover the outside steps when not in use. The guard conveniently rolls under the ladder when it's not needed, safely restricting access behind the inside of the ladder. This sturdy ladder also comes with a padlock for the roll guard, an anti-entrapment barrier and contemporary design that adds to the ambiance around your pool.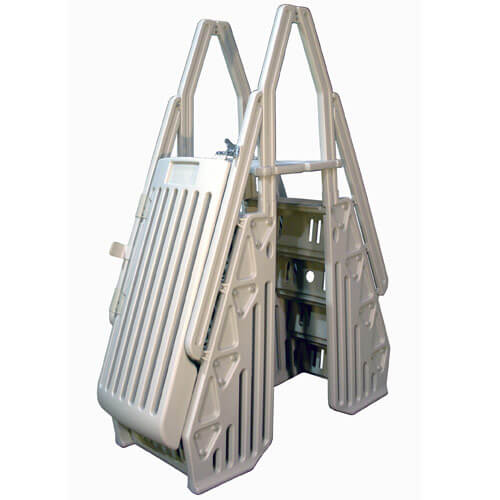 Our top-tier above ground pool step and gate is the Deluxe Entry System with Gate.
The Deluxe Entry system is designed to meet the most stringent of above ground pool safety codes and includes double handrails on both sides as well as a self-closing gate that opens outward and locks. This stair entry system is made of strong vinyl and won't corrode and requires no maintenance.
Add even more enjoyment to your pool with this easy-to-use system that makes it easier for all swimmers to get in and out, while preventing accidental drowning and unwanted pool visitors.
An exciting aspect of pool ownership is the innovative products that companies like Inter-Fab are constantly striving to improve upon.  Just within the last handful of seasons we've seen interesting stylistic improvements to the most fundamental pool accessories like handrails and advanced ingenuity applied for a safer more secure above ground pool step system.
There's never been a better time to update your dated spa, inground or above ground pool's handrail, ladder, or step system. For new pool owners on any budget, there's never been a wider array of options to put your own personal touch and style into your pool.

Ryan Dornan
InTheSwim Staff Blogger